A Closer Look at the VouPre Aqua Skin Care Collection
Dry skin can be very challenging to care for, especially during the harsh winter months.
This skin type tends to be very uncomfortable, often indicated by itchiness, redness, flaking, and coarseness. If you have dry skin, you might notice these symptoms, especially around your elbows, hands, knees, heels, and, of course, your face. But it doesn't have to be that way when you've got VouPre!
Relieve Dry Skin at Home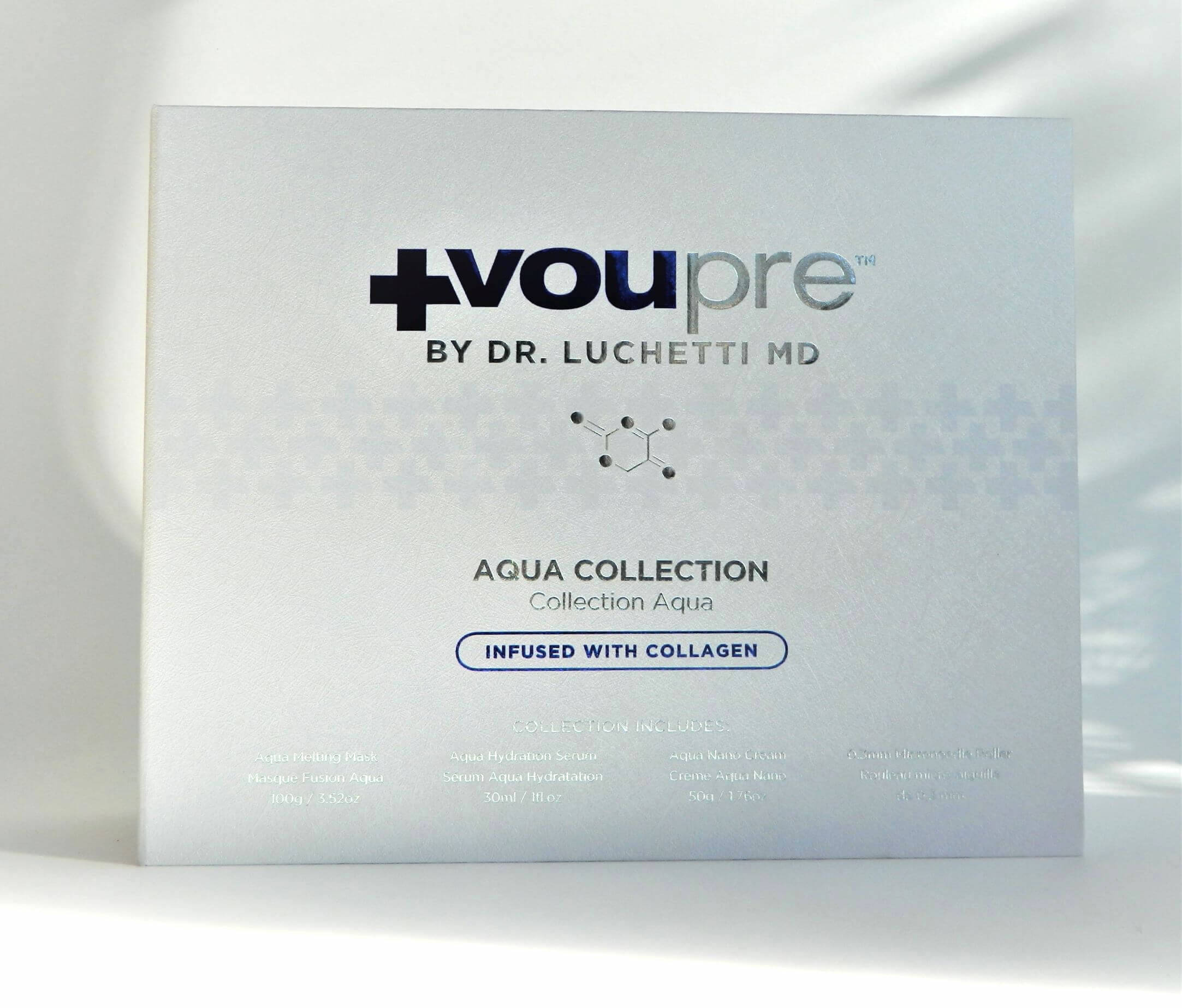 If you're struggling to keep your skin feeling smooth and radiant, VouPre has just the solution. The brand was established by Dr. Mary Ellen Luchetti, a board-certified dermatologist with 27 years of experience. Her revolutionary formulations are aimed at targeting different conditions of the skin, delivering the results your skin craves. Dr. Luchetti infuses each product with the finest ingredients available in the skincare industry.
The VouPre Aqua Skin Care Collection is a four-step skincare line to relieve dryness and give you a sensational at-home spa experience. It includes the Microneedle Roller, Melting Mask, Hydrating Serum, and Nano Cream — a complete spa-inspired regimen for your skin.
But what's in these products and how do they help relieve dry, flaky skin? This article is a deep dive into caring for your dry skin and how VouPre's revolutionary Aqua Skin Care Collection can help you meet your skincare goals.
The Aqua Skin Care Collection in Four Steps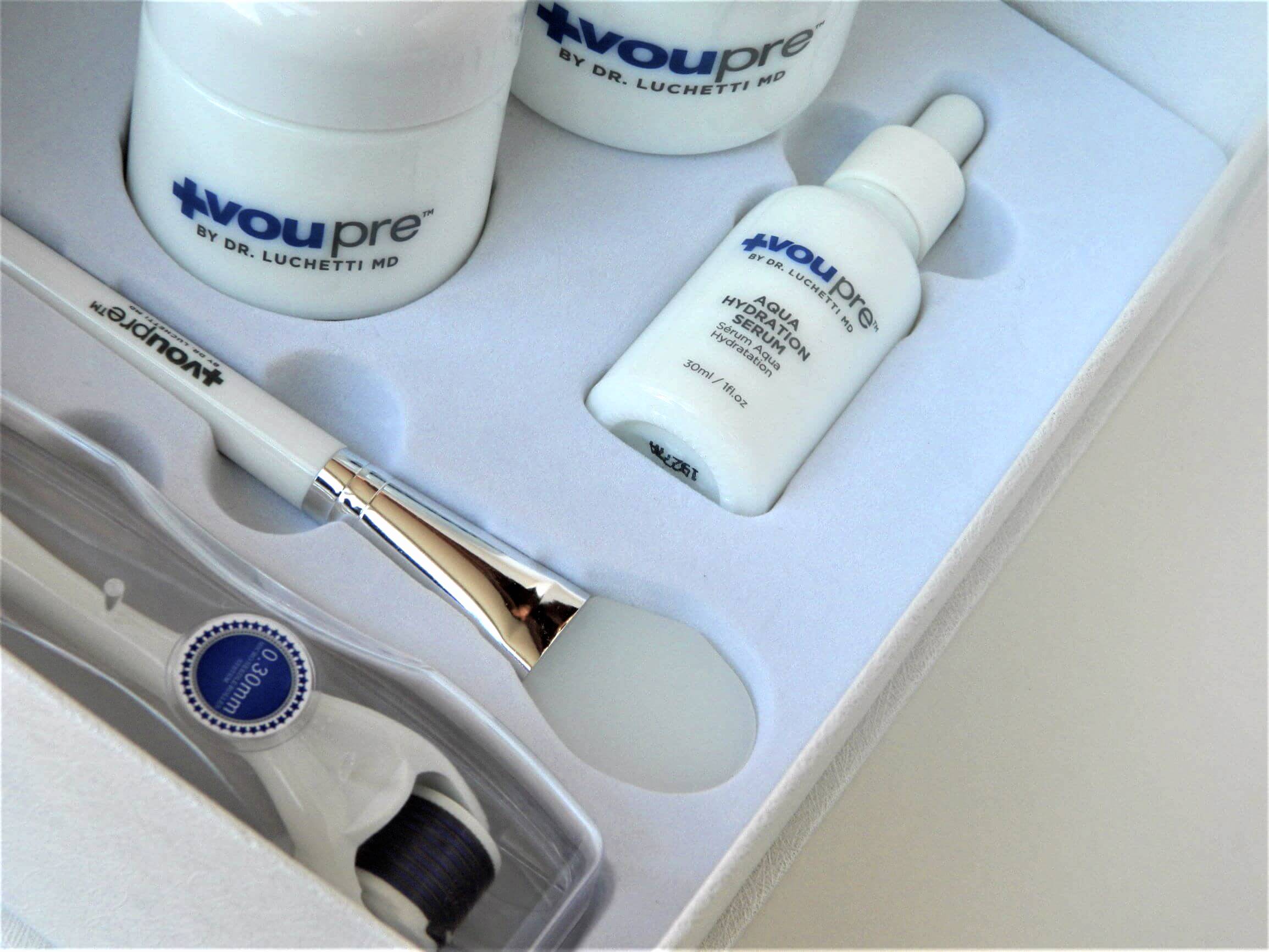 Let's take a closer look at each of the four components in the VouPre Aqua Skin Care Collection. They come together to form the ultimate skincare routine:
Step 1: Micro-Needling
Have you come across the term "micro-needling" or "derma rolling" before? It may sound like acupuncture but the two are very different in their benefits.
Acupuncture focuses on different strategic points of your body. The process involves inserting needles in these areas and leaving them for 10 to 15 minutes, creating a therapeutic effect. This procedure is used to improve a person's overall well-being by stimulating your body's nervous and circulatory systems.
On the other hand, micro-needling is a skincare technique that primarily focuses on causing micro-tears to your skin's outer layer. The tool used is called a derma roller that contains microneedles on its head. It's very important to sterilize the head before using it on your skin to prevent the spread of bacteria.
But how does it help the skin? Micro-needling is believed to help reinforce the feel of your skin and tighten its appearance. It can treat the appearance of acne scars and diminish signs of aging skin. This technique is a great way to enhance the texture and tone of your complexion naturally, making it appear plump and fresh. 
Micro-needling has become widely popular in the skincare world but you need to know what you're doing to get good results. If performed incorrectly, this technique can cause irreparable damage to your skin.
Using the Derma Roller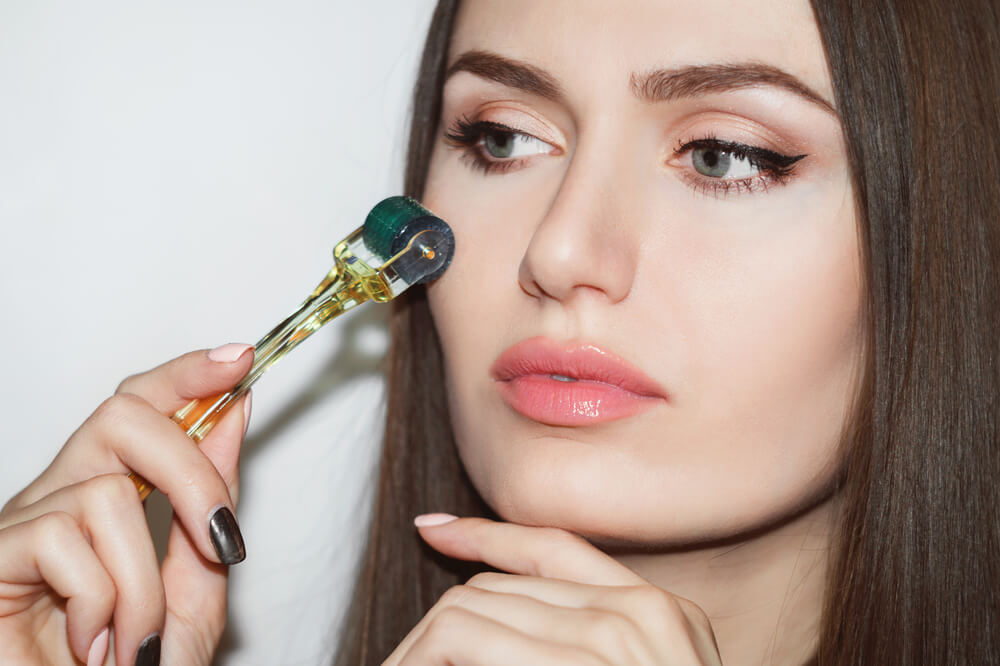 To prep for the first step of our Aqua Skin Care Collection, you need to cleanse your face and pat it dry. It's important to make sure your skin does not contain any residual makeup or dirt particles. For the best results, use VouPre's Radiance Facial Cleanser. The formula is enriched with Tocopheryl Acetate (Vitamin E), which works to prevent the visible signs of premature aging, promoting healthy-looking skin.
On freshly cleansed face, begin micro-needling with VouPre's 0.3 mm derma roller. Glide the roller across your face, focusing on areas with more wrinkles and enlarged pores. It's important to be very gentle while doing so; applying too much pressure can damage your skin. Glide the derma roller across each targeted area for 60 seconds. Carry out the whole routine for 4 to 10 minutes. If need be, you can spend some extra time on the stubborn areas of your face.
When it comes to derma rollers, getting the right-sized needles is very important. If you go under 0.3 mm, it won't do much to enhance the texture of your skin. But if you go for a bigger size above 0.5 mm, it could cause a lot of pain and irritation for your skin to handle. Our 0.3 mm roller is an effective, non-invasive solution to diminish the look of blemished skin.
Step 2: Aqua Melting Mask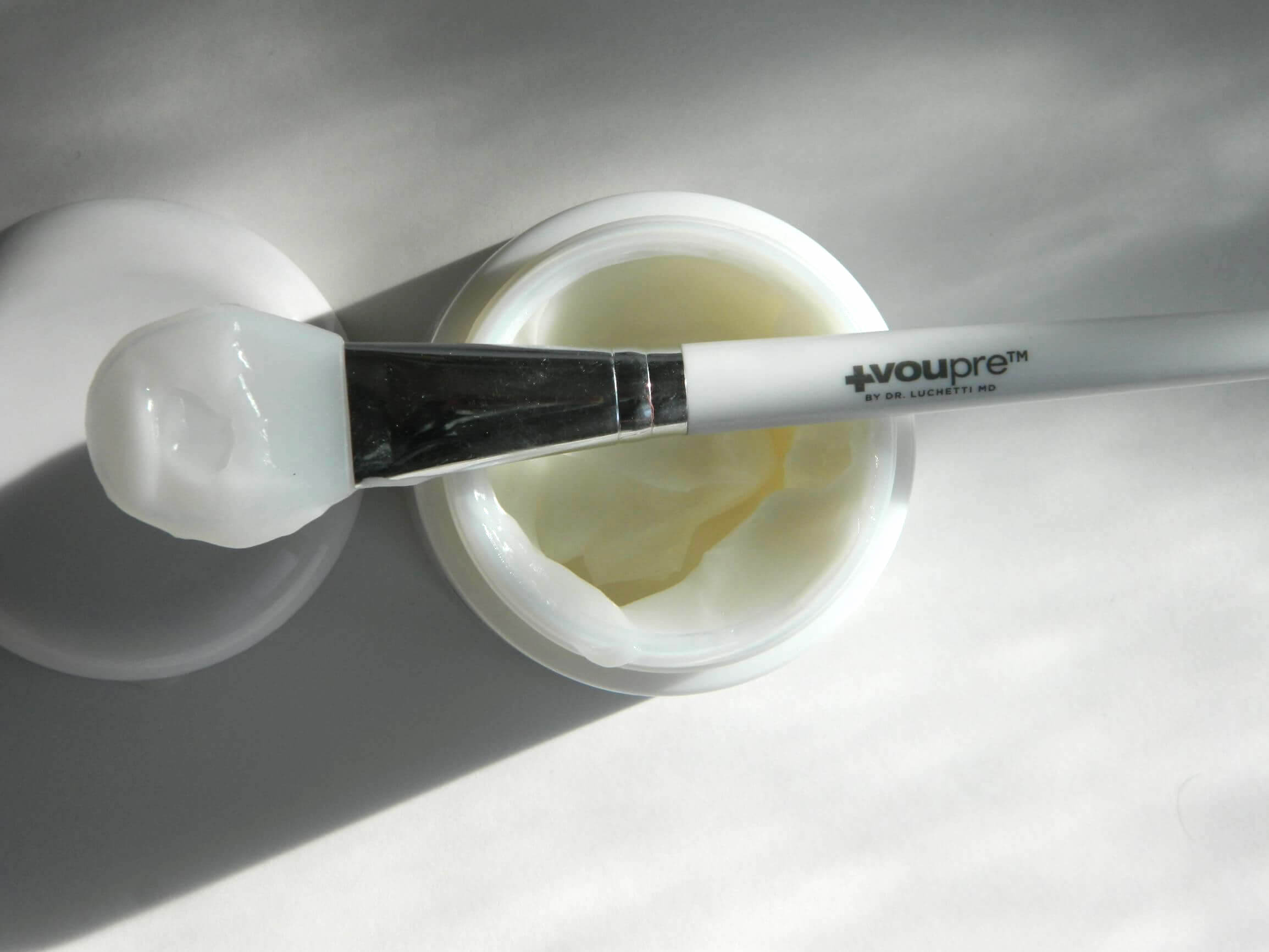 After you're done with the derma rolling procedure, it's time to apply our Aqua Melting Mask.
This collagen-infused formula comprises a rich blend of exotic fruit extracts, peptides, and vitamins to give you fresh, supple-looking skin. Here's a detailed breakdown of what this leave-in mask contains and how each ingredient can help you achieve glowing skin.
What's in the Aqua Melting Mask?
Our formula packs a host of rich botanical extracts to give your skin the royal treatment. These include:
English Lavender — This extract works exceptionally well to cleanse the skin, diminishing the appearance of acne breakouts. It can also help unclog pores and relieve dry skin. It's a great treatment for reducing the appearance of acne scarring and redness.
Acai Berry — Acai Berry extract is laden with skin-beneficial fatty acids that will leave your skin looking radiant and fresh. The rich vitamin and mineral content of this extract can help to diminish the appearance of aging spots, dull skin, and discoloration.
Chokeberry — This fruit is deemed a superfood when it comes to achieving radiant-looking skin. The extract is rich in the mineral zinc, which is essential for reducing the look of acne scars and puffy skin. It also works to weaken the appearance of fine lines and wrinkles.
Pomegranate — Aside from being a delicious treat, pomegranate is a sensational skincare ingredient. The extract works to protect your skin against further visible aging spots that occur as a result of UV exposure. It has also shown sensational capabilities to diminish the look of sun-induced hyperpigmentation.
Scottish Thistle — Another sensational plant extract on our list is Scottish Thistle. This ingredient works to revitalize the look of the skin's outer layer, making it appear much smoother and brighter.
Mangosteen — This extract is a rich source of Xanthones, a plant compound that possesses strong capabilities to help reduce the appearance of acne breakouts and other skin conditions. It also revitalizes the feel of your skin so it looks firmer and evenly toned. 
Aside from botanical extracts, our Aqua Melting Mask is also infused with leading skincare ingredients like Acetyl Hexapeptide, Sodium Hyaluronate, Vitamin E, and Retinyl Palmitate.
Using the Aqua Melting Mask
This product comes with a silicone paddle brush, the perfect mask applicator to apply an even layer of the desired product on your face.
After micro-needling, use this brush to apply the mask evenly to your face and neck. Leave it on for 10 minutes and then massage it into your skin until you spot water droplets forming. Let these droplets absorb properly into your skin before moving on to the next step.
You don't need to rinse the mask off.
Step 3: Aqua Hydrating Serum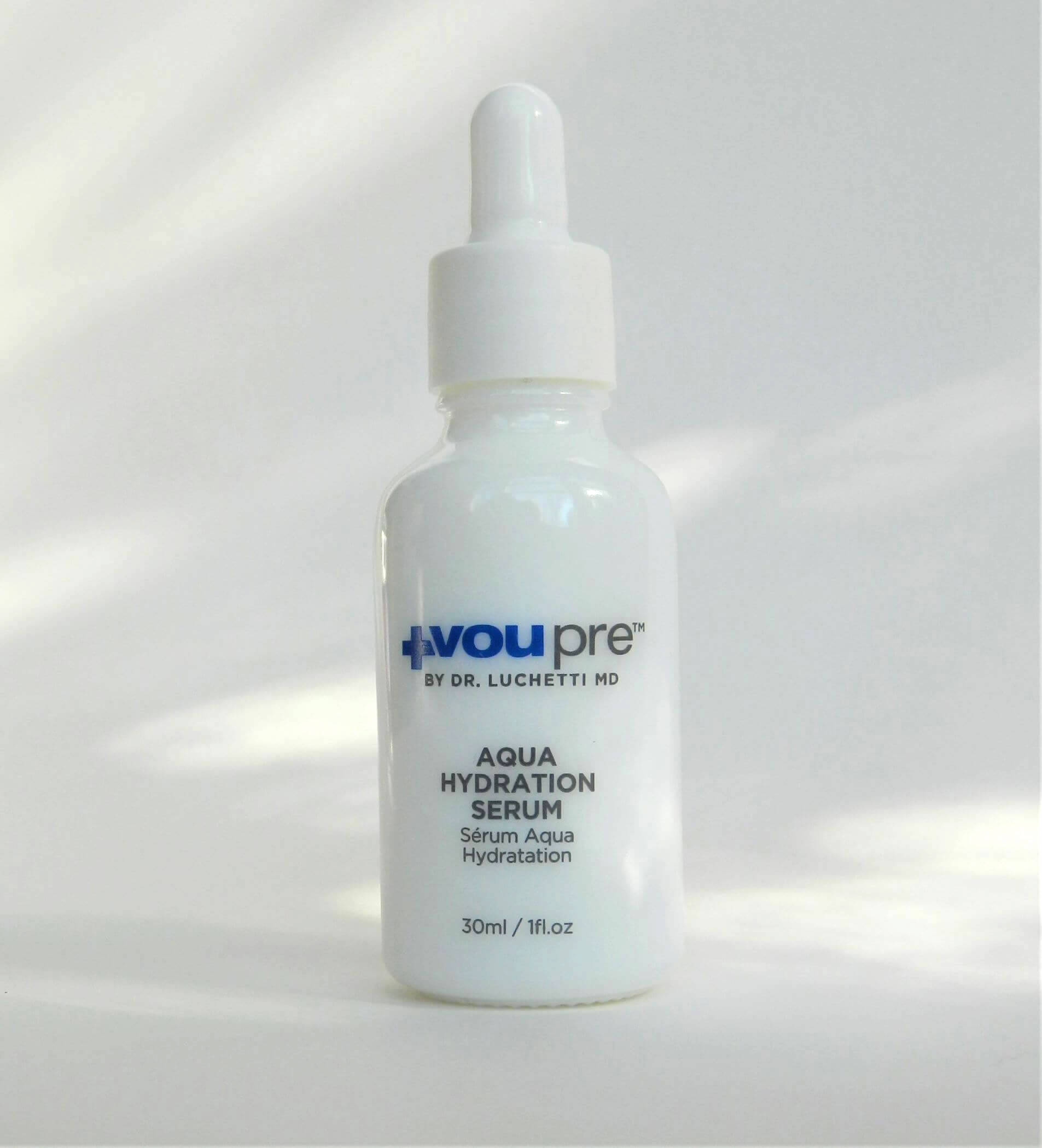 The next step is to use the Hydrating Serum from our Aqua Skin Care Collection. The product is infused with sensational ingredients for improving the appearance of your skin, including:
Retinyl Palmitate — As briefly discussed above, this form of Vitamin A is very suitable for improving the appearance of aging spots and blemishes. But were you aware that this is the gentlest form of retinol? This makes it highly suitable for people with dry, sensitive skin who wish to benefit from the many capabilities of Vitamin A.
Ascorbic Acid — Also known as Vitamin C, Ascorbic Acid is a sensational ingredient to help firm up the look of your skin and diminish the appearance of signs of aging. It also works exquisitely to balance the look of uneven skin tone, giving you a radiant glow.
Lactic Acid — When it comes to AHAs, Lactic Acid is the go-to for achieving soft, supple-looking skin. Due to its gentle and ultra-hydrating properties, this acid works to smooth out the look of your skin's texture by removing the top layer of dead skin. 
Organic Soybean Oil — Rich in Linoleic Acid (Vitamin F), Soybean Oil helps to increase your skin's moisture content, making your complexion look radiant and revitalized. It also works effectively to minimize the look of puffiness and age spots.
Organic Coconut Oil — When it comes to natural oils, you can't go wrong with Coconut. This ingredient is a powerhouse for dry skin as it locks in moisture while also reducing the look of red, puffy skin.
Using the Aqua Hydrating Serum
The proper way to use our Aqua Skin Care Hydrating Serum is to apply 2 to 3 drops to your face and neck.
Use gentle circular motions to slowly massage the serum into your skin until it's fully absorbed.
An Extra Treat
If you want to focus on your under-eye area as well, our Advanced Gold Eye Serum would be a great choice. It's infused with multiple peptides, botanical extracts, Hyaluronic Acid, and real gold!
This revolutionary formula is made to brighten up the look of your eye area while diminishing the appearance of fine lines, crow's feet, and weariness. You're bound to notice a smoother, fresher look around your eyes with our rich gold-infused eye serum.
Step 4: Aqua Nano Cream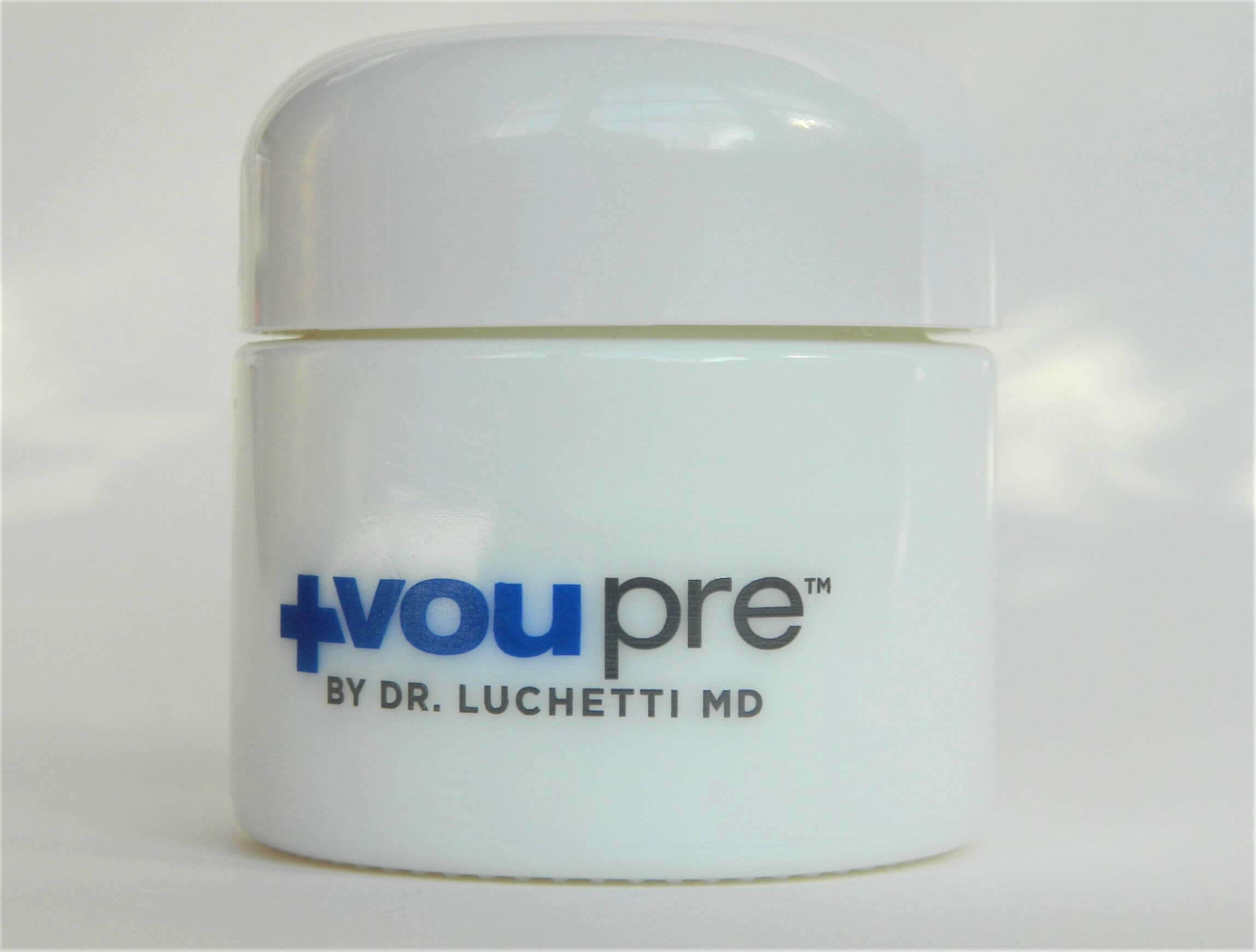 The last product in our Aqua Skin Care Collection is the Aqua Nano Cream. This sensational formula is designed to give your skin a smooth, velvety feel. It's infused with powerful ingredients, like Sodium Hyaluronate, Vitamin E, peptides, botanical extracts, and real gold! Here's all you need to know about what's inside:
Oligopeptide — This powerful peptide works to brighten up the look of your skin, improving the appearance of its tone and texture. It also plays a vital role in reducing the look of aging, like fine lines, wrinkles, and flaky skin.
Sunflower Seed Oil — Rich in Linoleic Acid, this oil is just what you need to keep your skin looking young and fresh. It also helps retain moisture so your skin doesn't dry out.
Lime Fruit Extract — This extract is great for reducing the appearance of acne and other skin conditions, like rosacea, hyperpigmentation, and wrinkles.
Avocado Oil — Avocado oil packs a plethora of vitamins and minerals to help revitalize and rejuvenate your complexion. It's also an excellent moisturizer to keep your skin looking soft.
Caffeine — When used topically, caffeine can help "wake your skin up." It works well to diminish the look of puffiness on your face while tightening its feel.
Seaweed Extract — This superior skincare ingredient packs all the vitamins and minerals that your skin craves. It helps to soften the look of your skin and diminish the appearance of puffiness.
Using the Aqua Nano Cream
The Aqua Nano Cream is a perfect feather-light infusion to complete your Aqua Skin Care regimen.
Use it after the Hydrating Serum has been fully absorbed.
Take a pea-sized amount for each area of your face and neck. Spread it evenly by massaging in gentle circular motions until the cream is fully absorbed.
VouPre's Aqua Skin Care Collection — Look & Feel Your Best!
And there you have it; that's VouPre's four-step Aqua Skin Care Collection to tackle dry, dehydrated skin. Every time you're looking for a glow up, this collection will deliver great results!
Click here to check out other bestselling products from VouPre.