Lets Talk the Benefits of LED Light Therapy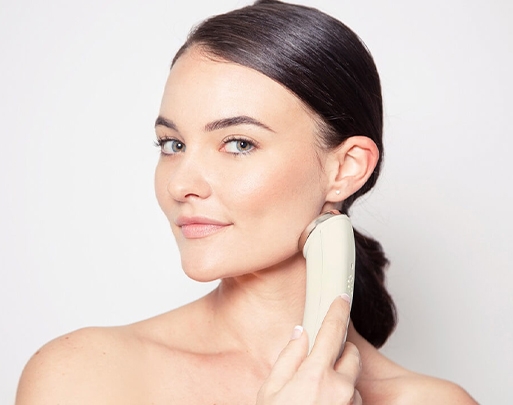 LED (Light Emitting Diode) light therapy is a non-invasive treatment used to rejuvenate the skin.  The popularity of LED devices has grown tremendously over the past few years.  NASA originally developed LED for plant growth experiments on shuttle missions and later found it to help wound healing. LED light does not contain ultraviolet rays and it is safe. There is no downtime in treatments. Side effects are rare. There are very few contraindications; however, it should not be used if you have a rash in the areas you will treat, or if you are on Accutane for acne.  Various skin problems can be treated and improved with LED light from sunspots, scars, acne, and fine wrinkles.
LED light works by emitting different wavelengths/spectrums which have different skin benefits.
Amber light stimulates collagen and elastin to decrease wrinkles.  Red light treats the epidermis (top layer of the skin)  and dermis  (middle layer of the skin) by stimulating collagen proteins and increasing circulation and increasing elastin production, which tightens skin. More collagen decreases wrinkles and improves the appearance of the skin. Red light is also believed to reduce cytokines (proteins that are important in cell signaling), which cause inflammation and help reduce post-inflammatory changes after acne is treated. Blue light kills bacteria (targets oil glands which trap bacteria) and helps regulate natural oil production, thereby reducing the appearance of large pore size. The original LED device brought relief to arthritic pain, helping to relax tissue and increase blood circulation. The color of the light used will be dependent on what skin concerns you have. 
LED treatments can be administered in SPAs or with the use of at-home devices. The benefits from LED treatments may take several weeks, as they are much less invasive than in-office treatments.  The use of at-home LED devices will also help maintain the benefits brought by more invasive treatments in a dermatology or plastic surgeon's office, such as laser, chemical peels, or micro-needling. LED uses a combination of red and infrared light to promote skin rejuvenation by delivering specific energy to the skin by repairing collagen in the dermis (second layer of the skin) and reducing signs of aging in the epidermis (top layer of the skin) by enhancing texture and smoothness of the epidermis. Red light leaves the surrounding tissue unharmed. Using LED devices at least  3 times a week will help maintain firmness and smoothness to your skin, improve tone, texture, and decrease fine lines with the ease and convenience of at-home use. Another area to use LED light is on the neck where aging easily becomes apparent.
VouPre offers an entire array of at-home devices to improve acne, aging, sun damage, microcirculation, puffiness, texture, and appearance of the skin. Combined with skin products prior to applying one of the VouPre devices at home, you can enhance the results you are looking for. Whether you want to treat specific problem areas treated, like neck or eyes, or your entire face, VouPre has the product to target these areas. From blue to red light, VouPre offers a wide array of treatments as well as an at-home radiofrequency device.
Radiofrequency tightens and rejuvenates the skin by using the tissue's resistance within the various layers of the skin to transform the RF energy given to the skin into thermal energy. This process induces collagen remodeling and skin tightening. Since radiofrequency energy produces an electrical current instead of a light source, like lasers, tissue damage can be minimized. Therefore, it can be used on any skin color without causing pigmentation changes. The out home RF devices do not cause the discomfort and side effects of in-office devices, but the results are much slower and more subtle.  However, there is no downtime with the at-home devices.  Using a combination of radiofrequency and LED at-home devices will maintain a refreshed and youthful look, and will help maintain the effects from invasive procedures.