L'Rae i – Jade Eye Wand
Relieve, restore and brighten the look of tired eyes and skin fatigue with the L'Rae i. This groundbreaking device features two modes: Blue to soothe and perk up the appearance of the skin around the eyes, and Red to reduce the visibility of fine lines and wrinkles. This powerful and pain-free anti-aging solution is a must-have in any skincare routine.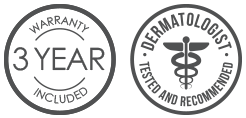 Eye Area Saver!
This product is just what my tired eyes needed!! I'm just so busy all the time and I get really stressed, but WOW, this eye wand is everything! My eyes look so bright and rejuvenated. I don't need anything else!