Daily Skincare Routines for Every Skin Type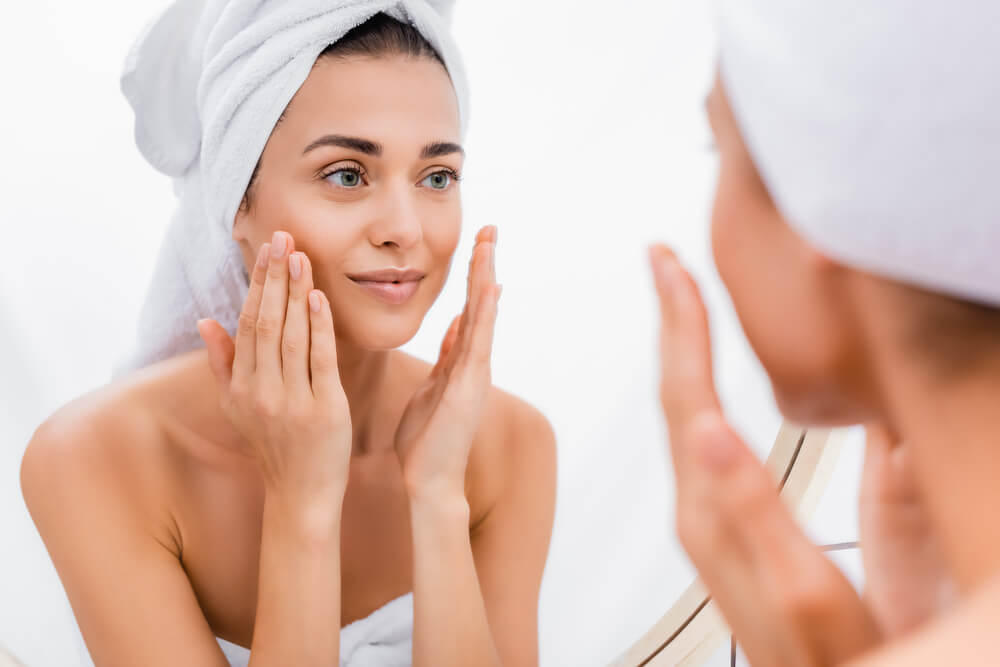 Just like fashion, food, and music preferences, skincare is not a one-size-fits-all affair. This can be easy to forget, especially with influencers and beauty gurus recommending products left and right. Unfortunately, just because one product works for someone, there is no assurance that it will deliver the same results for you. One large factor that plays into this is the existence of various skin types.
Skin types determine the way your skin looks, how it feels, as well as most of the issues that you will likely experience through the years. Certain skin types are more prone to acne, while others are more likely to manifest wrinkles and other signs of aging. Some skin types thrive in colder and drier weather, while others need a little extra help in these conditions. For these reasons, every skin type needs different daily skincare routines.
Here, VouPre breaks down the common characteristics and daily skincare routines for every skin type. 
What is My Skin Type?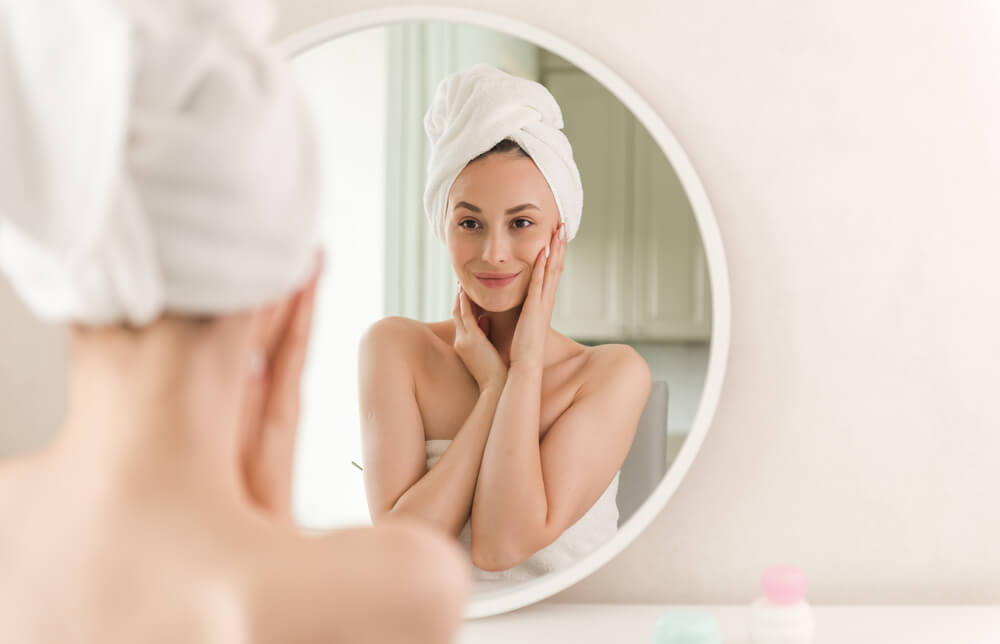 If you are not sure where along the skin type spectrum you fall, there are a few easy ways to identify your skin type. Knowing your skin type can drastically change daily skincare routines and how well they work.  
The first is the wash test. The wash test entails cleansing your face with a mild cleanser as you would when doing your skincare. But instead of following up with the rest of your skincare steps, simply pat your face dry with a towel and leave it as is. Do not apply any products or makeup for at least half an hour. 
After 30 minutes have passed, take some time to examine how your skin looks and feels. Does your skin feel tight or look flaky? If so, your skin is most likely dry. On the other hand, if your T-zone and cheeks are noticeably shiny, you likely have oily skin. Normal skin is the balanced in-between — neither dry nor oily.
Another method that you can use to discover your skin type is the blotting test. Take a sheet of oil blotting paper and press it against every part of your face. Dry skin usually leaves little to no oil on the sheet, while oily skin can typically saturate a large portion of the blotting sheet with oil.
Lastly, you can visit your dermatologist to get a definitive diagnosis of your skin type. This is the most foolproof method out of the three. Remember, skincare is a science, so getting an expert's opinion is always a good idea.
Daily Skincare Routines for Every Skin Type
Once you have a clear understanding of your skin type, you can begin to map out a clear plan of action. Below, we've created daily skincare routines for each skin type:
Dry Skin 
Dry skin is characterized by a lack of moisture in the skin. This "moisture" pertains to the natural oils produced by the sebaceous glands. This can be aggravated by a damaged lipid barrier. Skin that lacks moisture may be identified by the following signs:
Dullness

Feeling of tightness

Rough or leather-like texture

Flakiness

Redness

Lack of elasticity

Barely visible pores
It is important to keep dry skin moisturized, especially in dry or cold weather. One of VouPre's daily skincare routines is ideal for countering the appearance of dryness.
A Skincare Routine for Dry Skin
Start with the VouPre Aqua Collection. Comprised of three easy steps and a microneedle roller, this collection will leave your skin feeling ultra-moisturized.
Kick off your routine by using the eclosed 0.3mm microneedle roller. Despite having mini needles lining its wheel, this roller does not hurt or cause bleeding. Instead, this minimally invasive process helps tighten the appearance of the skin and increase product absorption. To use, simply roll the tool against the skin with gentle pressure. Work across the face in small areas, focusing on each area for up to 60 seconds.
After washing your face with a gentle cleanser, finish off your cleansing step with the Aqua Melting Mask. This leave-on mask is formulated with a blend of rich, moisturizing ingredients to quench the skin's thirsty feeling.
One of the star ingredients in this mask is collagen, which is naturally produced by the skin to maintain the look of plumpness and elasticity.
Squalane (not to be confused with squalene!) is another moisturizing agent found in the Aqua Melting Mask. In addition to keeping the skin well-moisturized, it can help soothe the feeling of redness and irritation.
Next, apply a few drops of the Aqua Hydration Serum. While this product is formulated to combat the loss of moisture in the skin, its curated ingredient list also works wonderfully against the look of dryness. This serum contains soybean oil and coconut oil, which are both natural oils with moisturizing abilities.
Another important component of the Aqua Hydration Serum: Vitamin C. In addition to overall dryness and flakiness, a dull complexion is another telltale sign of dry skin. Vitamin C is a popular choice for countering the appearance of dullness and dark marks, as it can fade the look of hyperpigmentation and give the skin a brighter, more radiant glow.
The last step in the VouPre Aqua Collection is the Aqua Nano Cream. Like the Aqua Hydration Serum, this cream contains soybean and coconut oils. It also has sunflower oil, avocado oil, and collagen to keep the skin looking plump and moisturized.
Oily Skin
The exact opposite of dry skin, those with oily skin experience a completely different set of symptoms and skin concerns. Those with oily skin typically have the following:
Visible, enlarged pores

Excess facial oil

Frequent acne breakouts

Blackheads
Creating daily skincare routines for oily skin types can be challenging. Those with oily skin need as much moisture as others, but packing on too much product can lead to greasiness throughout the day. 
A Skincare Routine for Oily Skin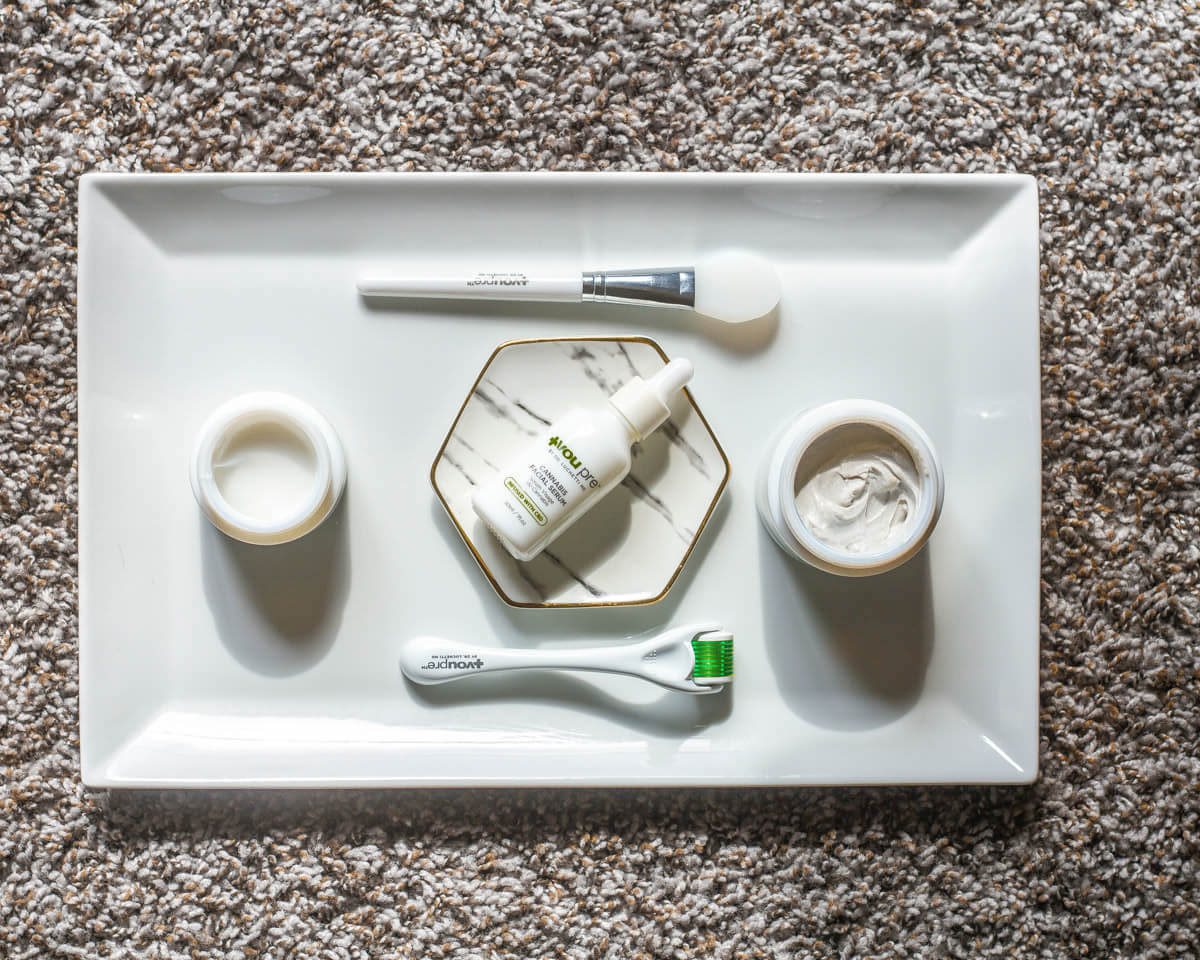 Our solution at VouPre is the three-step Cannabis Collection. The core ingredient of this trio of products is Cannabis Sativa seed oil, otherwise known as CBD oil. A skincare multitasker, CBD oil packs a variety of benefits.
Just like the Aqua Collection, the Cannabis Collection comes with a microneedle roller. This can be used ahead of the three skincare products in the set to boost absorption and tighten the look of the skin. For those with oily skin, this may be especially useful as it can help minimize the appearance of pores.
After cleansing the skin and using the microneedle roller, slather on a small amount of the Cannabis Caviar Transforming Mask. Formulated with kaolin and bentonite clay, this mask absorbs excess sebum without drying out the skin. Soothing willow bark extract also helps reduce the feel of inflammation that may lead to acne.
The Cannabis Caviar Transforming Mask is unique in the way it can metamorphose before your eyes. A ten-minute skin-saver, the mask turns from its original white color to a shade of gold when it is ready to be rinsed off.
Bring back hydration post-masking with the Cannabis Facial Serum. In addition to CBD oil, this serum contains a cocktail of vitamins and acids to help target common skin concerns. Some of the key ingredients in this serum include:
Vitamin A

Vitamin C

Lactic acid

Sodium hyaluronate
Like most daily skincare routines, this regimen finishes off with a moisturizer. While some claim that moisturizer is unnecessary for oily skin types, we argue otherwise. Everyone can benefit from a moisturizer — it's just a matter of selecting the right formulation for your skin. It is also important to note the possibility of oiliness being caused by the skin overcompensating for a lack of natural moisture.
The Cannabis Silk Cream from VouPre's Cannabis Collection is a great match for oily skin types. It is lightweight, and rich but non-greasy. Included in its formula are several ingredients perfect for oily skin, such as: 
Green tea extract

Grape stem cell extract

Rosemary extract
To ensure top-notch nourishment without excessive shine throughout the day, apply the Cannabis Silk Cream in light layers.
Normal Skin
Normal skin is the sweet spot between oily and dry skin. Common characteristics of normal skin include a radiant complexion, barely visible pores, no dryness, and no excessively oily areas. Because of the balanced nature of their skin, those with this skin type do not break out often. Typically, they are not prone to sensitivity. 
However, this is not to say that normal skin is perfect. Everyone encounters their fair share of skin issues — even those who fall right in the middle of the dry-oily spectrum. Daily skincare routines are just as important for those with normal skin.
A Skincare Routine for Normal Skin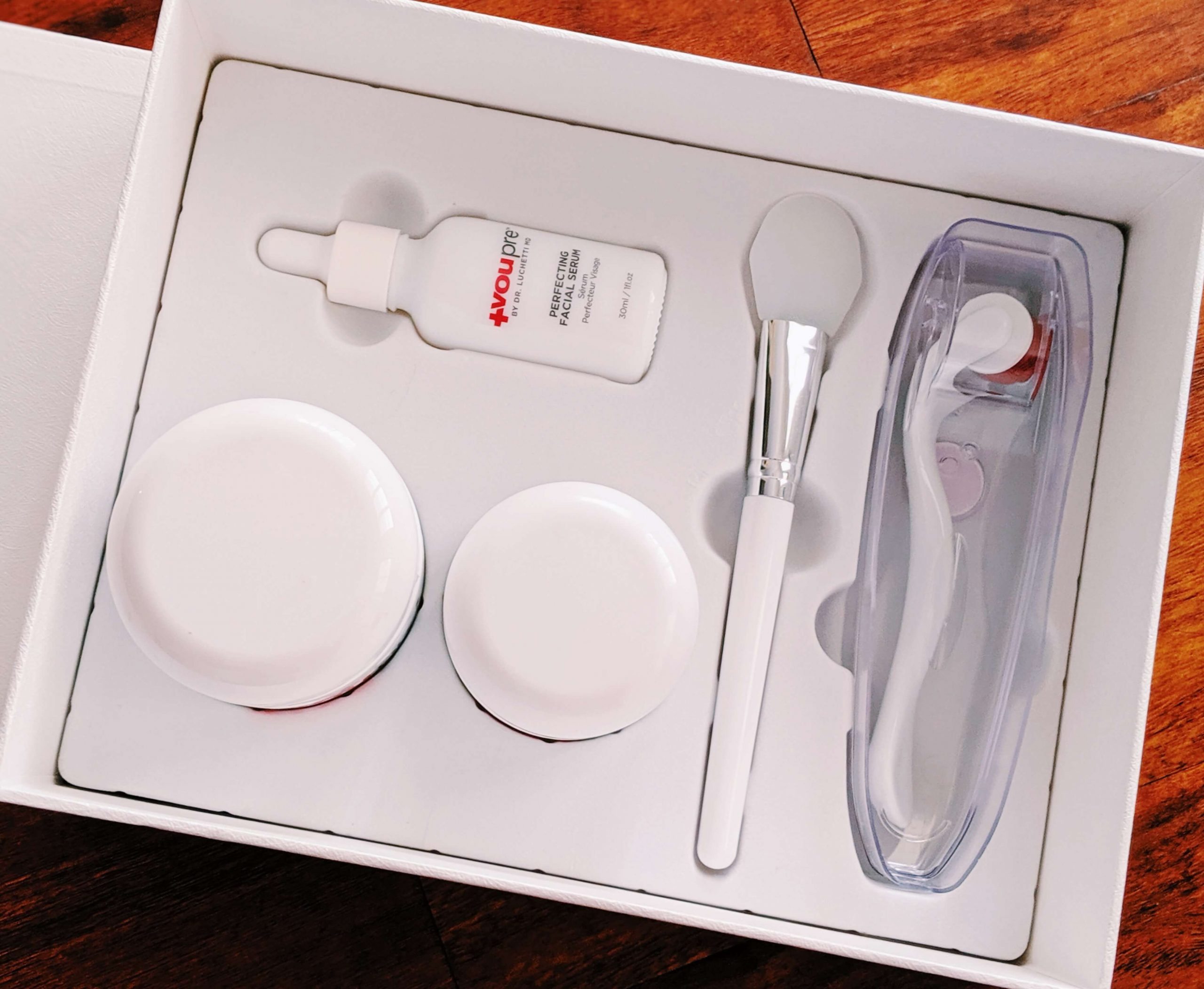 Here at VouPre, we have an easy four-step routine for normal skin types.
Start with the VouPre Deep Renewal Facial Peel. This mild exfoliator helps the skin maintain a bright and radiant-looking tone. Furthermore, using this peel can help pick up any deep-seated debris that your cleanser may have failed to pick up.
Unlike the rest of the products in the daily skincare routines we've recommended, the Deep Renewal Facial Peel is not formulated for everyday use. Considering the potency of its ingredients, this exfoliator is best used once a week.
After cleansing and exfoliating, follow up your routine with three steps from VouPre's Thermal Collection. This line of products contains three easy steps to jazz up your skincare routine for normal skin:
Detoxifying Thermal Mask

Perfecting Facial Serum

Corrective Facial Cream
Those with normal skin are not exempt from imperfections. We are exposed to dirt and germs that can harm the skin daily. The Detoxifying Thermal Mask can draw these impurities out of the skin in just fifteen minutes.
As its name suggests, this mask leaves a warming sensation on the skin. The roots of warming skincare can be traced to heat therapy, which has been used across cultures for centuries. 
To help amp up the results, add a few drops of the Perfecting Facial Serum to your skin after applying the Detoxifying Thermal Mask. Together, these products have a symbiotic relationship, helping to intensify each other's effects.
In addition to improving the performance of the mask, the Perfecting Facial Serum has an impressive formulation of its own. It contains sodium hyaluronate, allantoin, and a skincare power couple: Palmitoyl Tripeptide-1 and Palmitoyl Tetrapeptide-7. 
Finish up your regimen with a coin-sized amount of VouPre's Corrective Facial Cream. Perfect for both day and night, this moisturizer is lightweight enough to layer with serums, sunscreen, and heavier night creams. Just like the Perfecting Facial Serum, the Corrective Facial Cream contains an ingredient power couple of its own: vitamin A and vitamin E.
Together, these vitamins can bring the best out of normal skin types. 
Here at VouPre, Dr. Mary Ellen Luchetti helms a team that proudly pioneers modern spa treatments and daily skincare routines for every skin type. Discover more of our beauty innovations online.