What Do VouPre Reviews Say About the Cannabis Caviar Transforming Mask?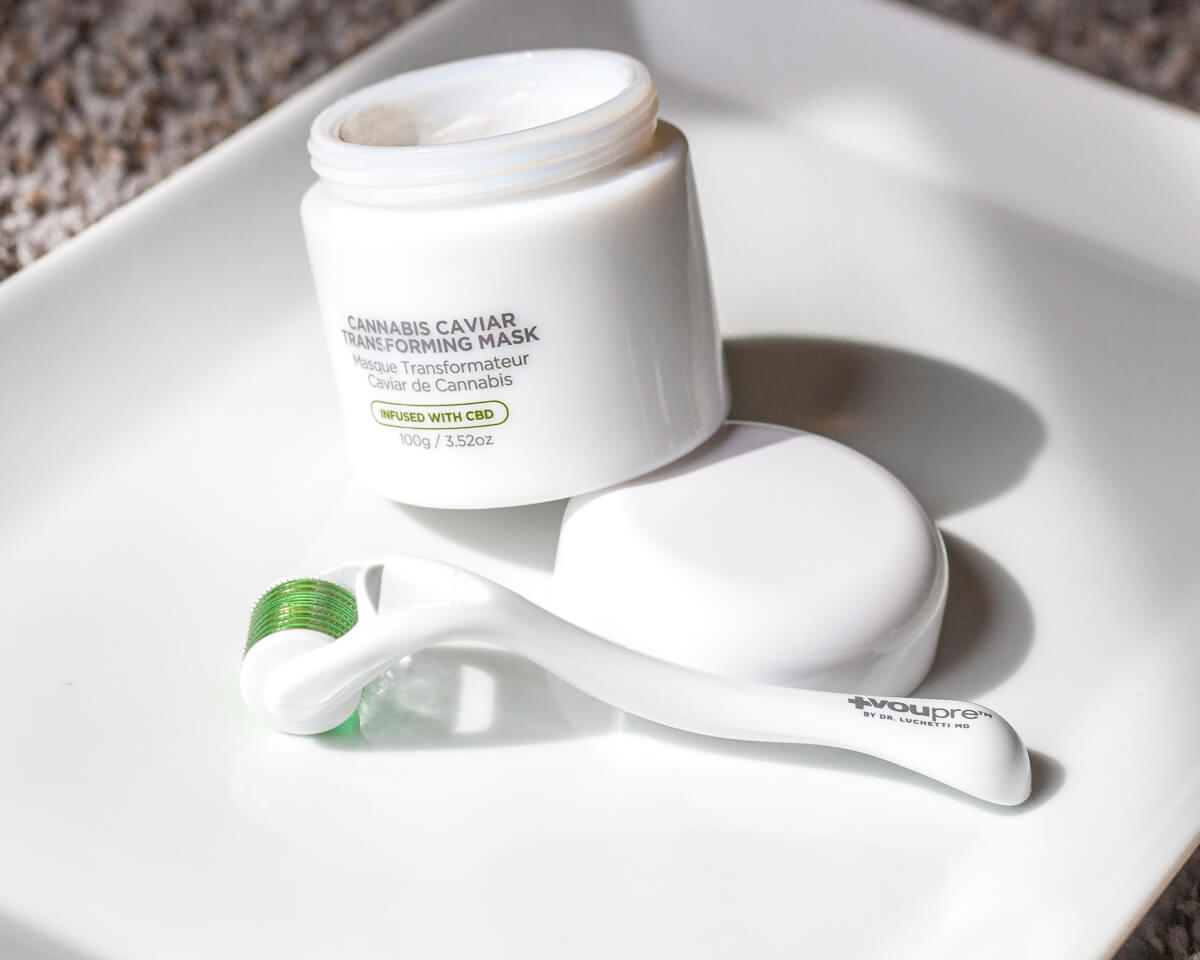 No matter the season, we have one skincare recommendation that deserves a spot in your routine: the Cannabis Caviar Transforming Mask. One of the steps in VouPre's three-step Cannabis Collection, this mask is a quick and easy way to destress at the end of the day, or even start the morning on the right foot.
Don't just take our word for it — below, several VouPre reviews highlight the best features of this multitasking mask. 
Cannabis in Skincare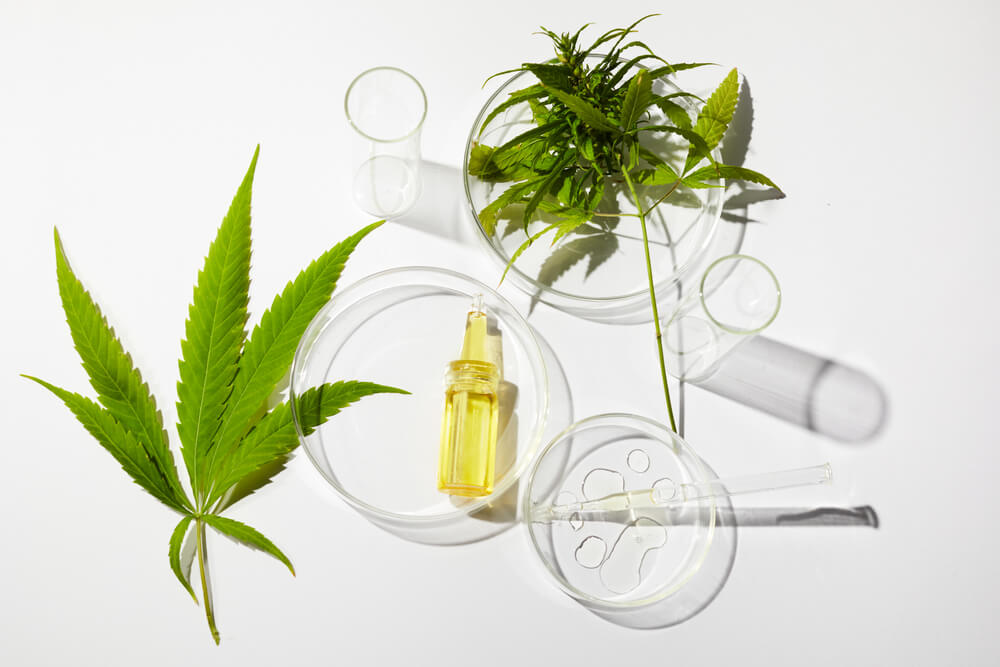 Now, you may be wondering: Cannabis in skincare? Cannabis Sativa seed oil, otherwise known as hemp seed oil, has been steadily growing in popularity in the skincare world. Derived from the hemp plant, this oil does not contain any mind-altering properties that can induce a high.
Outside of the beauty realm, cannabis is a popular solution to many ails such as pain relief and blood pressure. However, when used topically through skincare products, cannabis delivers a different set of benefits.
Some of these benefits include: 
Attracting moisture and locking in hydration

Soothing and alleviating the feeling of dryness

Evens out the appearance of the skin's texture and tone

Reducing the appearance of oiliness and acne

Contributing to younger-looking skin
Let's break some of these benefits down:
The Benefits of Cannabis Skincare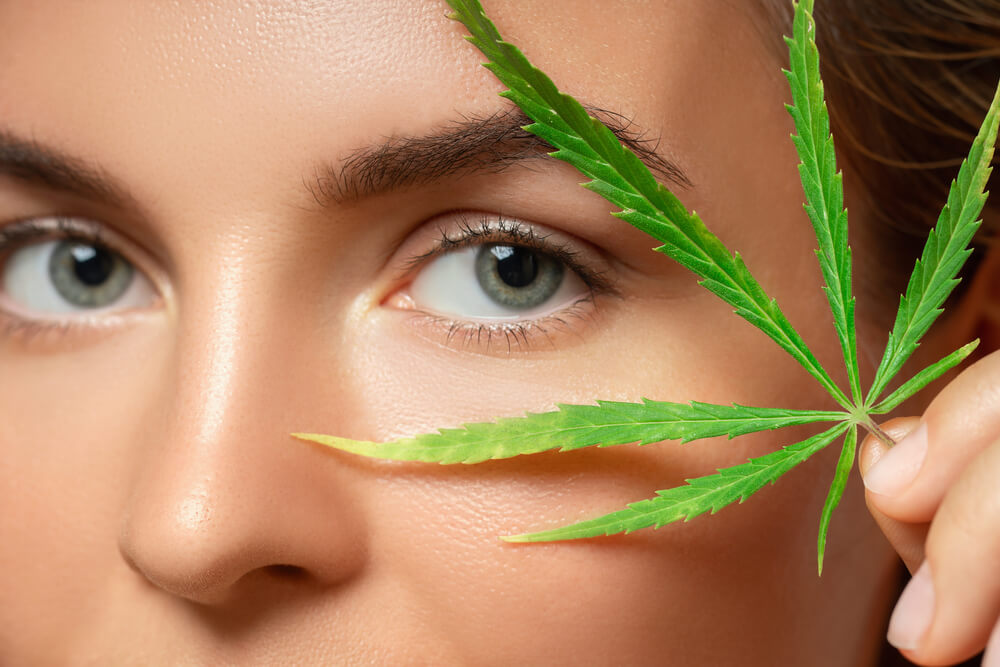 First, Cannabis Sativa seed oil is recognized as both a humectant and an emollient. While these two terms are often regarded as one and the same, their functions are completely different. 
As a humectant, Cannabis Sativa seed oil helps draw water to the skin to give off a plumper and more hydrated look. On the other hand, as an emollient, it contributes to the skin's oil content to relieve the feeling of dryness. It also smooths the feeling of the skin's outermost layer, contributing to a more even-looking texture all around.
Another interesting characteristic of this ingredient is its ability to create an invisible barrier to prevent hydration from escaping the skin. This prolongs the appearance of a softer, smoother complexion.
Furthermore, hemp seed oil is rich in fatty acids like linoleic acid, otherwise known as omega-6, and alpha-linolenic acid, also known as omega-3. While most of us are familiar with the benefits that these ingredients provide in terms of holistic health, they can also go a long way to improve the appearance of the skin. Omega-3 and 6, for instance, help reduce the look of acne. This makes the skin look smoother and healthier. Another benefit of these fatty acids: their ability to minimize the appearance of wrinkles, fine lines, and other visible signs of aging.
With cannabis at the core of its formulation, it's no wonder the Cannabis Caviar Transforming Mask has earned its fair share of positive VouPre reviews.
However, cannabis is not the only star ingredient in the Cannabis Caviar Transforming Mask's formula. Some of the other key ingredients that have helped this product earn rave VouPre reviews include: 
Glycerin

Safflower seed oil

Mannitol

Willow bark extract

Honey Panthenol
To use the Cannabis Caviar Transforming Mask, use the enclosed skincare spatula to scoop out an appropriate amount of product. Apply evenly on the face and neck area, taking care to avoid the eyes. Leave on for ten minutes, then wash off with cool water.
What Do the VouPre Reviews Say?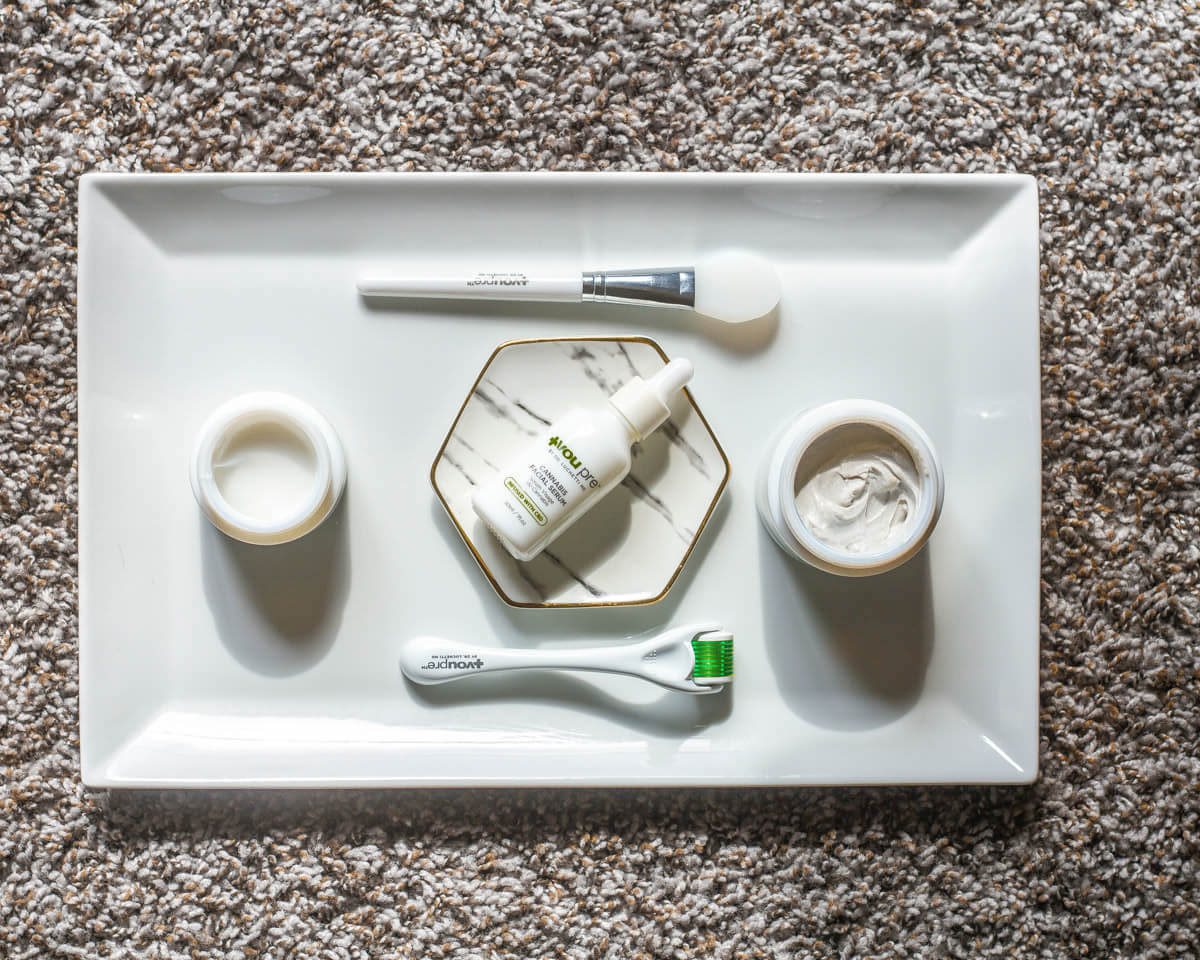 We could keep going on about the beneficial properties of the Cannabis Caviar Transforming Mask. But why not hear the good news from VouPre customers themselves?
Below, we've gathered some of the most common feedback on the Cannabis Caviar Transforming Mask for VouPre reviews:
Cooling Sensation
"The Cannabis Caviar Transforming Mask is my favorite part of the Voupre Cannabis Collection," says Maria Carron of MediaShelf. One of the reasons she loves the mask is the sensation it leaves on the skin upon first application.
"I noticed an immediate cooling effect after applying the mask. There was a slight, pleasant, tingling sensation that dissipated quickly," says Maria. The Cannabis Caviar Transforming Mask contains two forms of clay — Bentonite and Kaolin — to help absorb excess sebum. Some skincare clays have a slight cooling effect when applied to the face. However, this sensation feels energizing, never painful or unpleasant.
In their VouPre review, Creative Fashion Bloggers adds, "My skin felt cool, like the sensation of a menthol lip balm on dry lips, and far more refreshed than my usual exfoliating scrub could ever have me feeling."
This cooling effect can also leave the skin feeling refreshed and rejuvenated. It's the perfect way to lift away stress after a long, hectic day. According to Clara Doyle of The Value Place, "It took me a few minutes to wash all the mask off my face. But once it was all gone, my skin had already started to feel soothed and refreshed."
Color-Changing Transformation 
By now, you may find yourself wondering what the "transforming" aspect of the mask is about. This is one of its distinguishing features.
In just ten minutes, the Cannabis Caviar Transforming Mask turns from a muted off-white shade to a rich orange-tinged gold color. While this is a sight to behold, it's not just pretty: the color shift is your signal that the mask is ready to be washed off. 
In one of our favorite VouPre reviews, The Value Place's Clara Doyle shares, "It was pretty extraordinary watching the color change while massaging the product onto my face. I instantly thought it would be a great product to use during a girls' night in." The Cannabis Caviar Transforming Mask hits two birds with one stone: it's effective at improving the look and feel of the skin, while also being a photogenic skincare step for Instagram!
Smooth and Fresh Post-Masking Appearance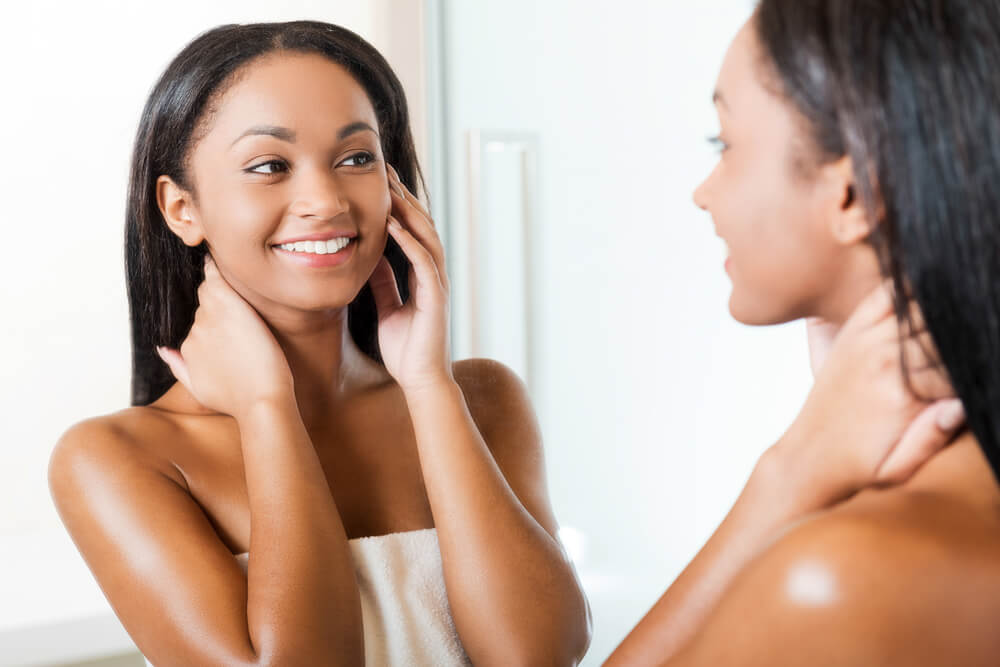 As interesting as the mask's transformative aspect may be, it needs to bring more to the table than just color-changing technology to earn positive VouPre reviews. It has to deliver impressive results too. If the VouPre reviews are any indication, we say the Cannabis Caviar Transforming Mask sticks the landing.
For a product that is formulated to be used for only ten minutes each week, this mask brings almost instant results. Upon washing the mask off, the skin is left feeling soft, smooth, and clean. As Creative Fashion Bloggers notes in one of our VouPre reviews, "To boot, I cannot remember a time my skin has felt as fresh as it did when I finished toweling off the mask."
This is thanks to the mask's ingredients, which have been masterfully curated by the VouPre team. Apart from Cannabis Sativa seed oil, one of the main components of this mask is caviar. Yet another uncanny skincare ingredient, caviar delivers several benefits that can help improve the look and feel of skin, such as:
Smoothing out the feel of skin texture

, thanks to amino acids, vitamin C, and fatty acids

Deeply moisturizing the skin

, and keeping the moisture locked in

Contributing to a brighter, more radiant complexion
Another common review of the Cannabis Caviar Transforming Mask is how it leaves users feeling pure and pristine — all without the discomfort of overly stripping the skin's oils. This can be credited to the coconut-derived surfactants in the mask's formula. Despite effectively lifting dirt and grime off the skin, these ingredients can get the job done more gently than traditional cleansing agents.
Generous and Convenient
In addition to their skin benefits, one of the many good things about rinse-off masks is how long they last. For instance, the Cannabis Caviar Transforming Mask is designed to be used once a week. Considering that you only need a thin, even layer for each use, a single 100-gram jar can last you a long while, promising a major bang for your buck.
The mask's great value is one of the many positive aspects mentioned in VouPre reviews. According to Heidi Kim of Lucky Polls, "This mask comes in a big jar. Given its size and quantity, I know it's going to last me a long time. Running out of the product is a non-issue unless you're a mask addict who uses it frequently." 
Another feature of this mask that beauty junkies mention in their VouPre reviews is how convenient and mess-free it is. This is thanks to the enclosed paddle spatula.
With a long, easy-grip handle and a silicone tip, the spatula helps you pick up just the right amount of product. It can also be used to spread the mask evenly across the surface of the face, saving you from having to use your fingers. This also slims down the chances of germs contaminating the jar. Heidi adds, "Genius! It never crossed my mind to use a mask applicator before, but I'm a believer now."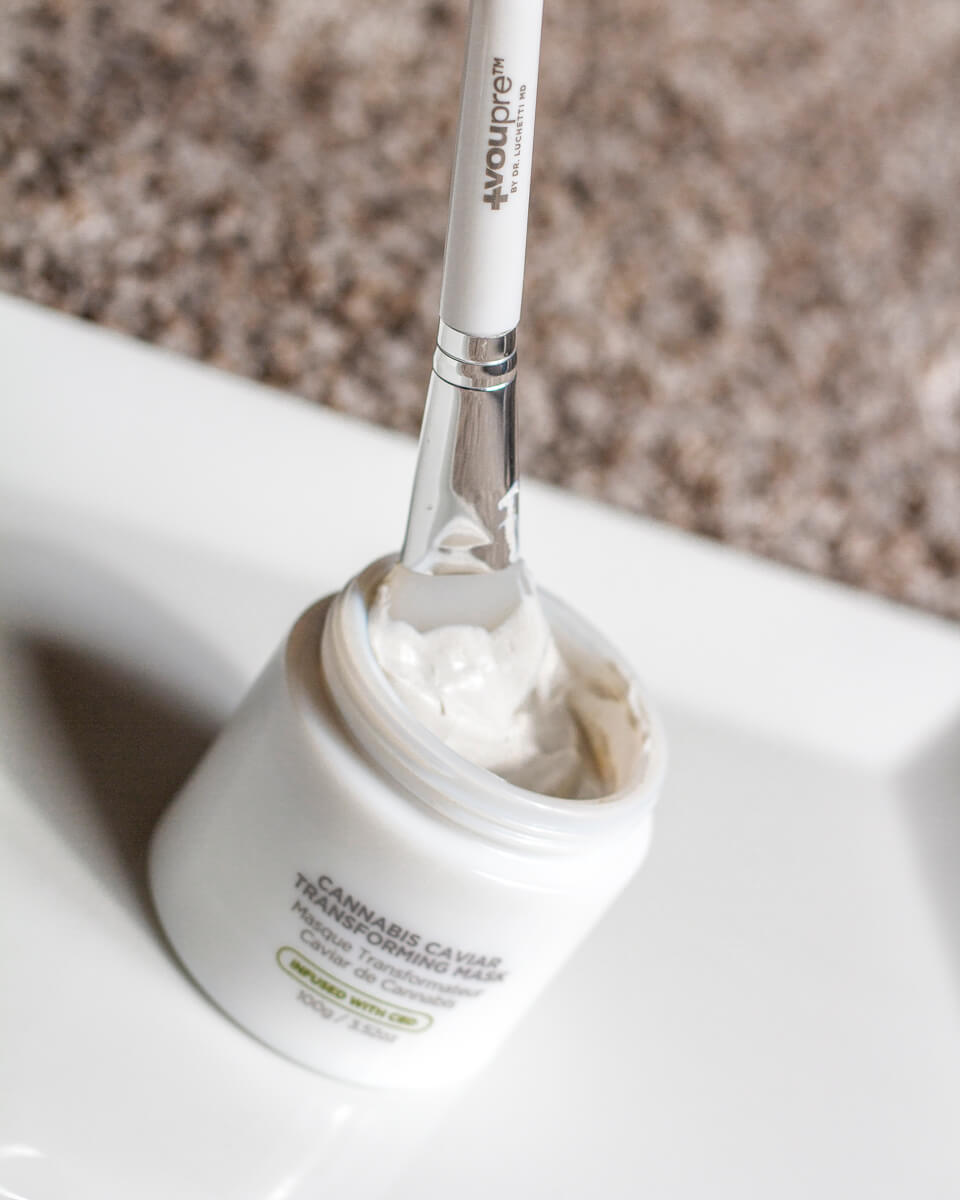 Spa-Like Luxury
Masks, whether they are leave-on, wash-off, or sheet iterations, allow you to carve out a little time for self-care. Those ten minutes spent waiting for the Cannabis Caviar Transforming Mask to settle and change color are meant to be your window of relaxation, your spa-like oasis. This is why we at VouPre go all out in communicating that sense of luxury in each one of our skincare collections.
Our Cannabis Collection feels premium through and through, from its packaging to the experience of using the products themselves.
According to Clara Doyle's review, "Dr. Luchetti MD did a great job in picking her packaging because all of her products are stored in durable, thick glass jars. The quality of the product shined because it had a great weight and design." 
On investing in the at-home spa experience, Heidi Kim says, "If you're serious about pampering your skin and have some cash to spare, go ahead and give these a shot. It might be all the buzz you need in your skincare repertoire!"
Complete the Experience
Don't let your self-care stop with the Cannabis Caviar Transforming Mask. Take some cues from the VouPre reviews mentioned above and fully immerse yourself in the skin-pampering magic of our Cannabis Collection.
Besides the transforming mask, the Cannabis Collection also includes:
Cannabis Facial Serum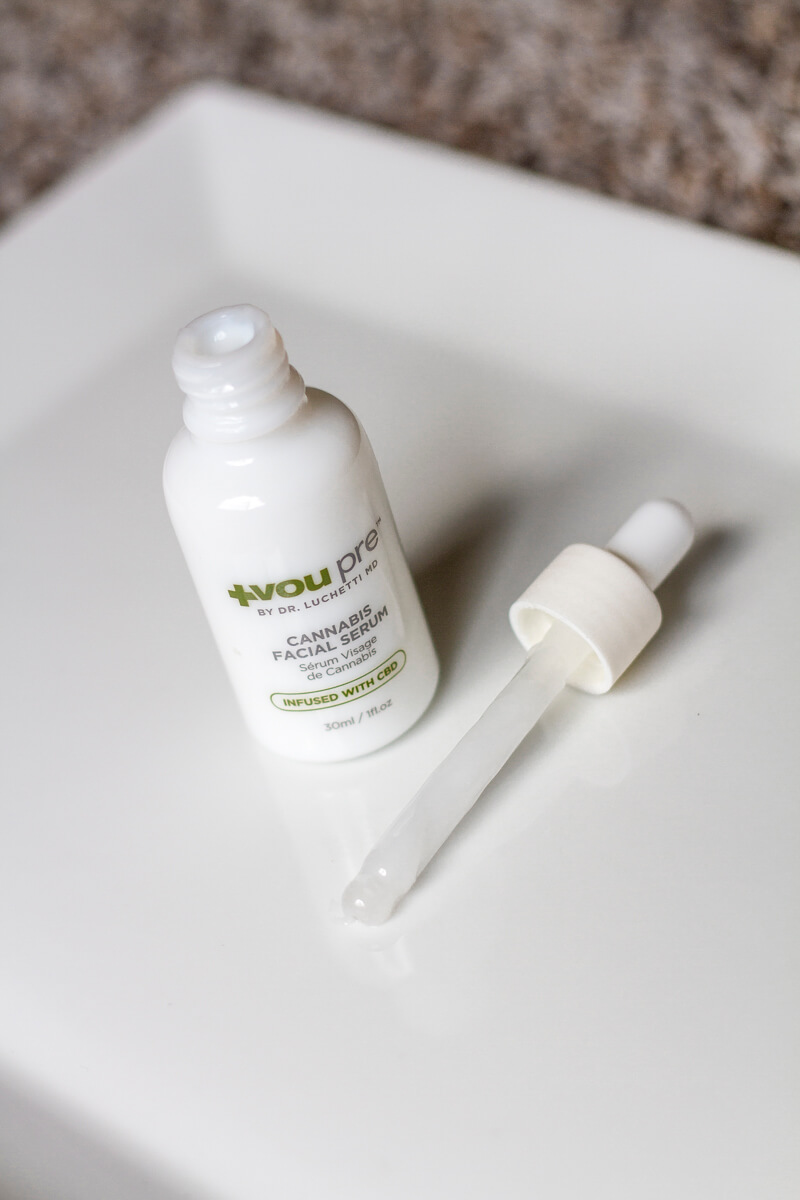 Free of fragrance, essential oils, and skin-stripping alcohols, the Cannabis Facial Serum is a great match for those who like keeping their skincare pared down. With a no-frills formula, this serum only features the ingredients it needs to improve the skin's texture and appearance. 
Some standouts in the Cannabis Facial Serum's ingredient list include:
To use the Cannabis Facial Serum, simply dispense two to three drops onto the palms of your hands. Gently pat the solution into the face and neck until fully absorbed.
Cannabis Silk Cream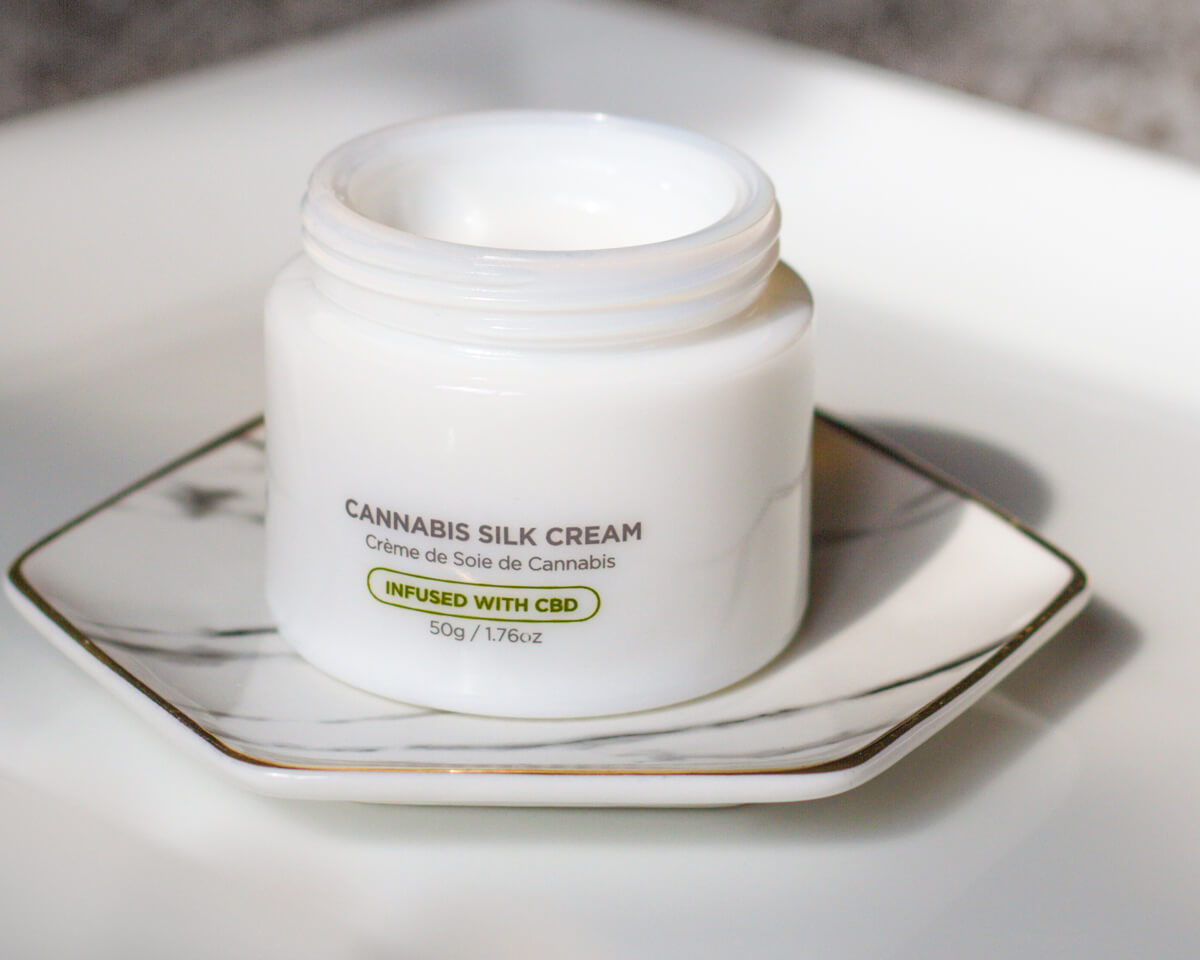 The Cannabis Silk Cream is the finishing touch to the VouPre Cannabis Collection. It functions as a moisturizer, locking in the good properties from the previous steps in your routine. This is not to say, however, that it does not have benefits of its own.
With organic algae extract and sodium hyaluronate, this product keeps the sensation of dryness and discomfort at bay. It is also formulated with Grape Stem Cell Extract, which can help reduce the appearance of signs of aging.
Another one of the Cannabis Silk Cream's best features is its lightweight and non-greasy texture. Despite being a gel-cream moisturizer, this product does not sit on the skin for too long. Instead, it sinks right into the skin, settling to have a matte, primer-like finish. This creates an ideal base for sunscreen and makeup.
To use the Cannabis Silk Cream, spread a coin-sized amount of the product evenly on the skin. Massage it into the face and neck until fully absorbed.
Microneedle Roller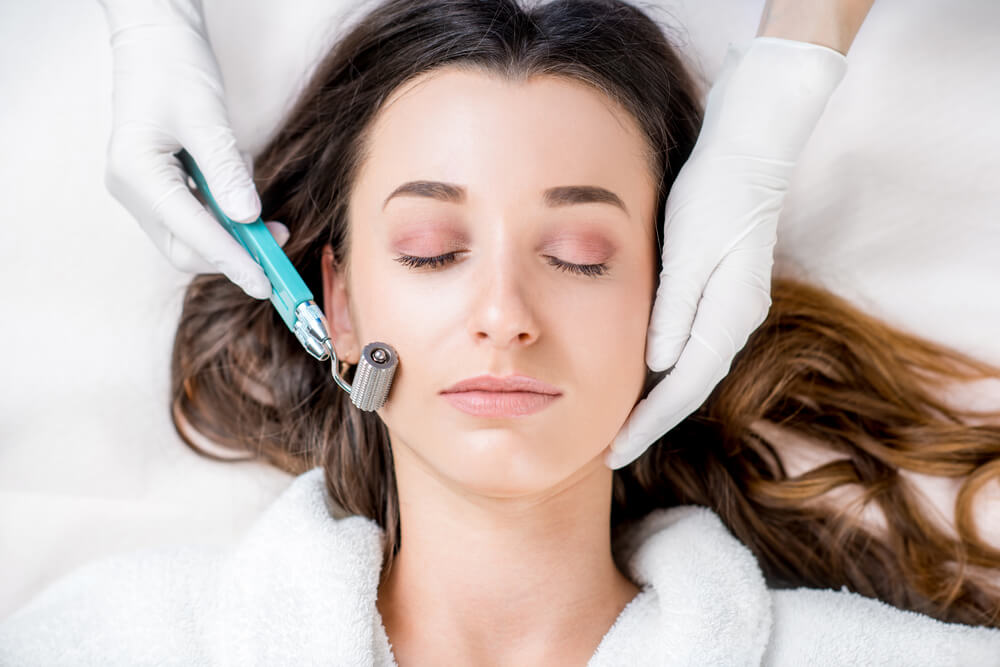 A bonus tool found across all of VouPre's skincare sets, the microneedle roller is a handy mini-massager. It is fitted with 0.2mm needles that gently stimulate the skin. While the idea of running needles across your skin may be intimidating, don't worry — the process is very relaxing. As Maria Carron of MediaShelf notes, "The 0.2mm needle length means less irritation, virtually no downtime (the period of time it takes for skin to recover from a treatment), and no pain."
With continuous use, microneedling can help the pores appear smaller and the skin look healthier. Use the roller before kicking off your skincare routine. Roll the head across each area of the face for up to one minute. If you desire, you may spend a little extra time on areas with more visible lines or pores. Just be sure to use gentle pressure throughout!
The VouPre reviews are in: the Cannabis Caviar Transforming Mask is a ten-minute express ticket to smoother, softer, and younger-looking skin.
Eager to learn more about the products that the reviews are raving about? Discover more skincare from VouPre's roster here.