What are the Benefits of Derma Rolling?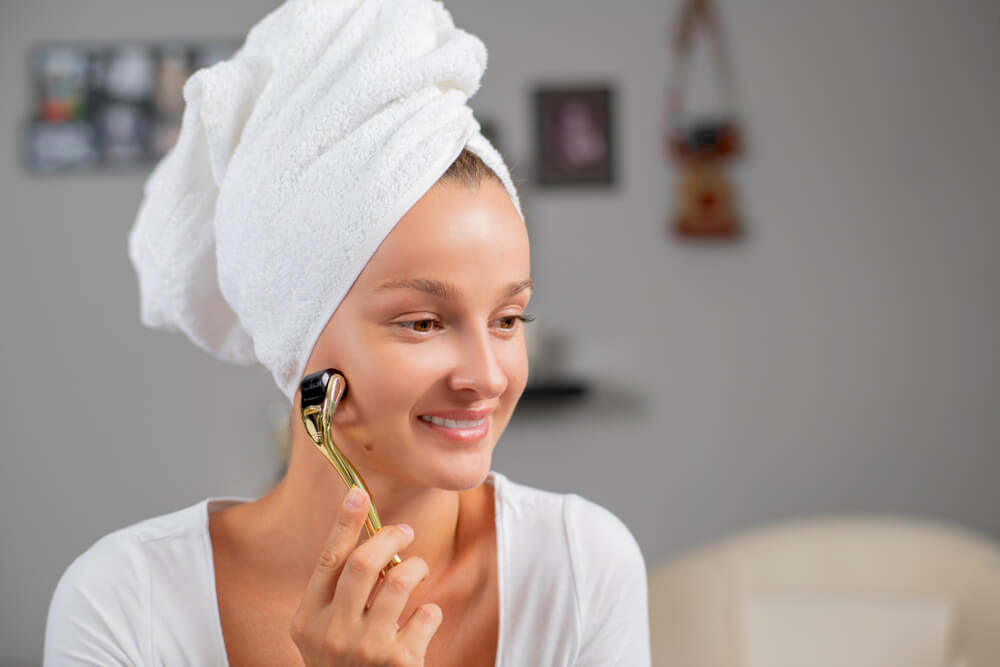 Derma rolling can be quite an intimidating skincare procedure. Even those who claim to love all things skincare and know the ins and outs of serums, essences, and moisturizers might not be as well-versed about derma rolling, since many consider it a more extreme form of pampering the skin.
It's understandable. Hundreds of needles poking at your skin to make wounds, on purpose? The sound of it is enough to send any skincare lover running!
But if you take some time to look at the many benefits of derma rolling, you'll realize that it's what your skin might need to solve some of your most frustrating skin concerns. These benefits of derma rolling include brightening the appearance, minimizing the look of wrinkles, and many more that we'll be discussing today.
Although booking a spa service is a nice, luxurious option for derma rolling, you can also do the procedure in the comfort of your home thanks to VouPre's skincare systems. You can shop from many of our collections that include a derma roller, so that you can experience its magic and efficacy.
Without further ado, here are the many benefits of derma rolling, along with how to do the procedure at home with VouPre.
What is Derma Rolling?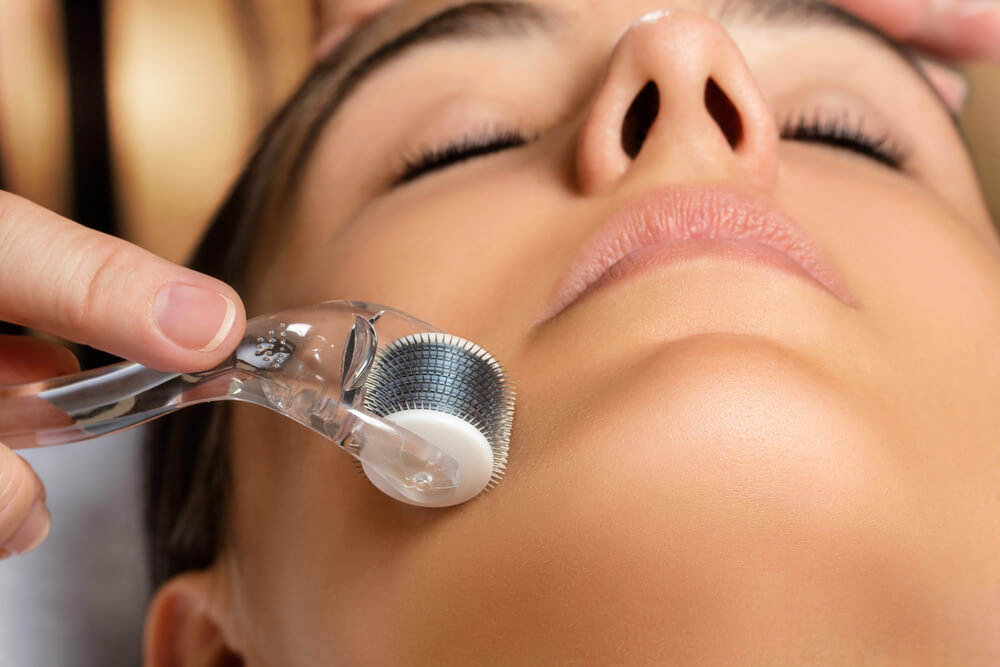 A derma roller is a device made up of a cylindrical tube with hundreds of small, fine needles and a handle attached to it. When you roll the device on your skin, the needles prick your skin. This creates very small wounds.
Don't freak out! Yes, derma rolling involves a bit of low-level physical trauma from the needles. But this is a controlled injury, meaning derma rollers are designed in such a way that they won't be that painful or poke too deep in your skin.
These tiny lesions in the skin trigger your skin into producing more of the proteins that make your skin look plump, smooth, and healthy.
Derma rolling was famous years back as a procedure you had to book at a dermatologist's office or clinical spa. But today, you can do your very own derma rolling at home.
One of the benefits of derma rolling at home is that it won't hurt as much. At-home derma rollers are designed to have shorter needles for a more comfortable rolling sesh. It also has a faster recovery time, so you don't have to be so self-conscious about how you look afterward.
Ready to learn about the numerous skin benefits of derma rolling? Here are six that might help your appearance out immensely:
1. Minimizes the Appearance of Wrinkles and Deep Lines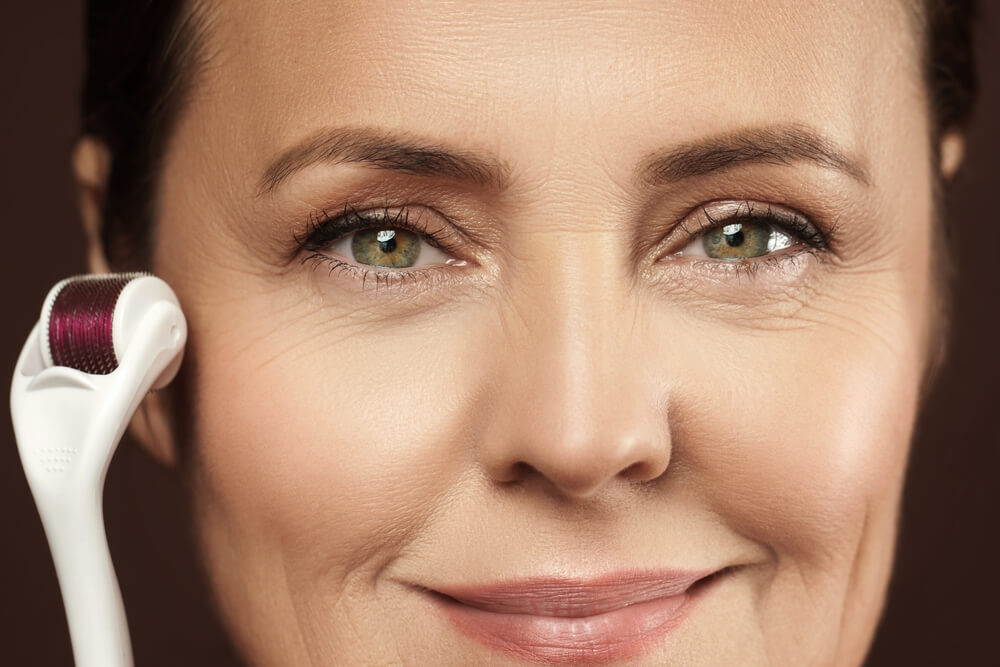 The older you get, the more wrinkles you see appearing on your face. That's because, over time, your skin produces less collagen and elastin. These two proteins are responsible for plumping up your appearance and making it look taut and smooth. When collagen production starts to wane, your fine lines start to show.
Fortunately, derma rolling helps minimize the appearance of fine lines and wrinkles, especially if you are religious with your sessions. This is one of the most popular benefits of derma rolling among those with maturing skin.
Derma rolling really is a dream procedure for those who want skin that looks smooth, firm, and wrinkle-free.
2. Encourages Better Absorption of Your Skincare Products
Another of the tremendous benefits of derma rolling is how it can lead to the better absorption of your beloved skincare products. Because your derma roller makes tiny holes in your skin, your products have a better "pathway" leading to its deeper layers.
In short, derma rolling helps you maximize the vitamins, minerals, and other ingredients from your products. It's a great way to ensure that you're getting the most out of your skincare, especially if you're the type to invest in luxury creams and serums.
So, after you do a derma rolling session on your skin, make sure to apply your favorite skincare products right away, like VouPre's bestselling creams.
This includes the VouPre Revitalizing Night Cream — a cream enriched with sunflower seed oil and creamy shea butter to moisturize the skin and add a beautiful, glowy dewiness to it. If you're derma rolling in the daytime, follow up with the lightweight, vitamin E-rich VouPre Ultra Day Moisturizer right after your session.
3. Fades the Visibility of Stubborn Acne Marks
Anyone prone to hyperpigmentation can tell you how frustrating it is to see a dark spot that persists for weeks after an old pimple has healed. Derma rolling can help diminish the look of these spots on your skin.
Struggling with acne marks? Don't just rely on derma rolling, even if it will likely help your case significantly. Use other products that can help brighten the appearance of those dark spots, like the VouPre Vita C Serum.
This serum is formulated with vitamins A, C, and E. These vitamins work together to help reduce the appearance of discolored spots, as well as minimize the look of wrinkles and lines for aging skin. It's a must in your routine if you want brighter-looking skin!
4. Makes Your Complexion Feel Smoother in Texture and Brighter in Appearance
Apart from dark spots on your complexion, acne scarring can ruin your skin in another way — a rough texture. Even with multiple layers of foundation and concealer, a rough skin texture is difficult to hide. The only way to get rid of it once and for all is by taking care of your skin.
One effective way to make your skin look visibly smoother in texture is by derma rolling. It can help plump up and volumize the appearance of your skin. This improves the rough-feeling texture of your complexion, making it look and feel smoother and bouncier.
Not only will derma rolling make your skin look and feel smooth, but it can help give it a radiant glow as well. Since the derma rolling technique has properties similar to exfoliating, it gets rid of dull skin on top. This makes way for younger-looking skin to rise to the surface.
5. May Help Minimize the Look of Distractingly Large Pores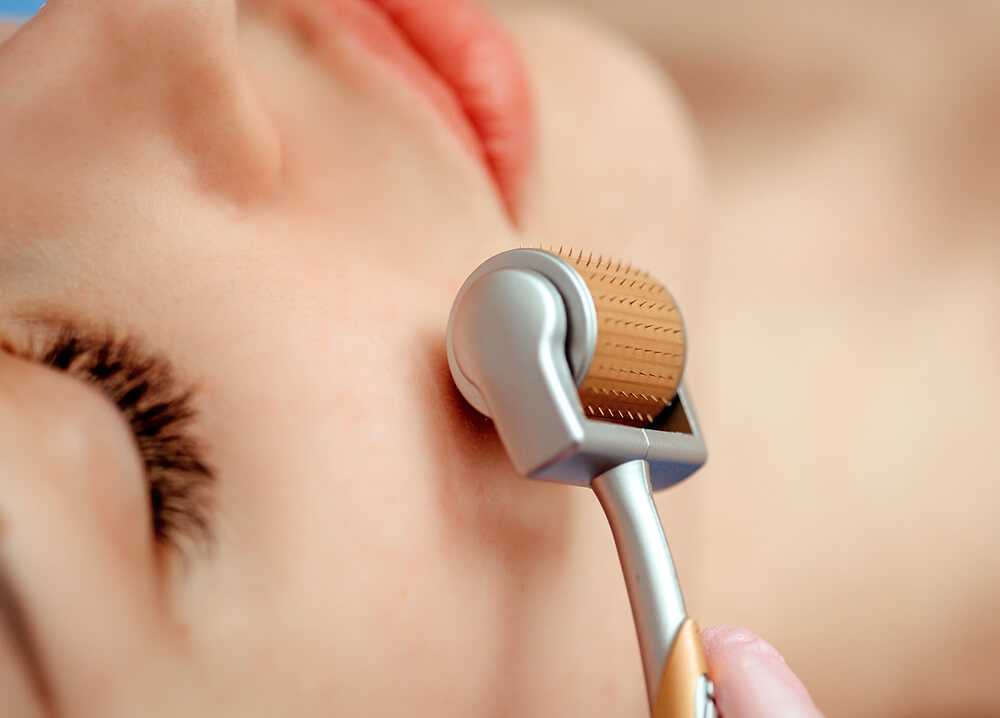 Derma rolling is also great for making pores appear smaller and improving how they look. This is one of the wonderful benefits of derma rolling for those with oily skin and enlarged pores.
Secondary to having smaller-looking pores, you can expect less blackheads to come about as well! This is a plus for many oily gals with problematic, blackhead-prone skin.
6. Can Help Reduce the Appearance of Acne and Blackheads
One of the more underrated benefits of derma rolling is that it can help reduce the appearance of acne and blackheads. This is because derma rolling helps manage the production of sebum on your skin, making the appearance of blemishes less frequent.
The act of creating small holes in your skin might also help loosen up and release some of the stubborn blackheads you've been trying to "pop" for weeks!
How to Properly Give Yourself a Derma Rolling Session at Home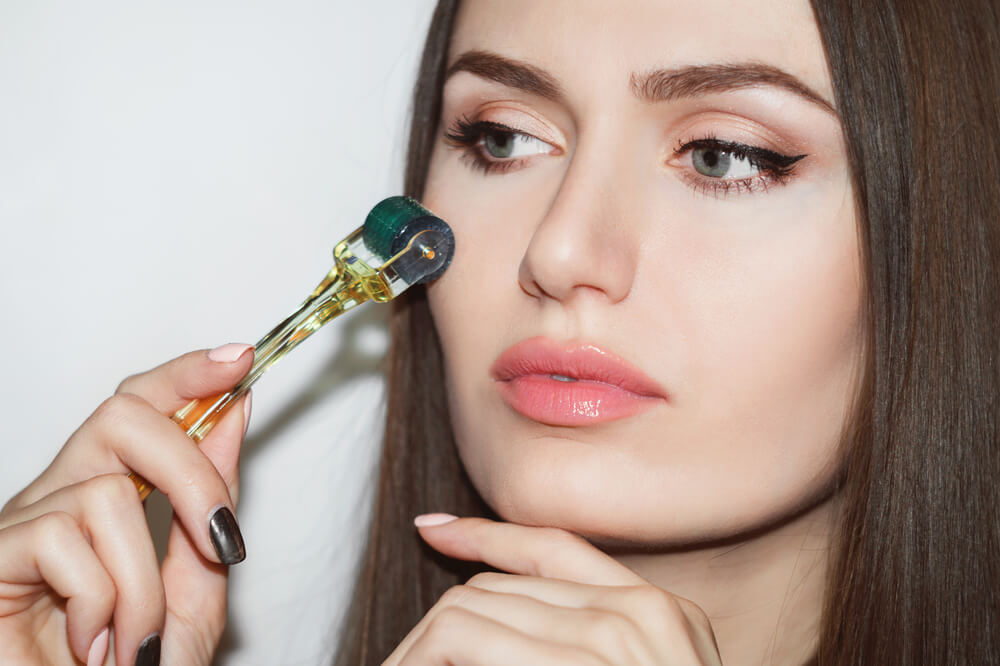 Now that you know the benefits of derma rolling, the next step is to learn how to do it at home. It's best to use a derma roller at night, so that your skin won't be vulnerable to sun and heat damage when the micro-injuries are fresh.
Here's exactly how to give yourself a derma rolling session at home, step by step:
Disinfect your derma roller by putting it in a bowl filled with isopropyl alcohol. Leave it there to soak and sterilize for ten minutes.

Wash your skin thoroughly. You don't want any makeup or sunscreen from your day to still be on your skin as you use your derma roller. It increases your chances of breaking out, since the dirt and debris from your long day can easily enter your skin when it has tiny wounds.

To cleanse your skin gently yet thoroughly, try using the

VouPre Radiance Facial Cleanser

. This cleanser is rich in vitamin E to leave your skin feeling and looking fresh and luminous.

Apply a hydrating serum all over your face. This will make it easier for the derma roller to glide over your skin without it hurting.

Start rolling your device across your face. Be gentle but firm as you do it. Make sure you glide it across your skin horizontally, vertically, and diagonally to capture all areas. You might want to avoid your under-eye skin, which is thinner than that of the rest of your face.

After rolling for about three minutes, apply another layer of your hydrating serum.
And that's it! You're done. Make sure you clean your derma roller afterward by dropping it in a bowl of hot water and drying it about 10 minutes after.
Follow up with a moisturizing and soothing routine. Avoid using products with actives, like AHA toners or retinol. Do this every other week for the best results.
Choosing the Perfect Skincare Routine to Follow Up with After Derma Rolling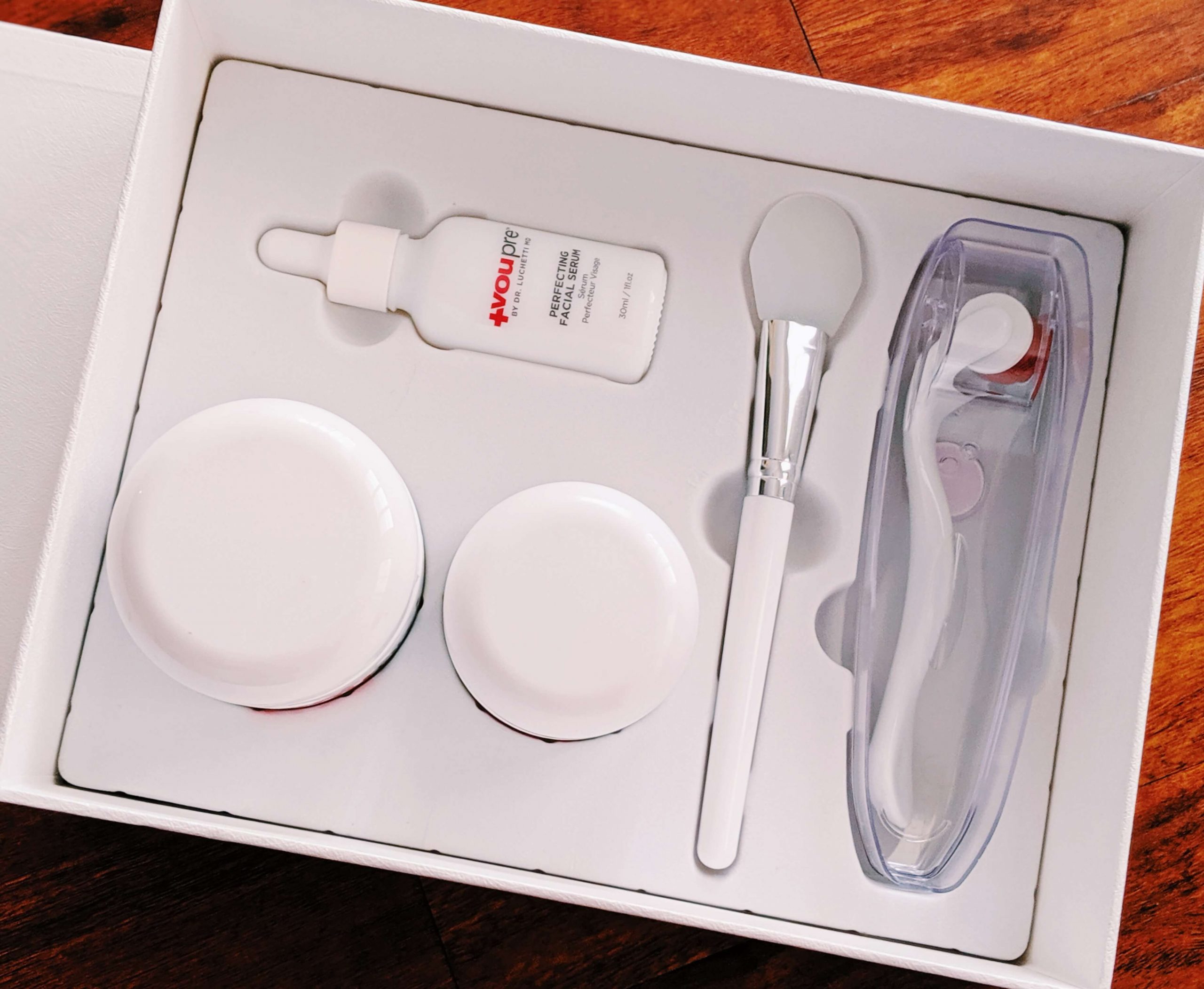 Remember when we said derma rolling helps make your skincare products absorb better? Well, different skin types and concerns should use different products after their derma rolling sesh.
VouPre has three key derma rolling and moisturizing sets that make it easier for you to apply the best products post-derma rolling that are suitable for your skin issues.
Each set includes a derma roller with 0.25mm micro-needles. There's also a serum, face mask, and cream, which you should follow up with after derma rolling. All these sets are developed by Dr. Luchetti and her trusted team of skin experts to help you address your most troubling skin concerns.
To wake up and brighten the appearance of tired-looking skin, try the Thermal Collection. It's made with energizing ingredients like coffee, which can help boost the look of vitality and brightness in your dull skin.
Meanwhile, if you have delicate, aging skin that's starting to show wrinkles and age spots, you might want to consider the Cannabis Collection. The products in this line contain hemp seed oil, which is known to moisturize the skin and minimize the appearance of fine lines and other visible signs of skin aging.
Lastly, if you have dehydrated and rough skin, you'll love the Aqua Collection. This one is formulated with hydrating ingredients to help soothe and alleviate your skin of avid dryness. Layering the serum, mask, and cream on top of your skin after derma rolling gives your complexion a radiant, dewy glow!
Conclusion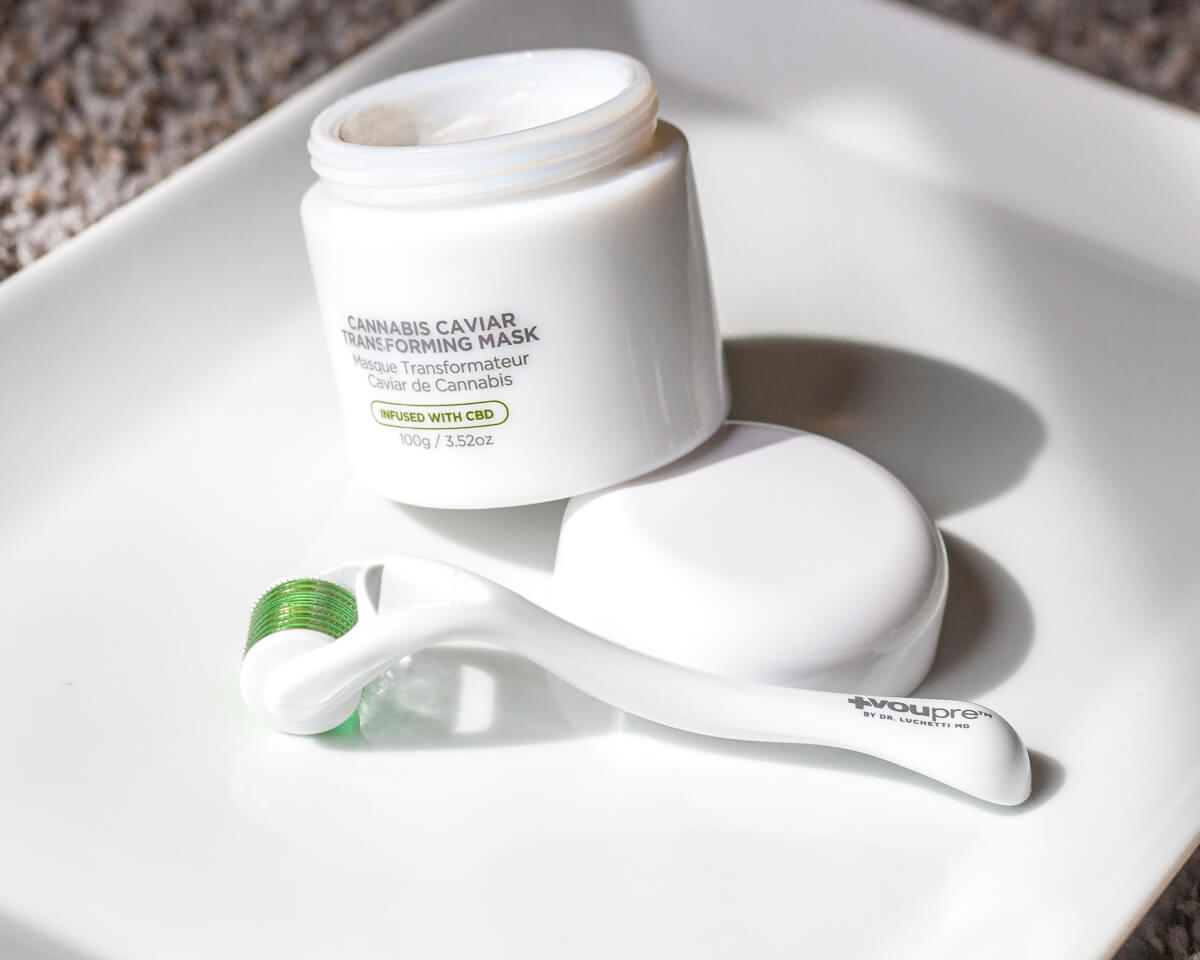 Derma rolling is an awesome skincare step to consider for your regimen if you want to level it up and target your most pressing skin concerns. The best part is that it's minimally invasive. So, you don't have to worry about intense levels of pain or a long recovery time.
There are many benefits of derma rolling, from fading the appearance of those stubborn acne scars to minimizing the visibility of fine lines and wrinkles. One of the biggest benefits of derma rolling is that it even makes your products absorb better and be more hardworking on your skin.
Although derma rolling has a plethora of advantages for your skin's appearance, we understand if you're not quite ready to commit to it yet. But when you are, VouPre will always be here with high-quality, effective collections that allow you to do the process at home.