How Does VouPre's Ageless Solution Syringe Work?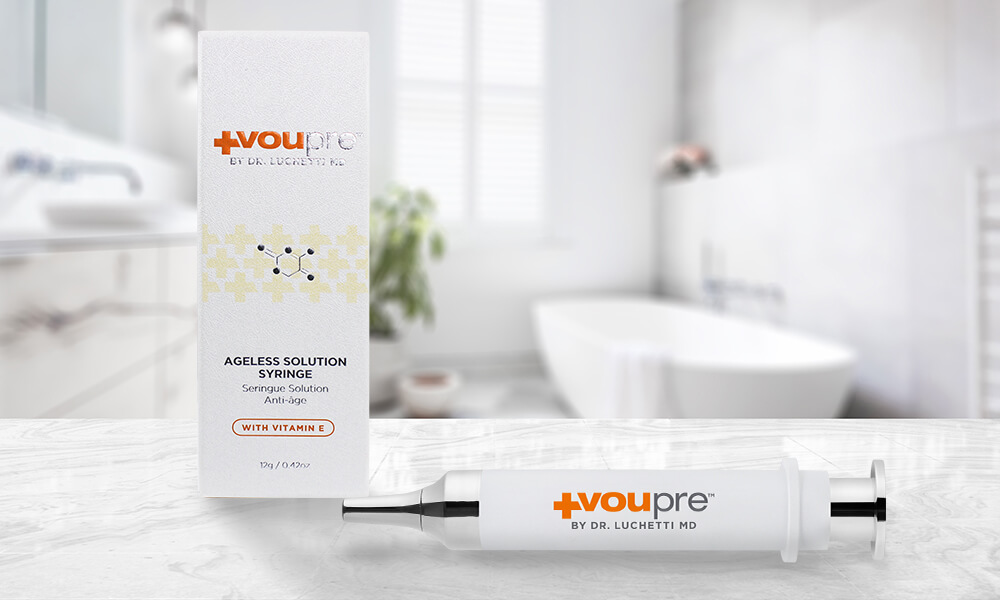 Aging skin is nothing to fear, it's just the natural way of life. You don't have to hide in a closet or run from it because your skin is bound to change as you grow older. For some people, signs of aging tend to come earlier, depending on how they take care of their skin.
The go-to "fix" is typically plastic surgery but there are several non-invasive ways that science has come up with to help minimize the look of aging skin; dermal fillers, non-surgical facelifts, chemical peels, etc.
However, Dr. Mary Ellen Luchetti has something else up her sleeve. VouPre has just the right cosmetic option in mind! We've come up with a solution that will give you younger-looking skin without your having to go through any invasive procedures. This read will do a deep dive on the tell-tale signs of aging and how VouPre's Ageless Solution Syringe, from our famed Basic Collection, can help you attain fresh-looking skin with a youthful glow!
Feel Younger without the Need for Surgery!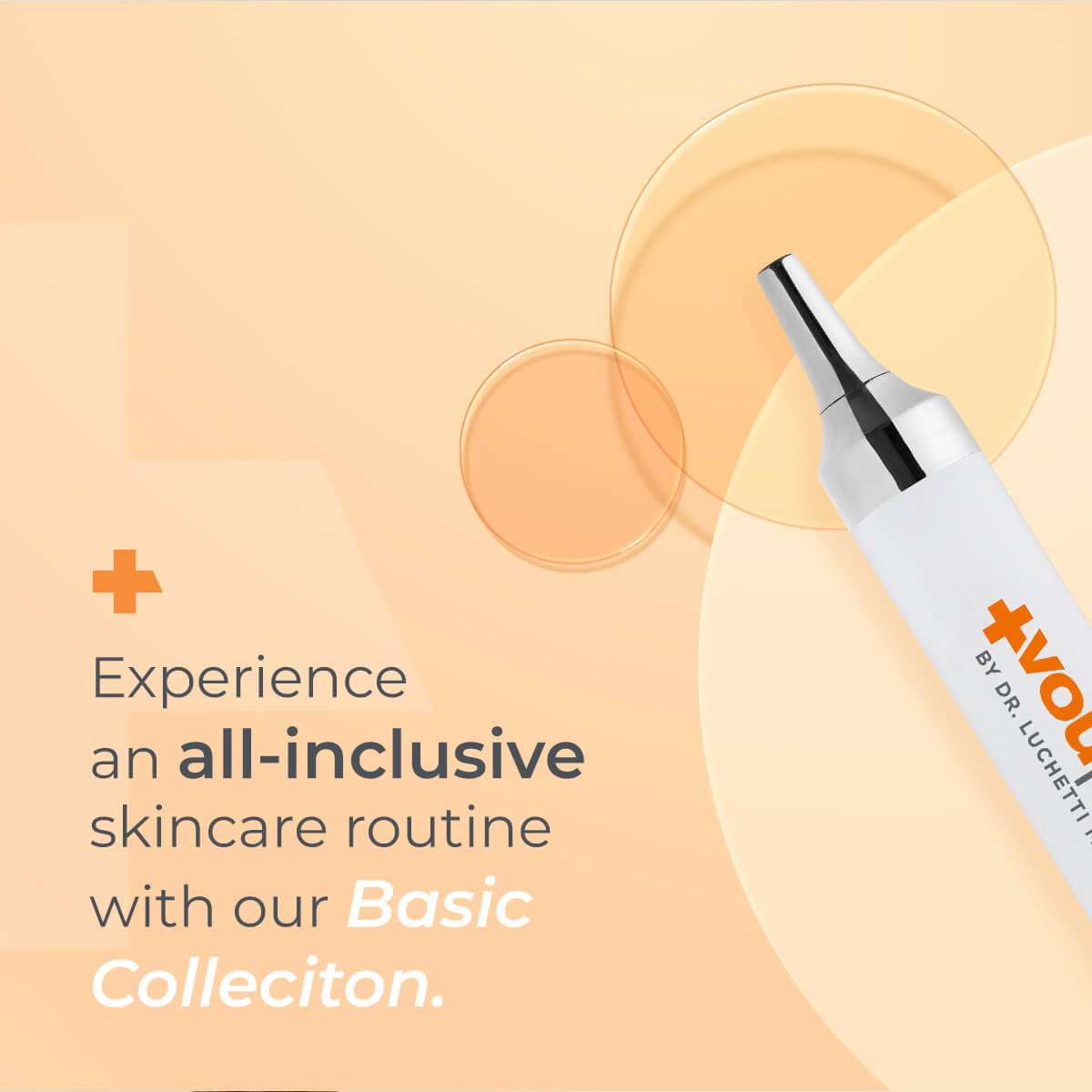 VouPre was founded by Dr. Luchetti — a board-certified dermatologist with over 27 years of experience. Our revolutionary formulations have altered the skincare realm! Each of the VouPre products is infused with premium-grade ingredients designed to pamper your skin and deliver an effective skincare experience.
Dr. Luchetti believes that what makes VouPre special is the brand's belief in the amplified collective power of certain ingredients when put together in a skincare formula. And that's precisely what the Ageless Solutions Syringe is all about!
Causes of Aging Skin
Aside from the natural process of life, what can cause signs of aging to appear on your skin? Here are some harmful practices that can accelerate the appearance of wrinkles and other concerns on your skin:
Unhealthy Habits
According to a study, smoking tobacco has been linked to premature signs of aging skin. It can cause collagen production, elastin fibers, and proteoglycans, to degrade faster than normal. This can lead to loose, saggy skin with obvious wrinkles and fine lines.
The same goes for drinking too much alcohol. Overuse of alcohol is known to cause dehydration, leading to dry, itchy, dull, and saggy skin. That's why it's important to limit your alcohol intake so you can delay the occurrence of aging signs on your skin.
Excessive Exposure to UV Rays
UV rays can considerably diminish the look of your skin, often leading to darkened spots called liver spots or sun spots.
Staying out too long in the sun without protection can burn your cells and reduce elasticity in your skin in the long run. In particular, over-exposure to UVA rays can cause saggy skin while UVB rays can lead to wrinkling and fine lines.
Negligent Skincare Routine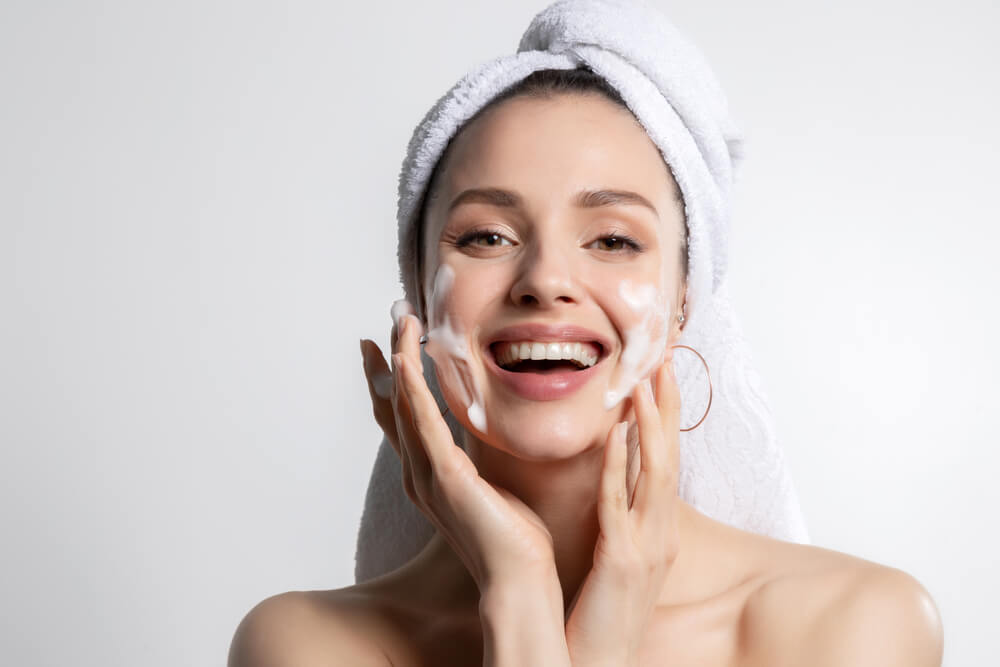 Your daily skincare routine is a lot more important than you think. It might not seem like a big thing to skip multiple days of cleansing and moisturizing, but the effects are likely to emerge in the form of premature signs of aging.
Improper Sleep
When we sleep, our skin undergoes a natural regenerative process where it forms new collagen. Getting proper sleep every night is not only important for your skin; it's also pivotal for your overall wellbeing.
Bad Diet
Meeting your daily recommended intake of vitamins, minerals, and other nutrients is very important for maintaining your skin and body's health. It's also important to drink a good amount of water every day depending on your weight.
Chronic Stress
Being under stress increases your body's stress hormones, causing the depletion of collagen and elastin. If you lead a high-stress life, it might be time to make some mindful changes. 
Drastic Weight Loss
Losing a huge amount of weight over a short period can actually make you look a lot older. It's important to know the proper way to slim down without adding years to your skin.
The VouPre Ageless Solution Syringe
Let's get back to why we're all here; the VouPre Ageless Solution Syringe!
The revolutionary formula has been meticulously created with a unique combination of ingredients to give your skin a youthful feel. While you can't hop into a time machine and get back to your youth, you can try out our Ageless Solutions Syringe to considerably reduce the appearance of fine lines and wrinkles. This easy-to-use syringe is designed to target areas of concern, keeping your skin looking firmer and younger than before.
What's in it?
What ingredients does the syringe contain and how do they affect your skin? Let's find out!
Sodium Hyaluronate
If we talk about the top skincare ingredients to replenish the skin's hydration levels and reduce the visibility of aging, sodium hyaluronate is certainly on the list. It's a key active ingredient in serums, cleansers, and moisturizers for increasing your skin's hydration levels. It works sensationally to make your skin appear firm, refreshed, and supple! You can say goodbye to the look of dry, flaky skin if this ingredient is a staple in your skincare products!
Retinyl Palmitate
Retinyl palmitate (vitamin A derivative) is another wonder ingredient in our Ageless Solutions Syringe that works effectively to diminish the visible signs of aging. It's a mild form of vitamin A, making it suitable for all skin types. It reduces the look of age spots, wrinkles discoloration, and dull skin while also diminishing the appearance of breakouts.
Tocopheryl Acetate
This vitamin E derivative is the most commonly-used form of pure vitamin E as it's much more stable than the latter. This ingredient is a go-to for diminishing the look of damaged skin, making it appear healthier than before. It's also great for hydrating the uppermost layer of your skin, giving it a dewy look!
Grape Seed Extract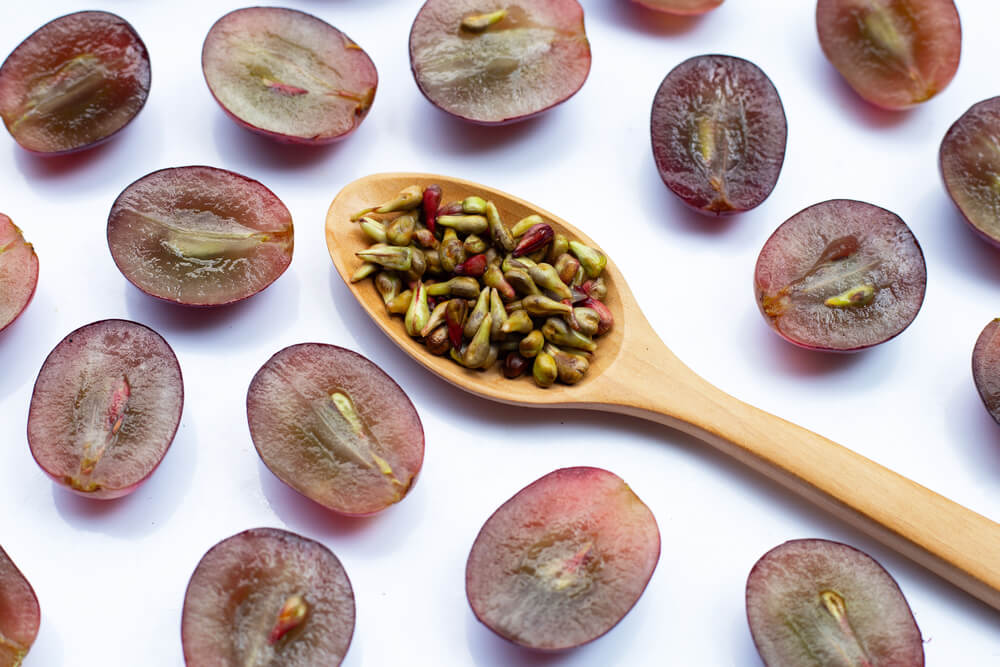 When we talk about revolutionary ingredients in the VouPre Ageless Solutions Syringe, grape seed extract is one example. The seeds of grapes contain a lot of skin-loving compounds, mostly polyphenols, to enhance the overall look of your skin. This extract helps even out the appearance of your skin tone by diminishing the look of hyperpigmentation. It also works well to reduce the look of saggy skin.
Acetyl Hexapeptide-8
Acetyl hexapeptide can help fade the look of wrinkles and fine lines on your face, making you appear a lot younger and with a smooth finish!
Avocado Oil
When it comes to skin-loving oils, you can't go wrong with avocado! As a great source of folate and vitamins C, E, and K, this oil is perfect for diminishing the look of aging. Vitamins C, E, and K work well to make your skin appear firm and tight while folate helps replenish your skin's natural hydration levels, alleviating dryness.
Avocado oil is also rich in linoleic and oleic acids, which work great for moisturizing dry skin and reducing the look of puffiness, damage, and hyperpigmentation.
Sweet Almond Oil
This emollient plant oil is laden with the same skin-enhancing fatty acids as avocado oil — oleic and linoleic acids. It's also rich in vitamins A, E, and B-complex. 
It keeps your skin looking healthy by diminishing the look of damage caused by UV rays. It also helps your skin retain moisture, giving you a smooth, soft appearance. This sensational oil not only helps fade the appearance of fine lines and wrinkles but also helps reduce the visibility of acne.
Cucumber Fruit Extract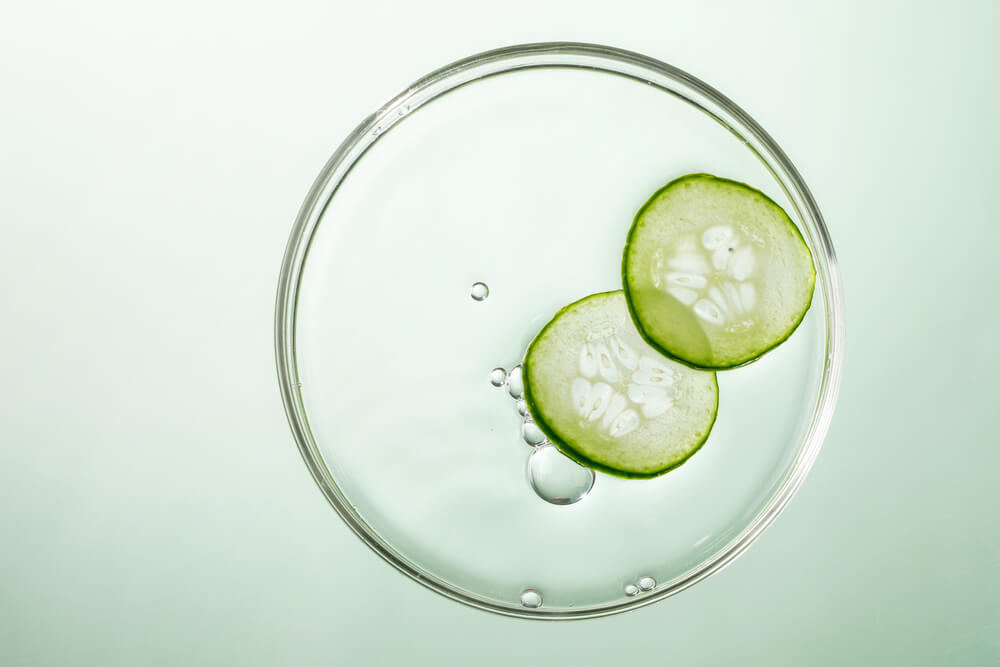 Cucumber fruit extract exhibits potent emollient properties, relieving dry skin and making it appear smooth and soft. This extract is rich in amino acids, minerals, fatty acids, and vitamins C and K — a true skincare savior! It works to reduce the visibility of discoloration, wrinkles, fine lines, and dullness on the skin. This extract is a great ingredient if you have sensitive skin as it helps minimize the look of puffiness and redness too.
Caprylic Triglyceride
This unicorn of an ingredient contains a high concentration of fatty acids, which give it an occlusive property. It forms a layer over the skin to seal in moisture and prevent it from leaving your skin. This ingredient is ideal for giving your skin a soft feel and a fresh, hydrated look!
Titanium Dioxide
Titanium dioxide belongs to the elite group of compounds found in physical sunscreens designed to divert UV rays away from your face. In the VouPre Ageless Solutions Syringe, this ingredient plays a key role in protecting the look of your skin from environmental stressors.
That was the complete breakdown of the key ingredients in our syringe. We're confident that this formula has all that you need to give your skin a firm and smooth appearance. Make our Ageless Solutions Syringe a part of your skincare routine and you'll notice incredible changes in the overall appearance of your skin!
How to Use the Ageless Solutions Syringe
To ensure that you get the optimal results from the VouPre Ageless Solutions Syringe, here are the steps to follow:
Step 1: Cleanse Your Face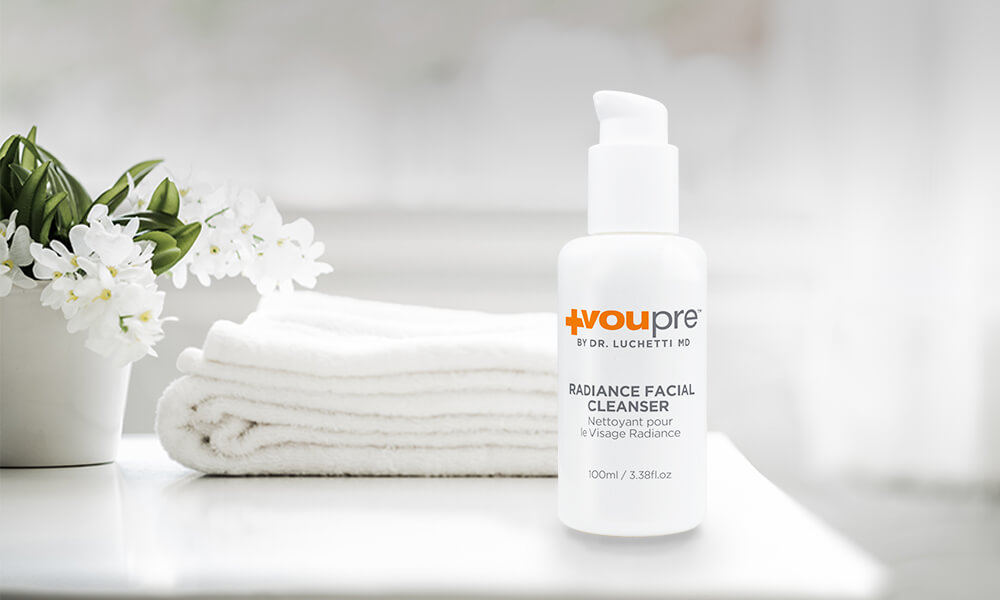 The VouPre Ageless Solution Syringe should be applied to clean, dry skin. So, make sure to use a facial cleanser before using this formula. You'll find a fantastic cleanser in the VouPre Self Care Set!
Step 2: Tone
It's important to follow up cleansing with a good toner. It's good practice to use a formula that incorporates rich botanical extracts, including aloe vera leaf juice, cucumber fruit, and organic chamomile leaf to relieve dryness. Always use a cotton ball to tone your face, dipping it in the solution and applying it to your face in upward motions.
Step 3: Target Treatment
In this step, you should use any targeted treatments, like a mask or a serum, to take care of special skin concerns.
You might want to check out the VouPre Deep Renewal Facial Peel, which works to brighten and renew the look of tired skin. This gentle formula incorporates the skin-loving benefits of vitamin E to help rejuvenate the look of your face.
This peel works quickly to remove dirt and makeup particles from your face. To apply, take a small amount and spread it across your face, massaging in circular motions. Then, rinse off with cool water. Use it once or twice a week.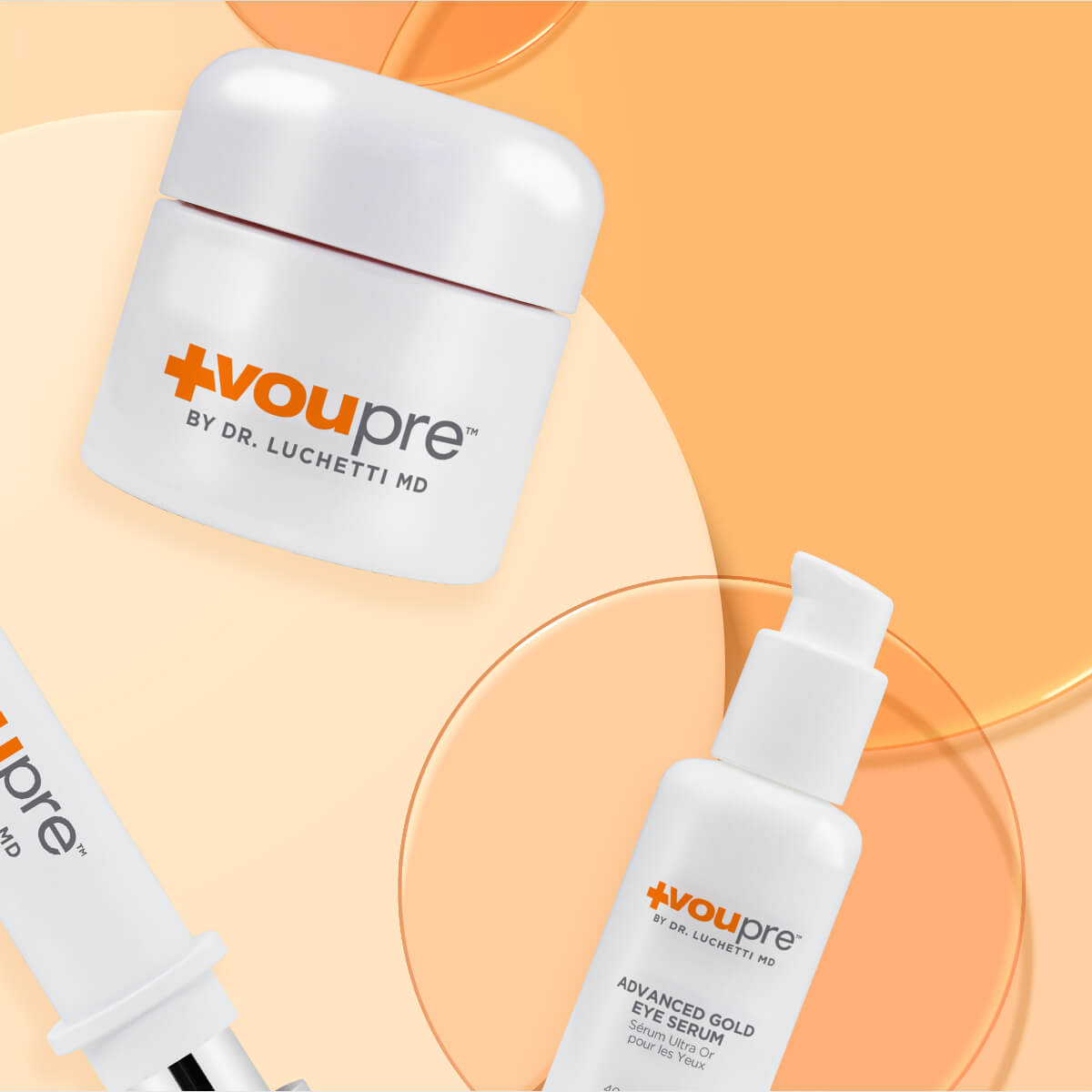 Step 4: Apply the Ageless Solution Syringe
Now, you're ready to apply the VouPre Ageless Solution Syringe! Take the applicator and point it toward your wrinkles and fine lines. Press the top down until you feel the solution dispense. Pat the formula gently with your finger until it's evenly distributed and absorbed properly into your skin. It's better to use your ring finger as that will apply the least amount of pressure on your skin.
Follow up with our Ultra Day Moisturizer!
Reignite Your Youth with VouPre's Ageless Solution Syringe!
If you want exceptional results for diminishing the visible signs of aging, try the VouPre Ageless Solution Syringe! With its revolutionary formulation of skin-loving ingredients, this sensational formula will reignite your youthful glow.
Choose VouPre to meet all your skincare needs. Click here to browse more of our bestsellers now.