7 VouPre Products That Reduce the Appearance of Aging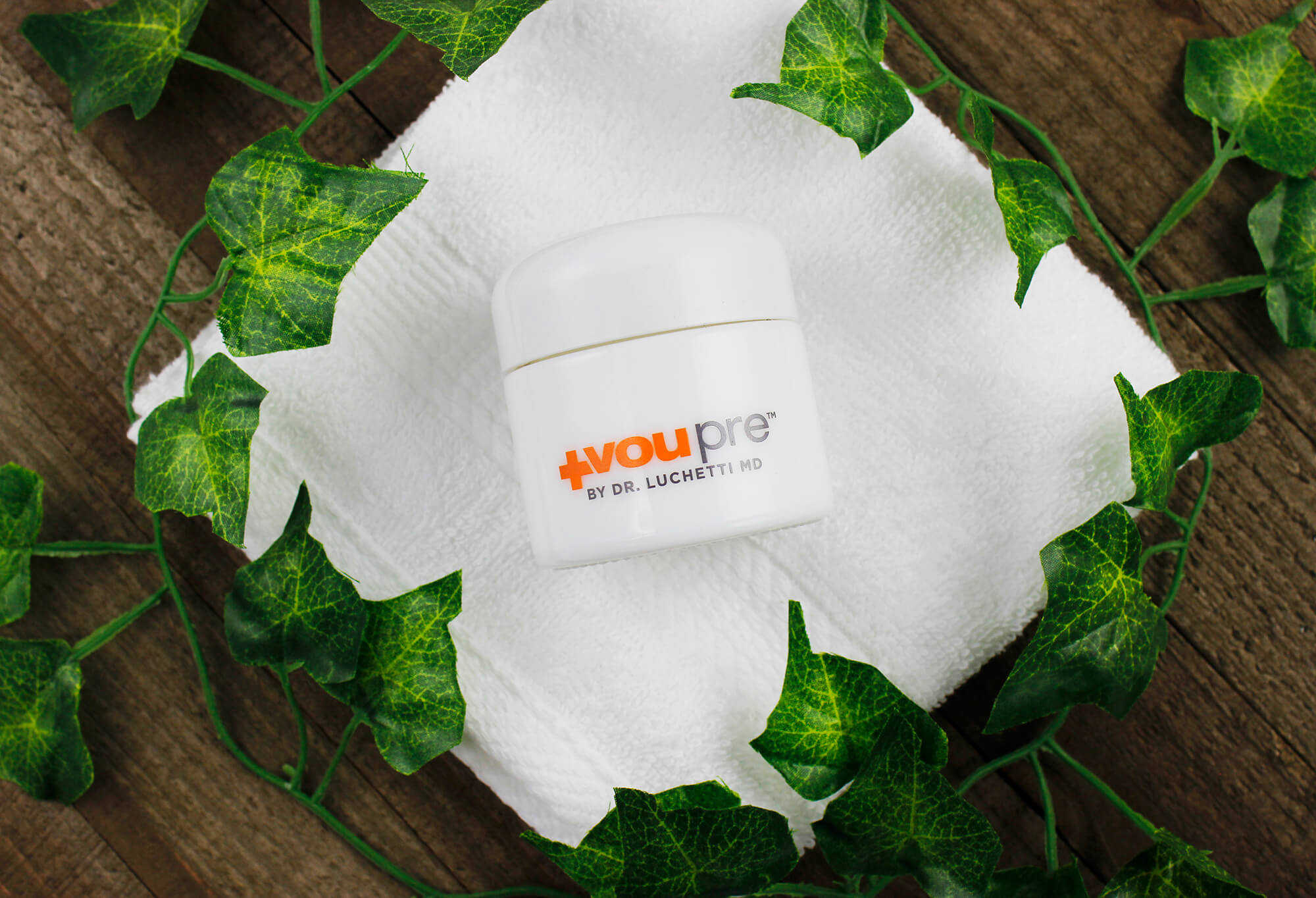 Have fine lines begun to creep up on your face? Have you started noticing dark spots, the loss of firmness, and an overall dullness taking over your complexion?
These may be common signs of aging, but that doesn't mean that they're fun to deal with. This is why so many people seek out ageless renewal solutions – after all, if there are products out there that can keep you looking younger, then why not use them?
This is where VouPre comes in. Created by Dr. Mary Ellen Luchetti, our brand is all about bringing out your skin's best self. Whether you're dealing with lines, wrinkles, or anything else, we've created a selection of products that tackle the visible signs of skin aging to produce a complexion that looks youthfully smooth, soft, and firm. Stick with VouPre as we share more about them!
The Ageless Solution Syringe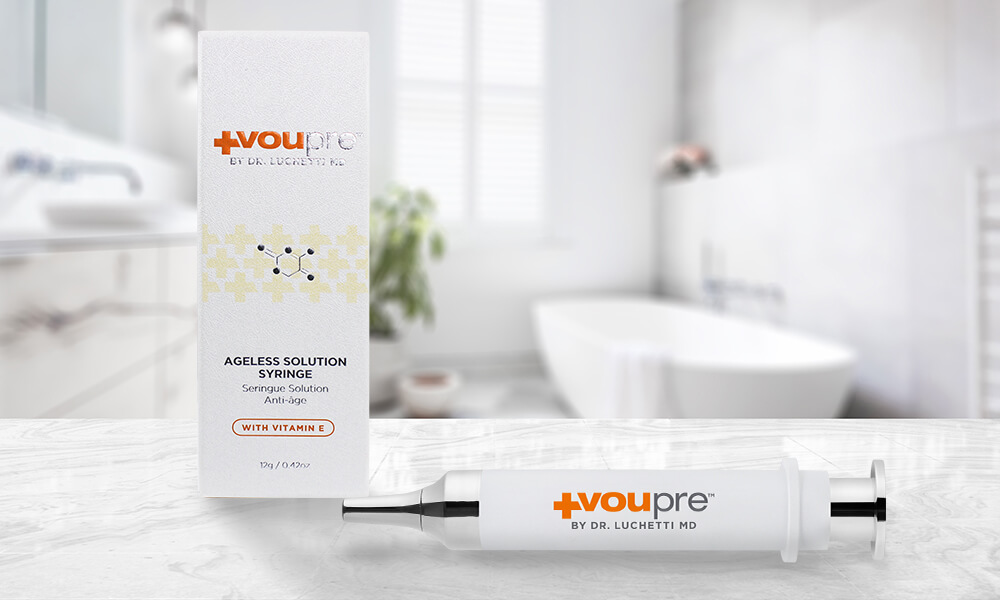 Let's begin with our most dramatic product – the Ageless Solution Syringe. It provides near-instant results when it comes to minimizing the visibility of fine lines and wrinkles, making it ideal for use before special occasions. That said, use it regularly and it'll slowly start to diminish the look of those creases for good.
It all comes down to the very special ingredient blend in this syringe. This cutting-edge formula boasts a mix of acetyl hexapeptide-8, DMAE, sodium hyaluronate, and squalane. Together, they instantly mask the visibility of creases in the skin.
Thanks to the addition of vitamins A and E, along with skin-loving botanical extracts, this product is able to give your skin a firmer and tighter appearance in the long term too. It's easy to see why people searching for ageless renewal solutions for their complexion turn to this bestselling product!
How do you use it?
Don't worry – it may look like a syringe, but it's a topical product. Instead, the syringe-style applicator is to enable you to point the product directly at each wrinkle of concern. Then, simply press down on the pump to dispense a small amount of the serum, and gently tap it into your skin.
The Vita C Serum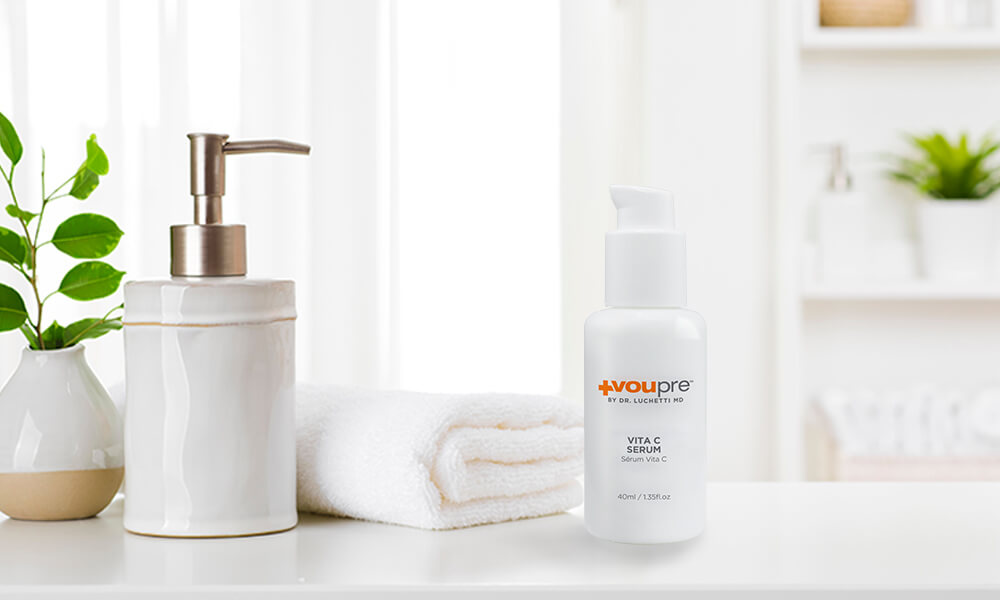 If you're trying to minimize the appearance of skin aging, then a vitamin C serum is a must in your skincare routine.
Why?
Because vitamin C has some powerful properties when it comes to the skin. It effectively brightens and tightens the complexion, which leaves the skin looking noticeably younger.
What sets VouPre's Vita C Serum apart from the many others on the market?
There are a few things that make this serum more effective than the rest…
Firstly, instead of using just one form of vitamin C in this blend, we've crammed in two. There's Tetrahexyldecyl Ascorbate, which is one of the most stable forms of the antioxidant out there. This means that it won't degrade if the product comes into contact with air or light (although with our clever packaging, it shouldn't do anyway!). Tetrahexyldecyl Ascorbate is also oil-soluble, meaning that your skin will quickly drink it up.
Ascorbyl palmitate is the second form of vitamin C that we've used. Again, this is a highly bioavailable form of the ingredient, making it ideal for those who want to see visible results as quickly as possible.
In addition to vitamin C, you'll also find vitamins A and E in this blend, making it a multi-vitamin powerhouse. Add to that some plant oils for a moisture boost (jojoba, olive coconut, and avocado), along with grape stem cell extract, and you've got yourself a product that's more than capable of turning back the clock on your complexion.
The Cannabis Silk Cream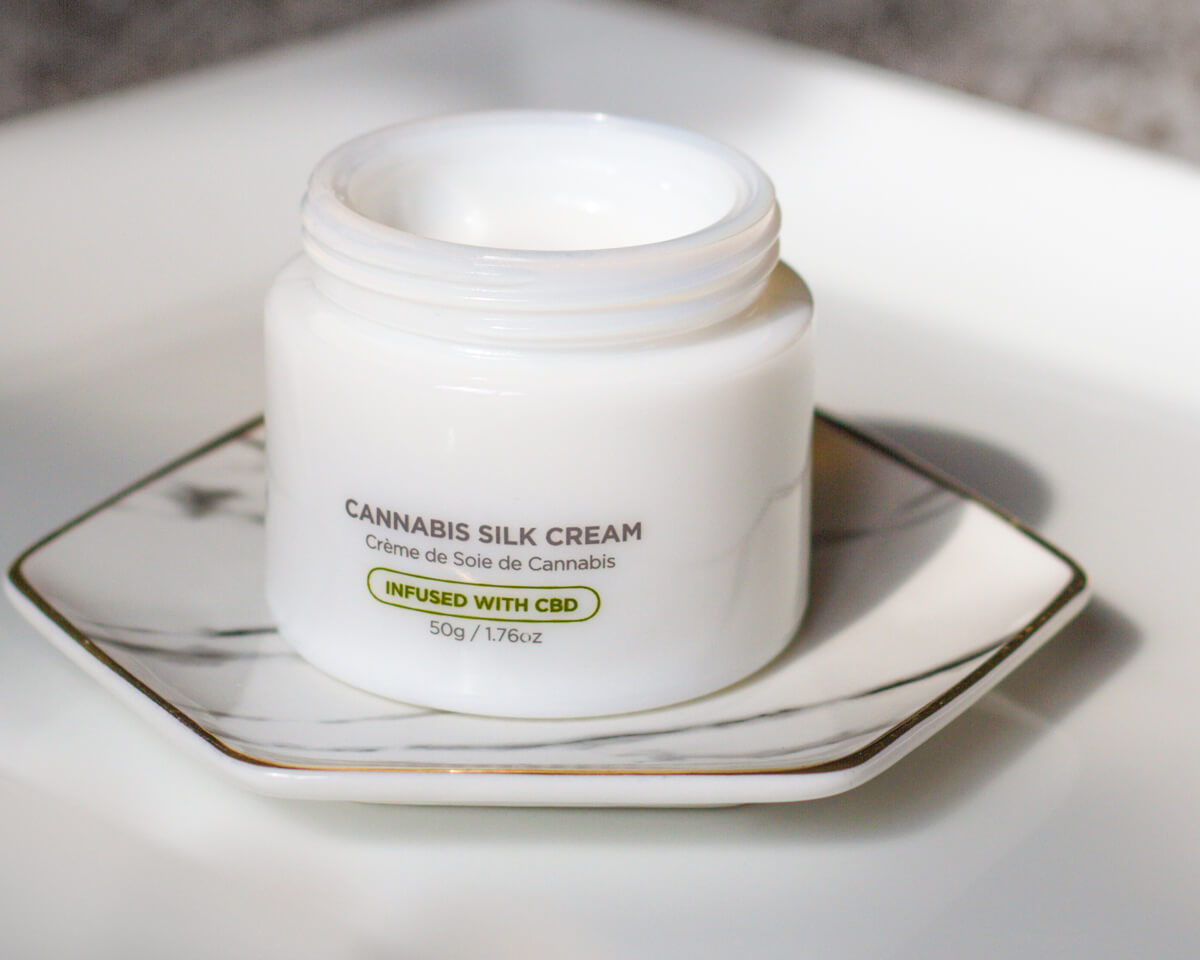 You've probably already heard a fair bit about hemp seed oil. It has had a large amount of hype surrounding it recently, with more and more people turning to the ingredient as a way to address visible skin concerns.
For people who need ageless renewal solutions for their appearance, hemp seed oil is a great ingredient to have on your side. It moisturizes the skin, reduces the visibility of fine lines and wrinkles, brightens the complexion, and gives the skin a firmer and fuller finish.
Here at VouPre, we have an entire collection dedicated to the wonders of hemp seed oil; our very special Cannabis Collection. Within this set, you'll find the Cannabis Silk Cream, an exquisite moisturizer that will give your skin a smoother and tighter look when used regularly.
In addition to hemp seed oil, this cream is loaded with a number of other plant extracts and oils. You'll find grape stem cells, algae, rosemary leaf, chamomile flower, green tea leaf, and so many more.
Even better, by purchasing this full collection, you'll be enriching your skincare routine with other must-have products too. Use the set daily and your skin will soon look glowier than ever.
The L'Rae Glow Neck Massager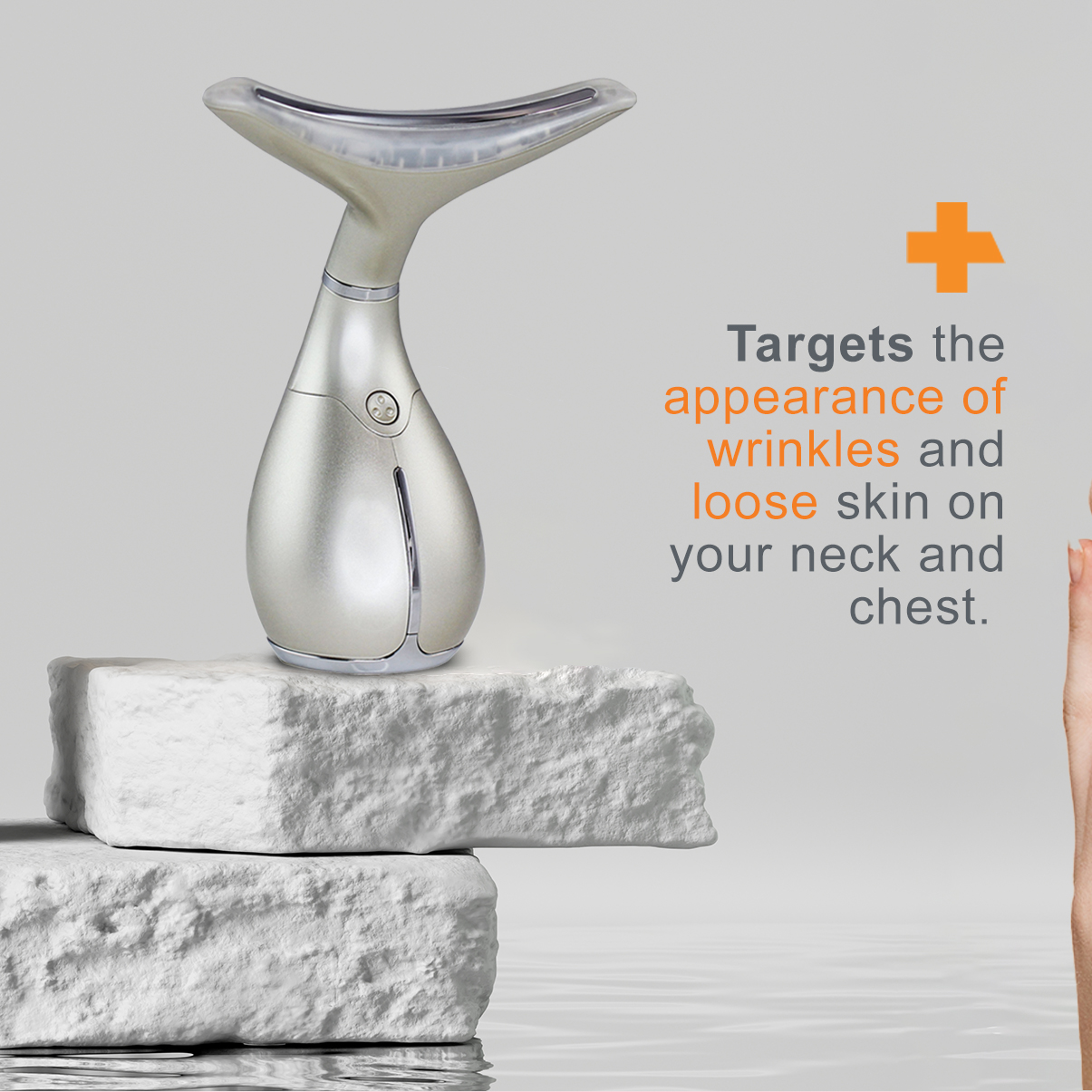 If facial wrinkles weren't bad enough, turkey neck is another part of aging that so many people dread. Again, it's completely natural, but it can make a person look so much older than their years.
Even worse, due to the modern day lifestyle and the addiction that people have to their smartphones and other electronic devices, turkey neck is becoming prevalent at an earlier age. Spending all of those hours looking down causes creases to form on the neck, and it doesn't take long before these become permanent.
So, what can you do to tighten and firm up the appearance of your neck?
Many people think that ageless renewal solutions automatically equate to invasive cosmetic procedures, but this isn't necessarily the case…
Meet the L'Rae Glow Neck Massager. This high-tech skincare device is fitted with LED lights that target wrinkles and loose skin on the neck and chest. Dermatologist-tested and accompanied with a three year warranty, this is a great product for taking your skincare routine to the next level.
Love the idea of a skincare device but aren't too concerned about neck wrinkles?
In that case, check out some of the other options that we have here at VouPre. The L'Rae I Jade Eye Wand is a popular choice. Just like the neck, the skin around the eyes is prone to the appearance of aging sooner in life than the skin on the rest of the face.
This device helps you to diminish the appearance of any fine lines and crow's feet around your eyes, all thanks to the clever use of LED lights. Use it to enhance your skincare routine and speed up the rate at which you see visible results from all of your other products too!
The Deep Renewal Facial Peel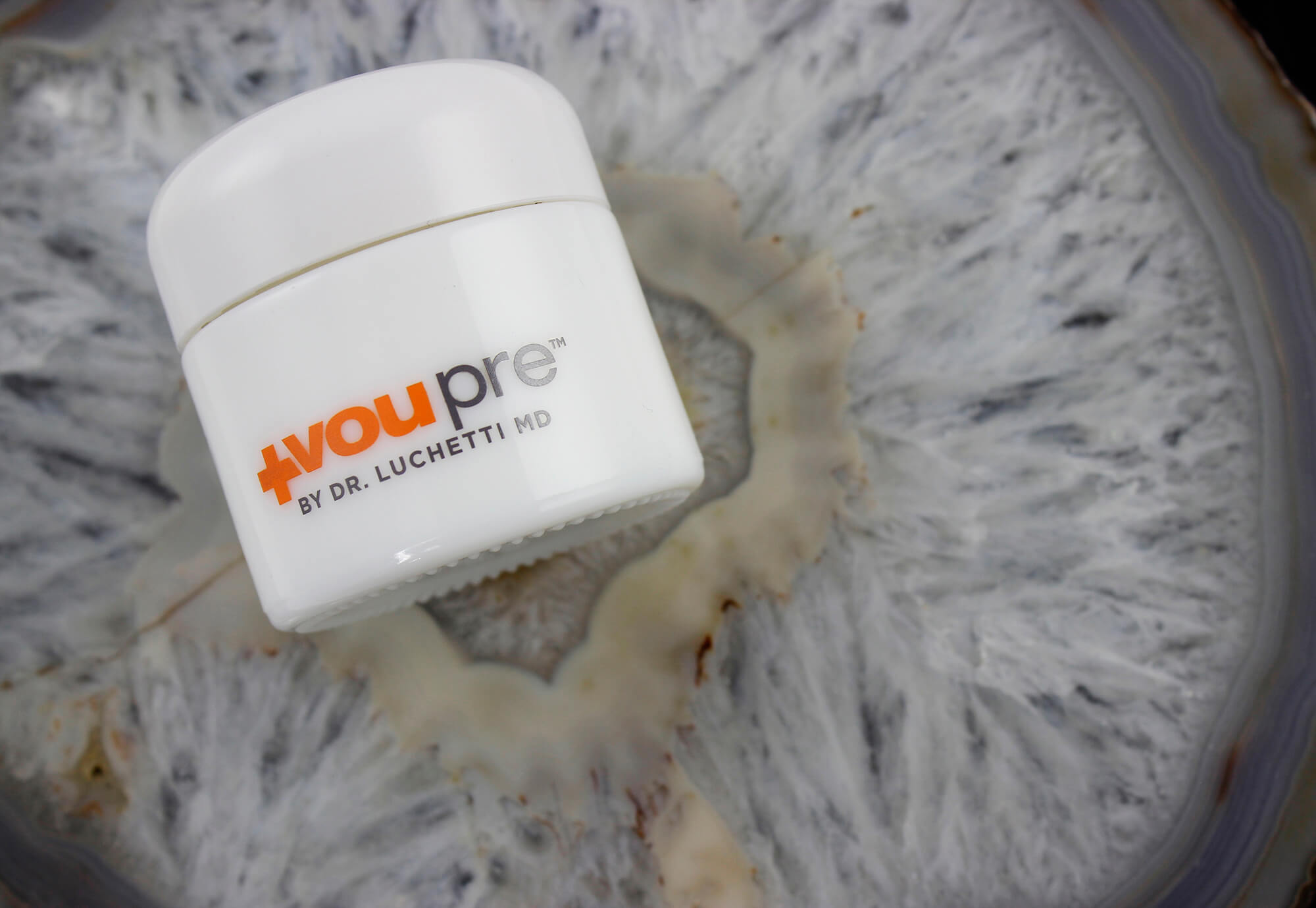 As the skin ages, natural cell turnover slows down. This means that your skin doesn't shed its dead skin cells as often as it used to, which can result in these old and rough cells building up on the surface of the skin.
The result?
A dull, rough, and uneven appearance.
Fortunately, there's an easy way to counter this…
The Deep Renewal Facial Peel is VouPre's favorite way to exfoliate. It offers the benefits of both physical and chemical exfoliation, and will leave your skin looking noticeably brighter and more refreshed after each use.
Wondering how to go about using a facial peel?
Don't worry, it's not as intense as professional chemical peels. It's the same concept in that it peels away the outer layer of your skin, but this at-home version works on a superficial level.
Simply apply it onto dry (but cleansed) skin, and massage it in. You'll notice that it starts to form small clumps. At this stage, rinse it off with cool water.
Just like any other form of exfoliation, only use this product once or twice a week.
Want to take things a little deeper?
Not only do we create exquisite skincare products, but VouPre also offers up a range of exclusive spa services. You could go with the RF Aqua Experience, which comes with a deep exfoliation AHA/BHA peel, or the VouPre Microdermabrasion, which makes use of a diamond-tipped microdermabrasion device. Learn more about our spa treatments here.
The Detoxifying Thermal Mask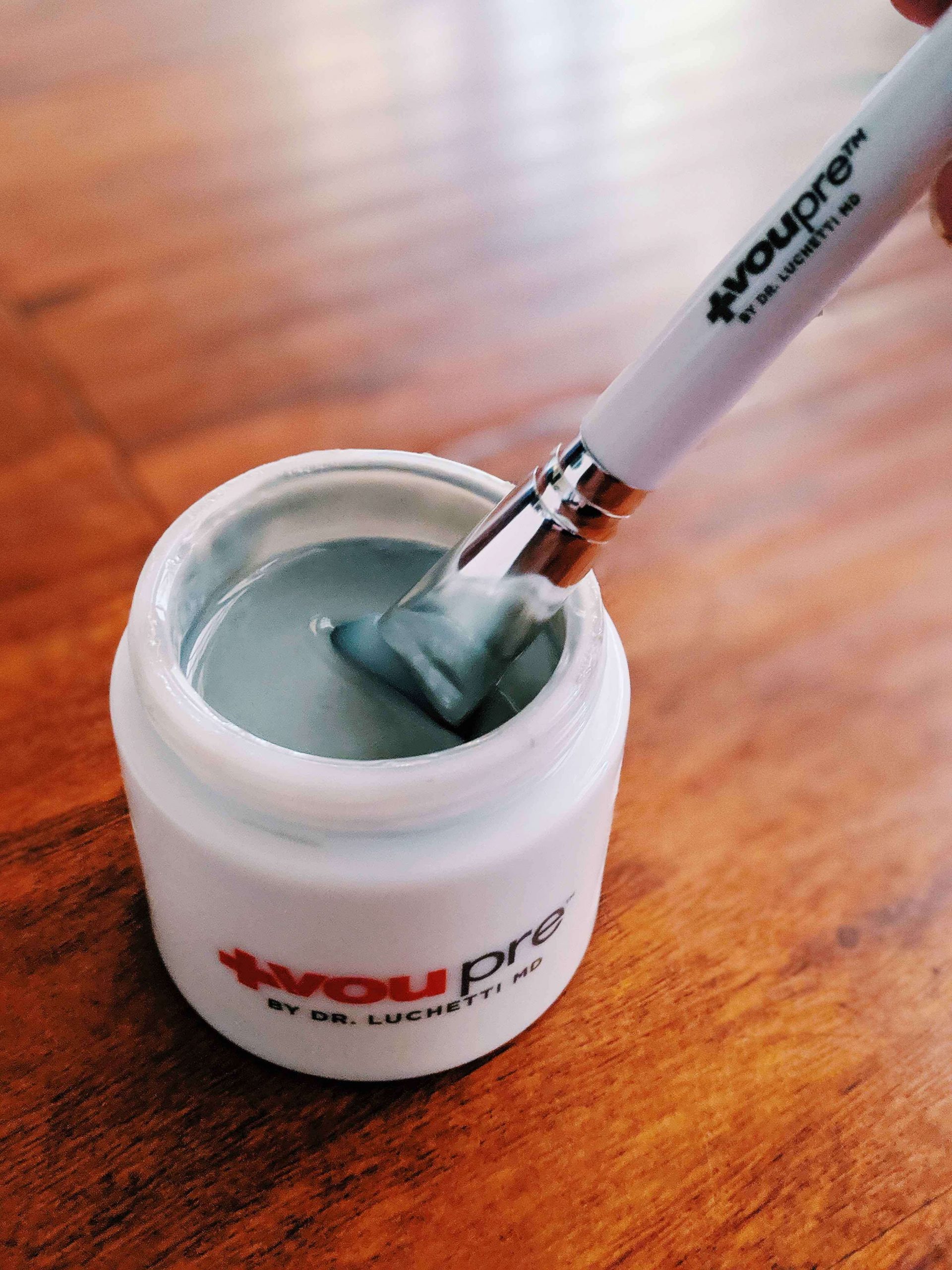 Want to experience the relaxing and rejuvenating sensation of being at the VouPre spa, yet without having to deal with the inconvenience of leaving your home?
In that case, check out the Detoxifying Thermal Mask. While many people experience dryness as their skin ages, things can also go in the opposite direction. Due to fluctuating hormones, the skin can sometimes start to produce more sebum, which leaves the complexion looking oilier.
Clogged pores become more common, as does an unsightly greasy finish to the skin.
If you can relate, you've come to the right place…
The Detoxifying Thermal Mask from VouPre will leave your pores feeling clear, tight, and balanced. This mask will remove any residue and debris from within them, while also giving your complexion a boost of vitality. Although it doesn't directly tackle the appearance of wrinkles, it's great for those looking for ageless renewal solutions that give the complexion a lit-from-within glow.

So, what makes this mask so spa-like?
It all comes down to its self-heating effect. As you massage this mask into your skin, it will start to heat up. Don't worry – it doesn't get too hot. Instead, it's a gentle warmth that relaxes your pores and gives your skin a natural rosiness.
The VouPre Microneedle Roller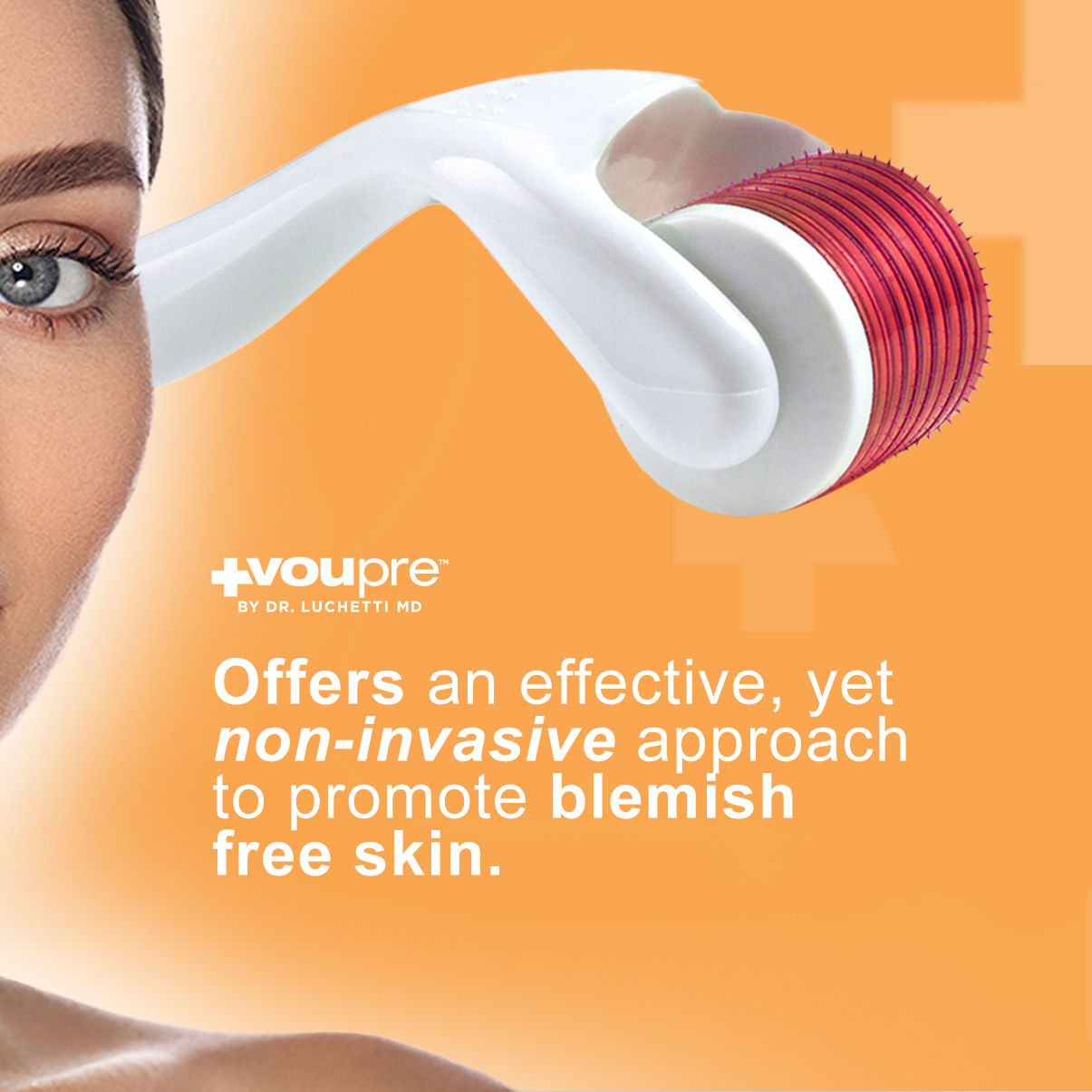 Never tried microneedling before?
You've been missing out. Also known as derma rolling, this skincare technique is touted by many as being one of the best ageless renewal solutions for the complexion available.
There are different versions of microneedling out there, but, in essence, they all involve creating tiny pin-like pricks in the skin. This stimulates the skin's natural healing process, which gives the treated area a smoother, firmer, and renewed appearance in the long run.
Microneedling is not only an effective way to diminish the visibility of wrinkles, but it'll also help reduce the look of discoloration and scarring as well.
All of the VouPre Collections come with their very own microneedling device. If you're new to microneedling, we'd recommend starting with the Aqua Collection. It consists of four products, each one designed to bring maximum hydration to your skin.
Ageless Renewal Solutions for Your Complexion From VouPre
While the seven products featured above may be game-changers when it comes to reducing the appearance of skin aging, there are plenty of others available from VouPre that also have the same effect. The key is to put together a routine that's suited to your skin type and primary skin concerns. If your routine consists of VouPre products, it won't be long before your complexion starts to take on a smoother, firmer, and younger-looking finish.