How to Use a Derma Roller for Loose Skin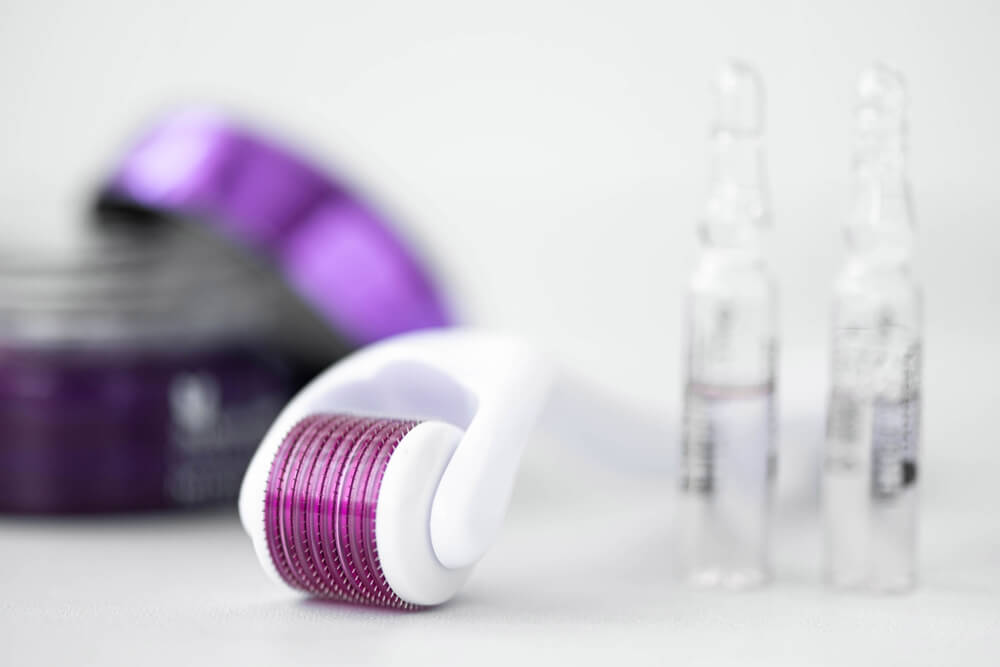 With age comes many changes, especially with your skin. As you enter your 20s, your skin gradually starts to lose its natural elasticity and volume. This becomes noticeable when you're in your 30s. Fine lines, wrinkles, and loose skin take up residence on your face. But there are ways in which you can look young and fresh again…
Derma rolling or micro-needling is a great way to diminish the look of loose, sagging skin. Have you heard about it before? Well, this read is a deep dive into this revolutionary method designed to help everyone tackle common skin concerns right at home.
VouPre has four exclusive collections, including our famed Aqua Collection, which all feature the VouPre derma roller! With this sensational skin-enhancing device at your disposal, you won't need to book a separate spa service. So, let's talk about the benefits of micro-needling and the best way to use a derma roller for loose skin.
What's Derma Rolling?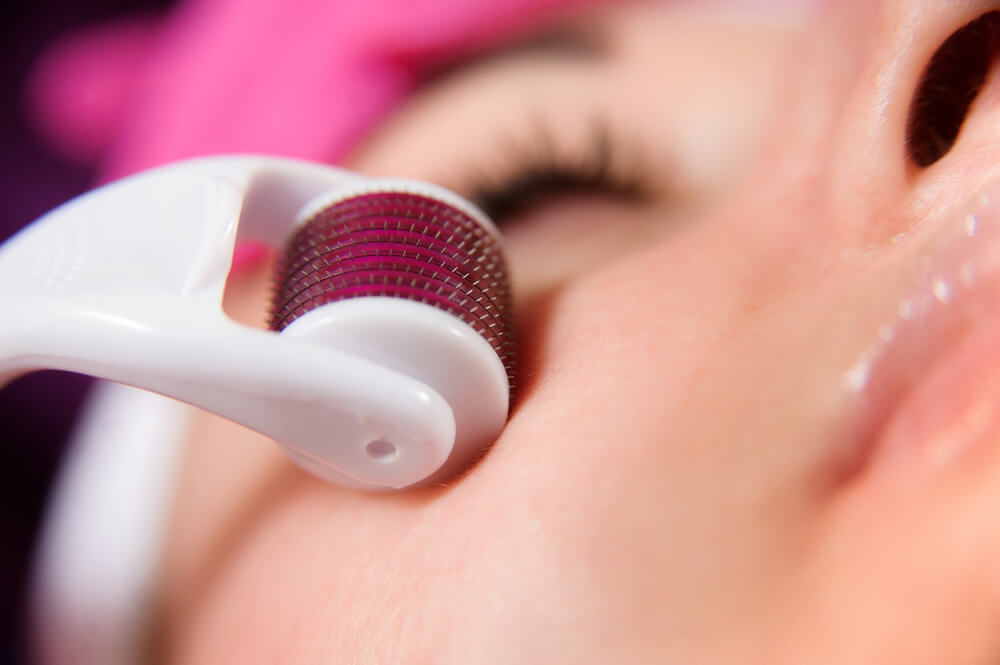 Derma rolling employs a popular skincare technique that involves pricking the outer layer of your skin with tiny needles. When you hear about it for the first time, you might think skincare has gone a little too far, but there's a lot of evidence to suggest that it works. 
According to a pilot study involving six treatment sessions carried out over three months, micro-needling can improve the appearance of skin texture and diminish the look of acne scars. It also works wonders for diminishing the look of loose skin and stretch marks.
It's actually considered a cost-effective, and relatively safe, alternative to high-end procedures designed to reduce the look of loose skin. It's believed that by puncturing your skin's outer layer with micro holes, you can potentially stimulate your skin's natural healing process. This is why derma rolling has been widely employed as a minimally invasive procedure to take care of the visible signs of aging on your face and body. 
What Exactly is a Derma Roller?
The tool employed to carry out this technique is called a derma roller.
It's a small handheld device with a rotating wheel on the top that incorporates tiny needles, ranging from 0.1 to 1.5 mm in length. You can choose to go for the lower length if you just want to increase the efficacy of your skincare products by helping them absorb properly into your skin. But if you're dealing with severe issues like deep acne scars, cellulite, or stretch marks, you can go longer.
To address the concern of sagging skin, the needle length varies depending on where you use it on your body. If you wish to reduce the look of loose skin on your face, choose a 0.3 to 0.5 mm roller. But for the rest of your body, e.g. your stomach, arms, or thighs, a derma roller of 1 to 1.5 mm would work to give better results.
Who Should Use a Derma Roller?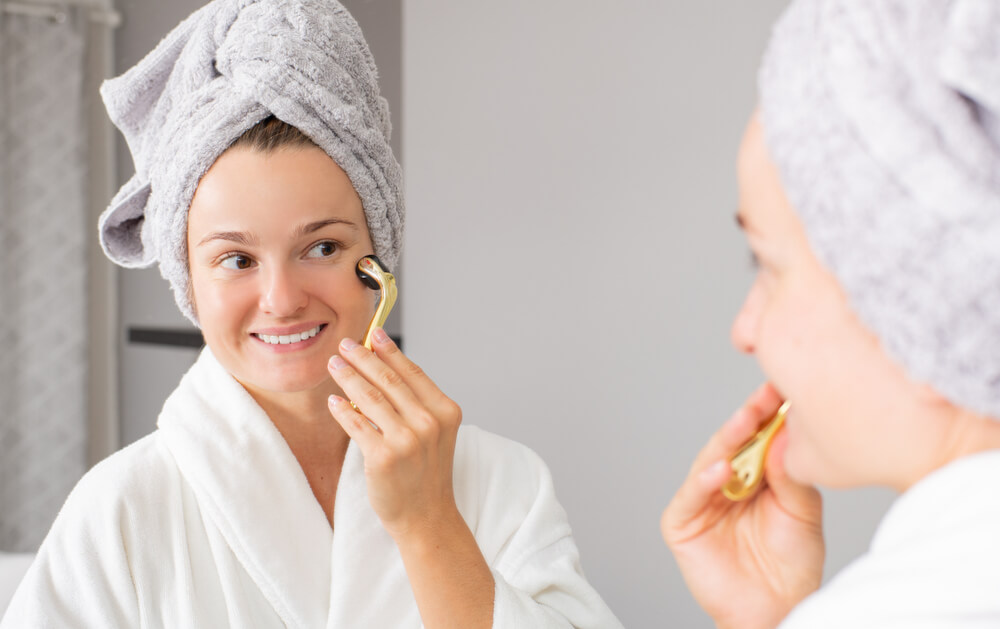 Derma rolling is a technique that can be used by anyone interested in dealing with the visibility of common skin concerns, including acne scars, loose skin, wrinkles, dark spots, and blemishes. It's also recommended if you just want your skincare products to absorb better into your skin.
Compared to other skincare techniques designed to tackle these concerns, derma rolling is not as invasive. That said, if you decide to go with longer needles, it can cause more pain. But it's not recommended to do this by yourself at home. Only trained professionals should handle derma rollers of lengths above 0.5 mm for your face. 
There is also an age factor to this technique. If you're in your 20s, derma rolling is not recommended unless you're dealing with acne scarring that only responds to micro-needling.
When you hit your 30s, your skin starts to show signs of aging. That's the right time to consider using a derma roller to enhance the look and feel of your skin's texture. If you have a fear of needles, you can start with the smallest size — 0.1 mm — and gradually get used to the feel before working your way up. You won't see any groundbreaking results because of the small length but it'll help you tackle any reservations you have about the procedure.
People with diabetes, autoimmune diseases, eczema, and psoriasis might not benefit from micro-needling as their lifestyle, medications, and specific allergies also need to be taken into account. If you're someone who's considering micro-needling, it's best to do your research beforehand to ascertain if it's right for you. You should also talk to a dermatologist or esthetician to figure out the best course of action.
The Benefits of Derma Rolling
When it comes to the benefits of micro-needling, the list goes on and on! But here are the highlights:
Reduces the look of fine lines and wrinkles

Diminishes the appearance of loose skin and stretch marks

Fades the visibility of acne scars and discoloration

Promotes absorption of your skincare products, increasing their efficacy
How to Use a Derma Roller for Loose Skin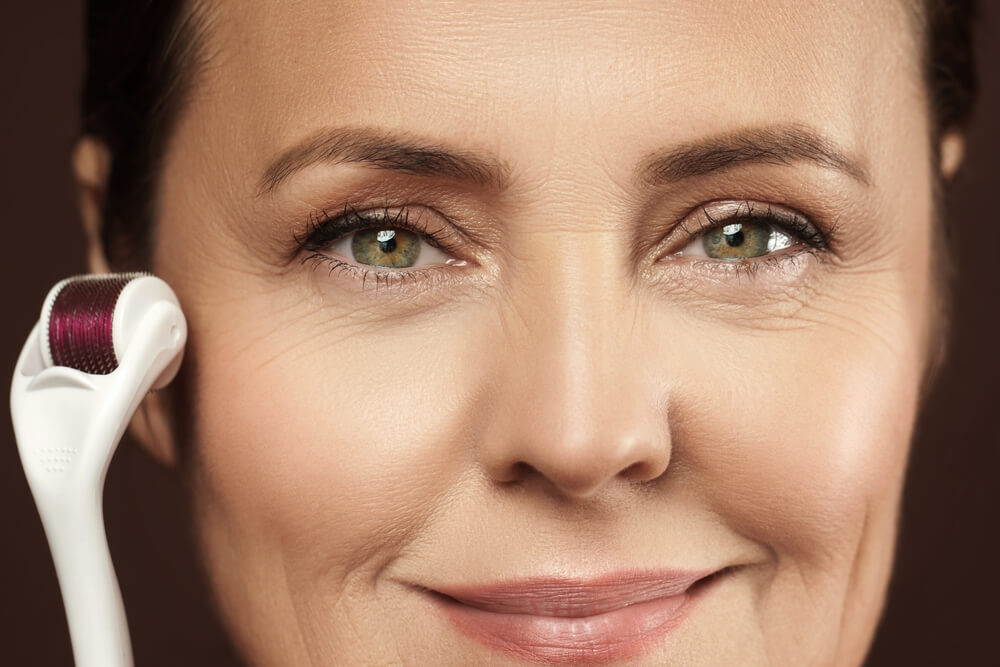 Using a derma roller for loose-looking skin at home isn't as easy as it seems. There are precise steps that need to be followed to ensure you don't end up with any unwanted side effects.
Step 1: Disinfect Your Derma Roller
Cleaning your derma roller properly is more important than you might think. You don't just wash it; you need to sterilize it. If you don't disinfect your derma roller, it can pave the way for harmful bacteria to cause damage to your skin, including infections and breakouts. These bacteria can also trigger skin conditions like eczema, rosacea, and melasma.
Prepare a solution of 70% isopropyl alcohol and 30% water. Put your derma roller in the solution. Make sure the head of the derma roller is completely submerged. Let it soak for roughly 30 minutes. Afterward, take it out and let it dry completely before using it on your skin.
Step 2: Clean Your Skin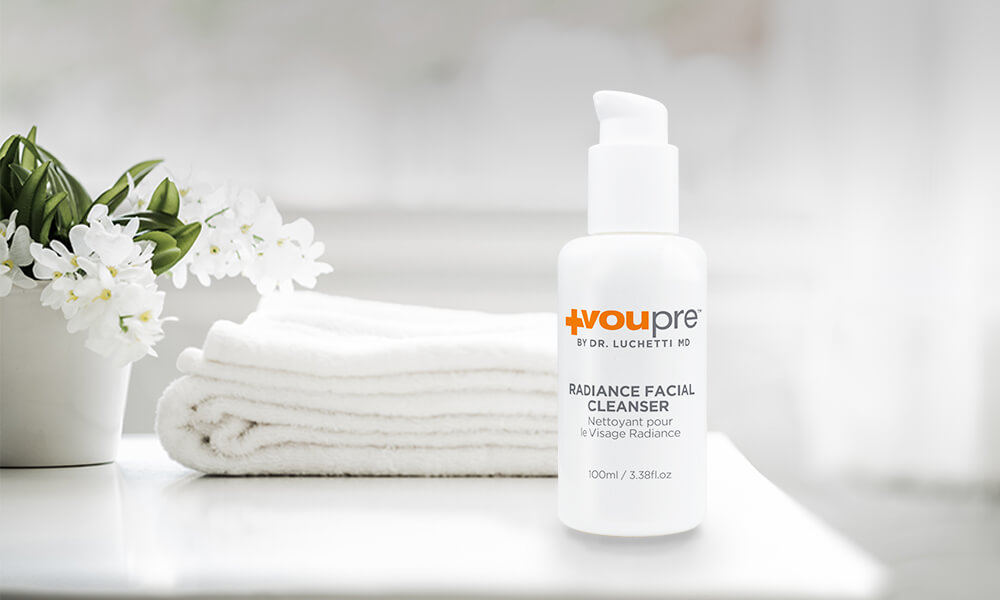 If you're derma rolling on your face, wash it first with a gentle pH-balanced cleanser designed especially for your skin type.
Apply the cleanser onto damp skin and massage your face and neck in circular motions. Rinse with lukewarm water and pat dry. To use a derma roller for loose skin on other areas of your body, e.g. thighs or stomach, just make sure to clean your skin with your regular soap beforehand. 
Step 3: Apply Numbing Cream (Optional)
Now that you're certain your face is free from any dirt and impurities, it's time to bring out the numbing cream. This step is optional because everyone's tolerance levels are different; some people don't need it. When you're using the VouPre derma roller for loose skin, you won't require a numbing formula. Our rollers are designed with microneedles under 0.3 mm in length, giving you desired results in a non-invasive way.
All the Vou Pre collections incorporate a derma roller with varying needle lengths depending on the results you need. For the look of loose skin on your face, we'd recommend our Aqua Collection. Each product in the collection is designed to help reduce the appearance of fine lines, giving your skin a firmer, tighter look. For these results, we've added a 0.3 mm derma roller to the collection.
If you do decide to go forward with numbing cream, make sure to read the product labels and instructions properly. Be sure to wipe your skin so there's no residual numbing cream formula when you start derma rolling. 
Step 4: Begin Derma Rolling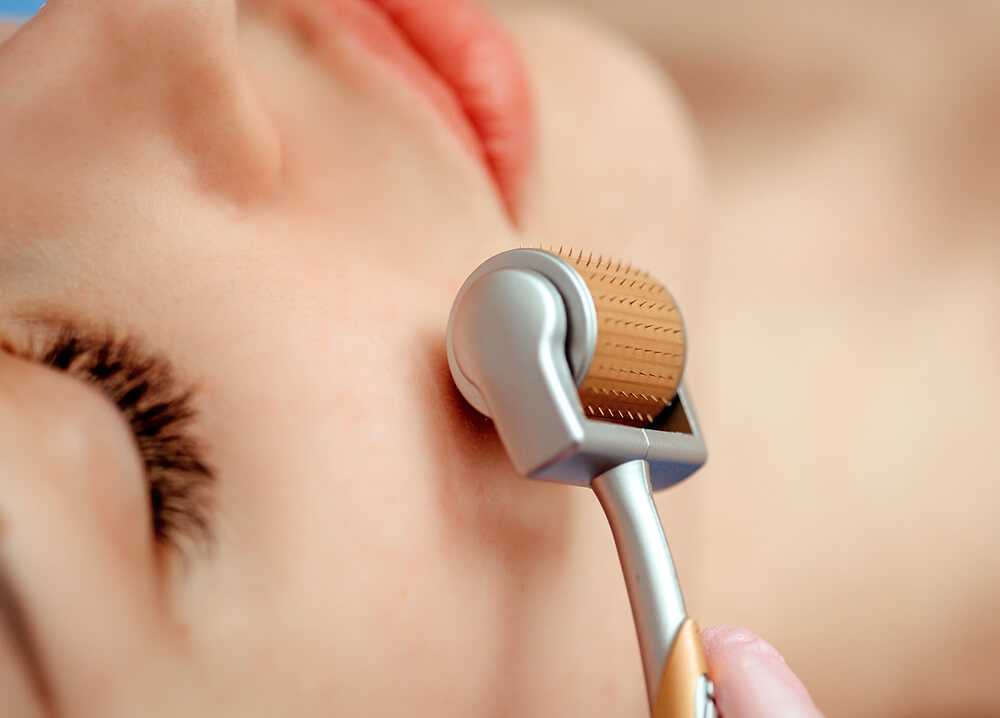 Now, on to the main step; it's time to break out your preferred derma roller for loose skin. For ease, we recommend sectioning out the left and right parts of your face. Roll on one part of your face vertically and horizontally (or diagonally) but not at the same time! For example, do the right side of your cheek diagonally, lift the roller, and then proceed vertically up and down.
The roller should glide naturally across your face. Make sure not to drag it in any other direction. Also, be careful not to get close to your eye socket area!
If you're using the roller on your body, follow the same rules. Roll it on one section at a time, stop and lift, and then continue in another direction.
To use the VouPre 0.3 mm derma roller for loose skin, start by gliding it across the targeted areas of your face. Be sure to keep the pressure at a minimum so you don't end up causing damage to your skin. Roll the device across each targeted area for 60 seconds. We recommend using it for no longer than 10 minutes in total.
Step 5: Clean the Derma Roller
After you're done with the process, it's important to clean your derma roller before putting it away. You can use dishwasher soap to do so.
Why should we not use an alcohol mixture instead? Because alcohol doesn't dissolve the proteins found in skin and blood. So, your roller wouldn't be properly clean.
Start by forming a soapy water mix in a plastic container. Submerge the roller in it, swishing it around carefully to make sure it doesn't hit the sides. After you're done, soak it in the 70% isopropyl alcohol once more for 10 minutes. Let it dry before storing it away.
Step 6: Moisturize with a Gentle Formula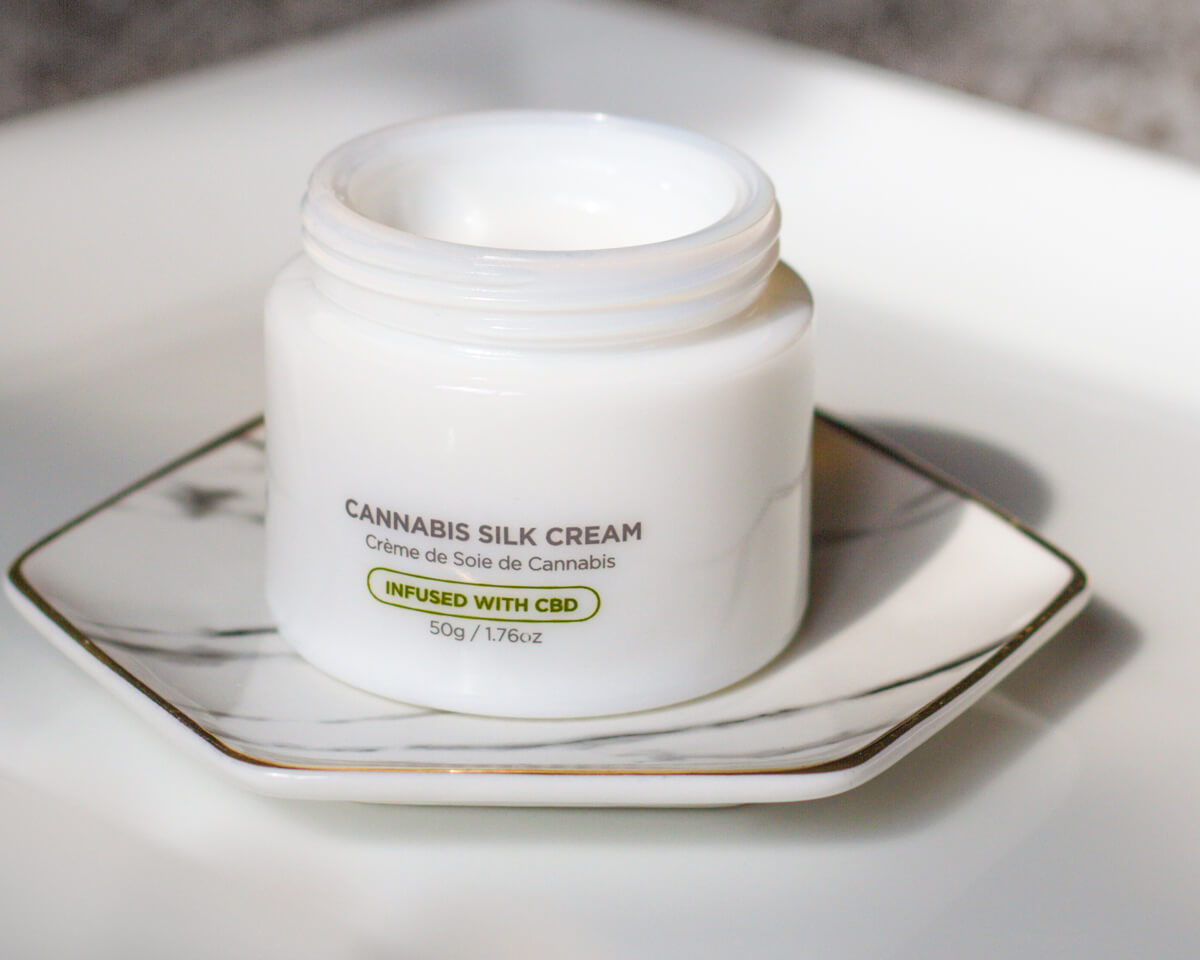 After derma rolling, you'll notice that your skin is quite dry. The process can leave your face craving hydration. Check out the cream from our Cannabis Collection for a truly exquisite formula. This sensational moisturizer will leave your skin feeling deeply hydrated and refreshed.
For other parts of your body, you can incorporate any serum or moisturizing formula that's especially designed to be used after derma rolling.
Extra Tips for Using a Derma Roller for Loose Skin
To improve your results when using a derma roller for loose skin, incorporate these helpful tips into your sessions:
Don't forget to moisturize afterward. Use gentle formulas in your skincare routine.

Be religious with sunscreen application in the days after the process, as your skin tends to be more exposed.

Don't go overboard. We recommend derma rolling for loose skin with a 0.3 mm device every three to four days.

Don't get close to your eye area.

Avoid any activity that could cause you to sweat in the area right after.

Don't roll on infected acne areas.

Never use someone else's derma roller.
Enhance Your Skincare Routine With VouPre's Derma Roller for Loose Skin
If you want to diminish the look of loose skin without going to extreme, costly measures, derma rolling is a great option! You can simply incorporate VouPre's derma roller into your routine and amplify its skin-enhancing results.
Click here to browse more of VouPre's cutting-edge skincare solutions.