5 Skincare Gift Sets for 2023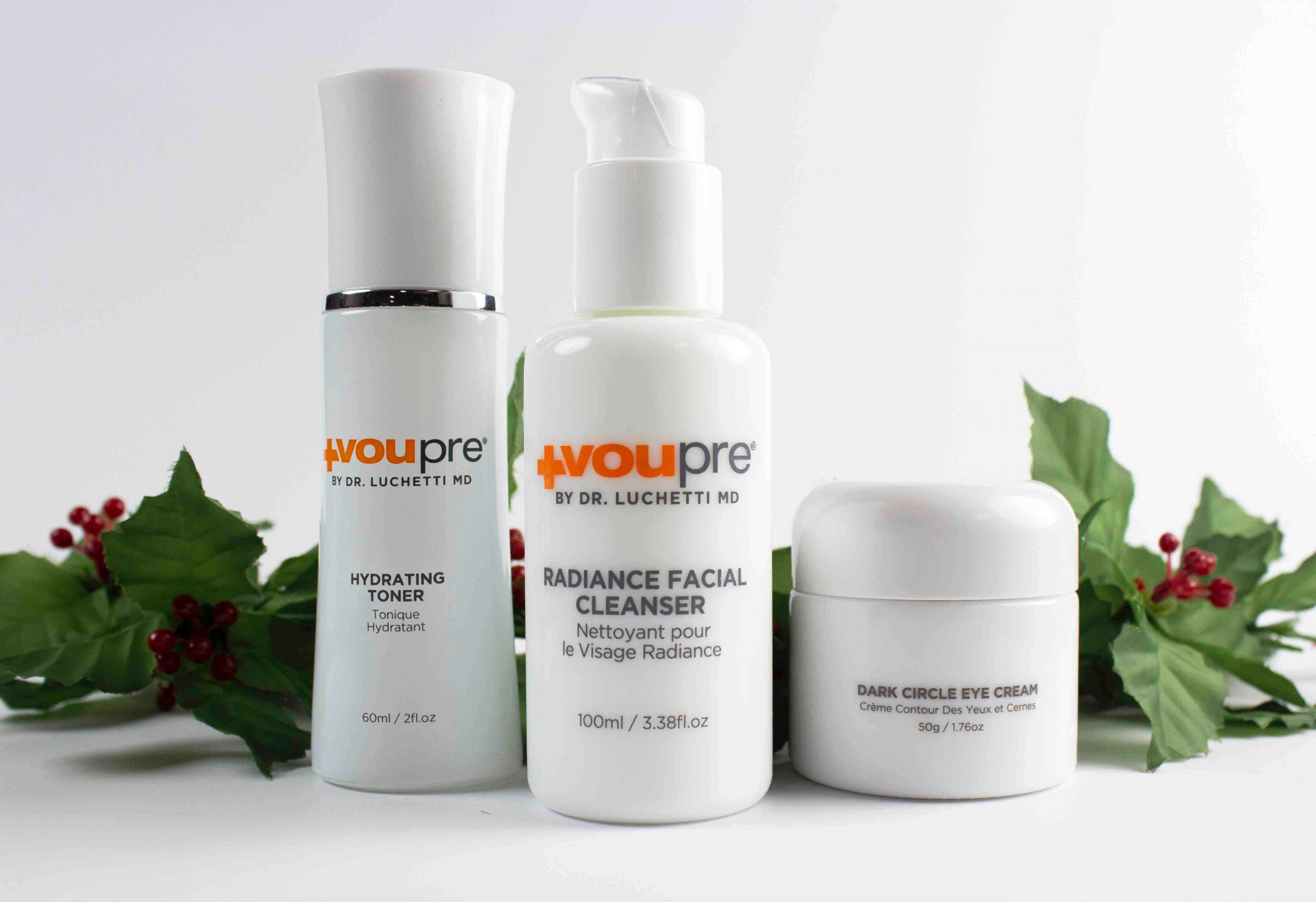 If you're looking for the best skincare gift sets 2023 has to offer, you've come to the right place.
Here at VouPre, we're all about creating innovative solutions for visible skin concerns, and we've bundled some of our cutting-edge products together to create exquisite, high-performance gift sets.
Whether you're buying a gift for someone else or are treating yourself to some new products, here are 5 of VouPre's bestselling skincare gift sets 2023.
The Cleanse & Brighten Set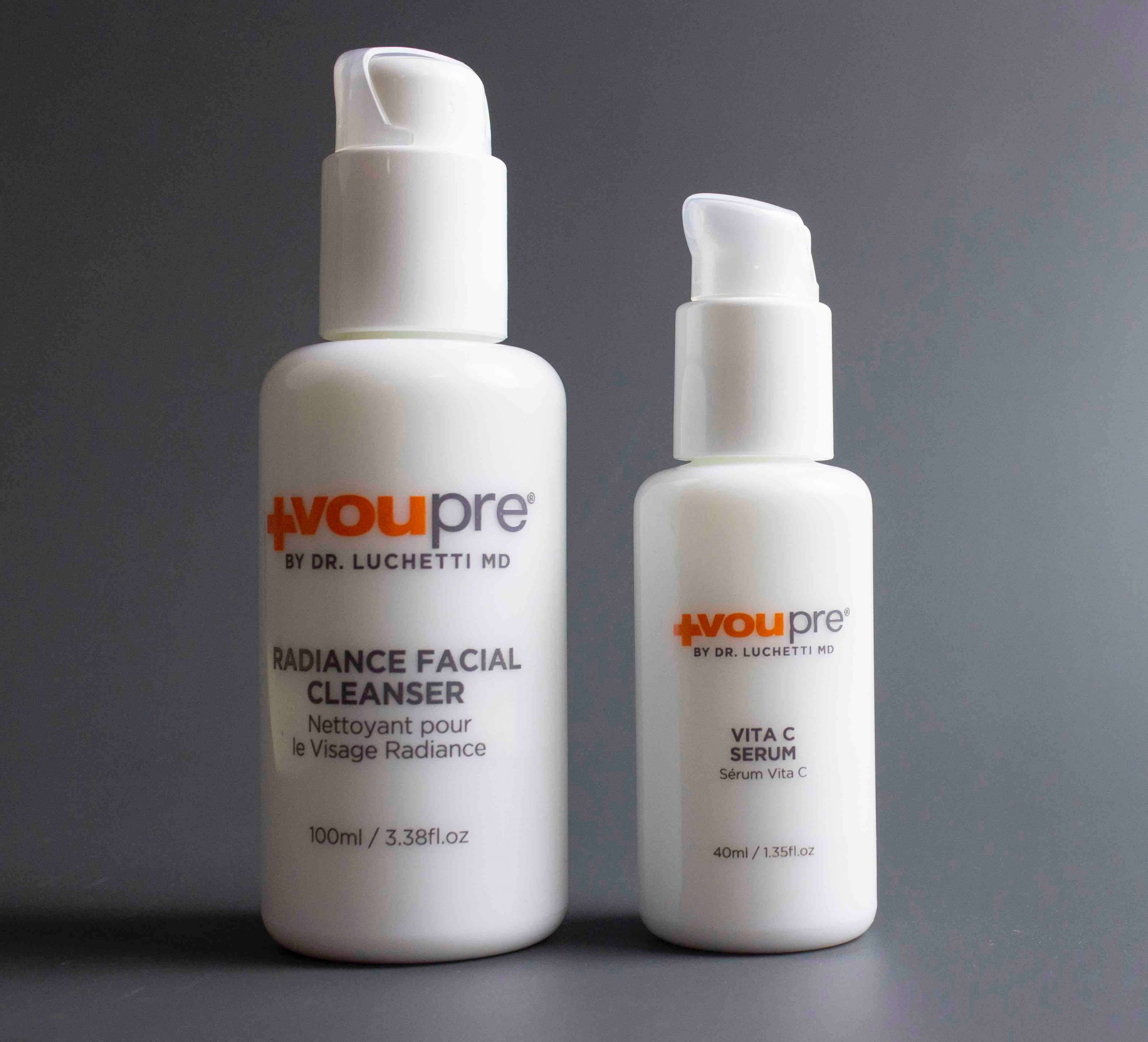 While all of our other skincare gift sets contain three products, the Cleanse & Brighten Set keeps things simple with just two.
This set has been designed for people who want to energize and brighten their complexion. If their skin has been lacking in radiance lately, this is one of the best skincare gift sets 2023 for illuminating the appearance.
It's also an ideal gift for people who don't enjoy long and complicated skincare routines. These two products alone can form a full routine for those who prefer to keep things basic.
What's in it?
Cleansing is an essential part of maintaining a healthy-looking complexion, which is why our Radiance Facial Cleanser has been included in this set.
Its cleansing compounds have been derived from coconuts. This sets it apart from many of the harsh cleansers on the market.
It also contains vitamin E and amino acids. Together, these ingredients will moisturize and soften the feel of the skin. Glycerin, a powerful humectant, helps with this too by plumping up the appearance. Together, these ingredients prevent the skin from feeling dry and stripped post-cleansing. This makes it ideal for all skin types.
Also in the Cleanse & Brighten Gift Set is our Vita C Serum. As you can guess from the name, this serum is all about vitamin C, a must-have ingredient no matter a person's skin type or concerns. Whether it may be dryness, the appearance of wrinkles, saggy-looking skin, or visible dark spots, vitamin C is a potent antioxidant that can really help to improve the complexion in so many different ways.
In this serum, you'll find two forms of vitamin C. This gives the skin the opportunity to double up on the ingredient's benefits. We've also added in vitamins A and E to create a punchy multivitamin blend. Along with a selection of organic plant oils, this serum is a superstar at giving the skin a luminescent glow.
The Day and Night Set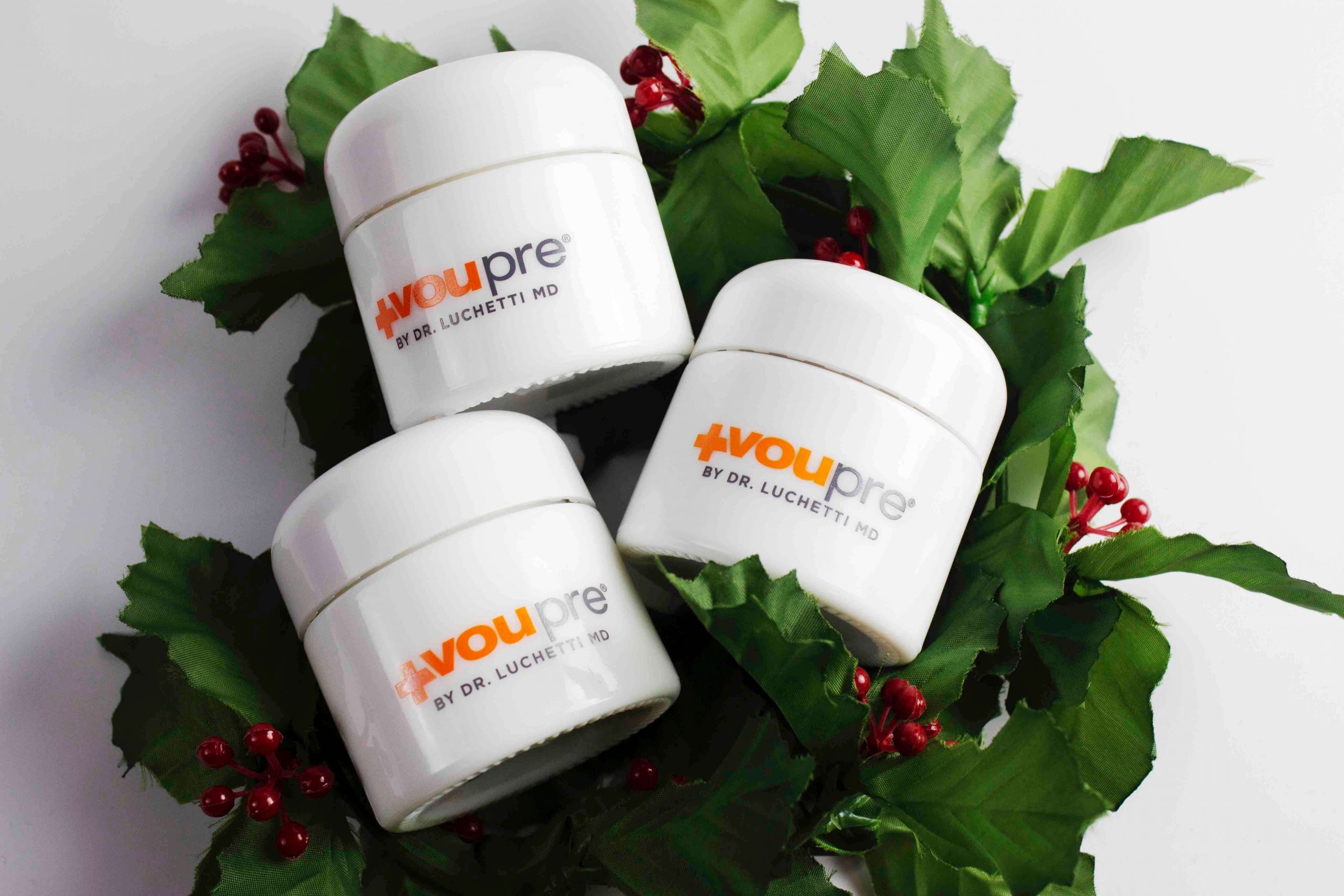 If you really want to get the most out of your skincare, then you need to recognize how the skin's needs differ during the day compared to at night. By tailoring the products that you use to the time of day at which you're using them, you'll notice visible results so much faster.
Of course, this can seem a little confusing to some. Sure, it's easy to understand that the skin's functions vary at different times of the day, but how do you know which products to give it when?
That's where the VouPre Day and Night Set comes in…
It consists of three products; one to be used during the day, one to be used at night, and one that can be used both day and night if wanted.
What's in it?
Start the day off with a glow with the Ultra Day Moisturizer. Nobody enjoys feeling weighed down with a thick and heavy cream during the day, which is why we've formulated this moisturizer to feel lightweight and non-greasy.
It's brimming with humectants, including glycerin and sodium hyaluronate. These ingredients have moisture-binding properties that plump up the look of skin cells.
Next up, we have the Revitalizing Night Cream. As you can tell from its name, this cream should be applied as part of an evening skincare routine. It's a rich formula that's loaded with shea butter, sunflower seed oil, oat protein, and humectants.
We've also infused vitamin E into our night cream. Not only is it a vitamin, but it also serves as an antioxidant. It moisturizes the skin while reducing the appearance of aging and damage.
Together, these ingredients will leave your skin feeling supported while you snooze, allowing you to wake up to pure radiance.
Finally, we have the VouPre Dark Circle Eye Cream. This advanced formula contains a premium blend of resveratrol, chitosan, collagen, and allantoin. These ingredients brighten the look of the skin, which helps to fade the visibility of dark circles.
The retinyl palmitate in the formula tackles the visible signs of aging, including crow's feet. Meanwhile, caffeine perks up the appearance of the skin, leaving it looking revitalized.
With the addition of humectants to hydrate the skin and plump away the look of puffiness around the eyes, this cream is a savior whether it's used day or night.
The Renewal Gift Set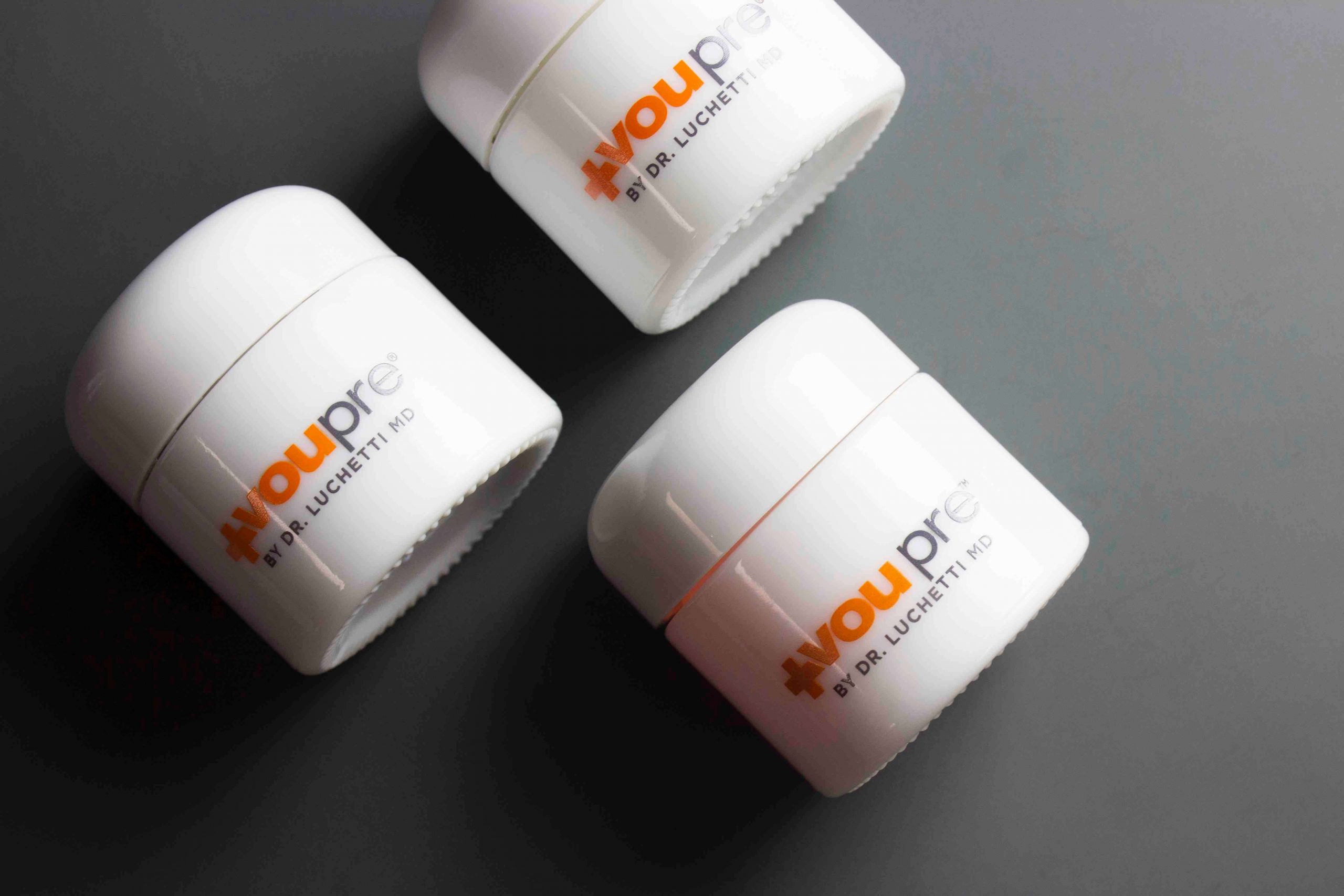 While our Day and Night Set provides products for both morning and evening use, the VouPre Renewal Gift Set is all about renewing the look of the skin overnight.
This is a process that already happens naturally. While you're asleep at night, your skin cells work hard to regenerate, repairing any visible damage that has occurred during the day. However, as a person ages, this process slows down, resulting in the need for targeted skincare products to help pick up the slack. And, you've guessed it, the formulas in our Renewal Gift Set will do exactly that.
If your gift recipient has been struggling with the effects that aging is having on their complexion, then this set will offer up some much-needed assistance. It can transform a dull, tired, and lackluster appearance into one that looks fresh, rejuvenated, and youthful.
What's in it?
We've already talked about two of the products in the Renewal Gift Set; the Dark Circle Eye Cream and the Revitalizing Night Cream. However, this trio of products also includes a formula that, when used prior to the other two, will help to intensify the overall results that you experience.
Curious? It's the VouPre Deep Renewal Facial Peel.
Chances are that you're already familiar with how essential exfoliation is when it comes to keeping the skin looking healthy. While that may be the case, finding high-quality exfoliants can be tricky, especially if you're shopping for someone else. Scrubs can be overly abrasive, while certain chemical exfoliants can be too harsh.
That's what makes our Deep Renewal Facial Peel such a game-changer. It's extremely gentle, making it suitable for all skin types, but it's also very effective. It removes the dead skin cells, dirt, and other impurities that contribute to dulling buildup and clogged pores, leaving the skin looking beautifully refreshed.
Thanks to the addition of vitamin E, this peel will also help moisturize and balance the feel of your skin. Unlike other exfoliants that sometimes leave the skin feeling dry and tight, this one will have your skin feeling soft and smooth after every use.
The Self Care Set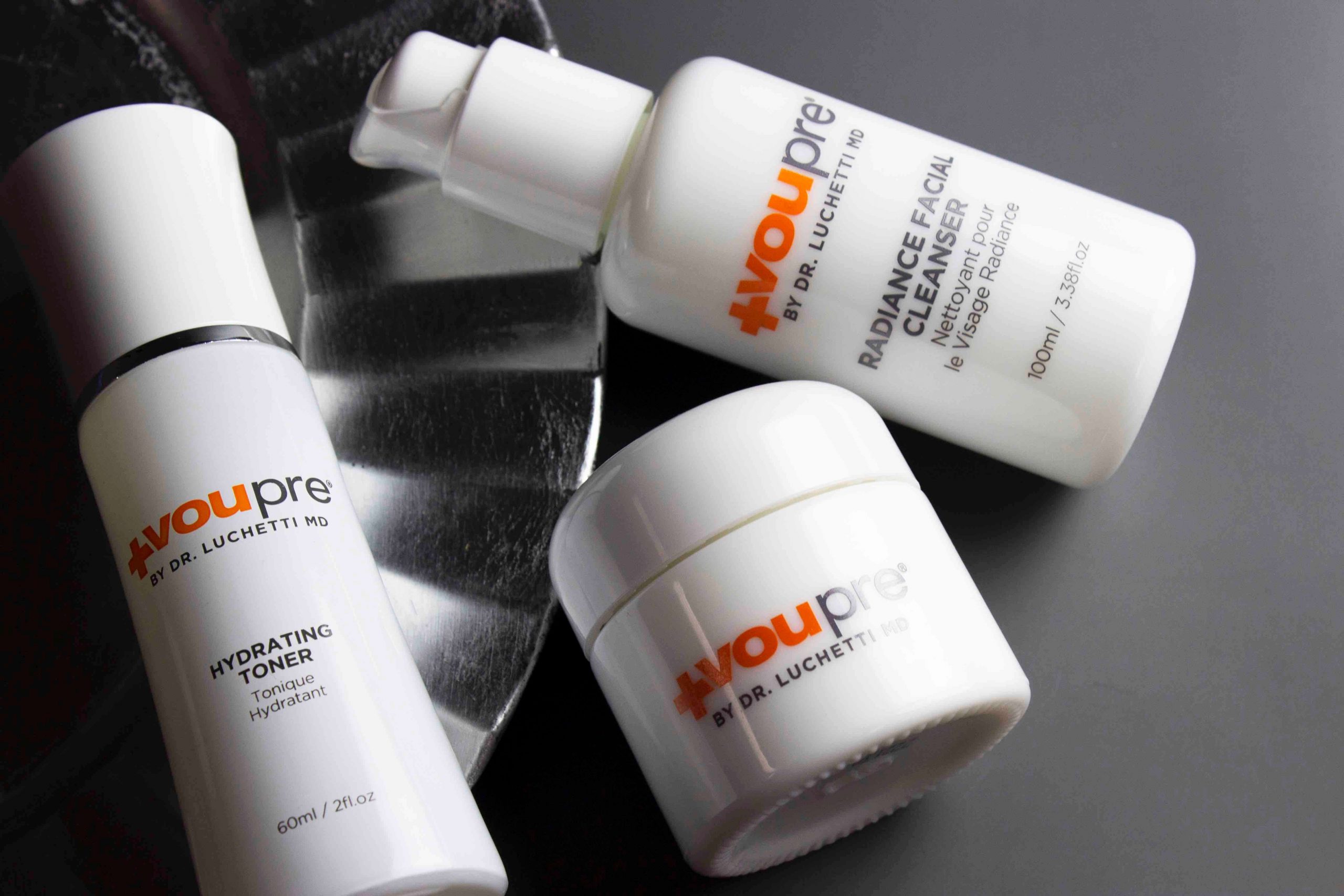 We've already shared gift sets 2023 for evening use, as well as one for both day and night use. However, if your recipient would prefer a set of products designed for morning application, then the Self Care Set is it.
Again, this set consists of three separate products. Together, they form a complete daytime skincare routine, although a sunscreen would still need to be applied over the top.
If your recipient is looking for products that will help to revitalize their complexion and keep their skin looking hydrated and healthy throughout the day, then this trio more than meets the mark.
What's in it?
As mentioned, the three products in this gift set are capable of forming a complete skincare routine.
The first product that should be used is the Radiance Facial Cleanser, which we've already featured above.
However, it takes the cleansing process a step further with the inclusion of the VouPre Hydrating Toner.
Many people skip out on the toning step of their skincare routines, underestimating how essential this humble product can be. Not only does a toner remove any residue left behind from your cleanser, but it also soothes, hydrates, and balances the complexion.
Our Hydrating Toner is an alcohol-free formula that's more than a step above its competition. This formula is brimming with plant extracts that calm and relax the feel of the skin, while reducing the appearance of redness, inflammation, and irritation. From aloe vera leaf juice to cucumber extract to chamomile extract, this toner will leave your skin feeling happy, healthy, and perfectly prepped for the rest of its skincare routine.
The final product to apply from the Self Care Set is the Ultra Day Moisturizer. Again, this is a product that we've already featured. Slather it onto your face after toning and it will lock in all of the beneficial ingredients that you've applied.
The VouPre Care Set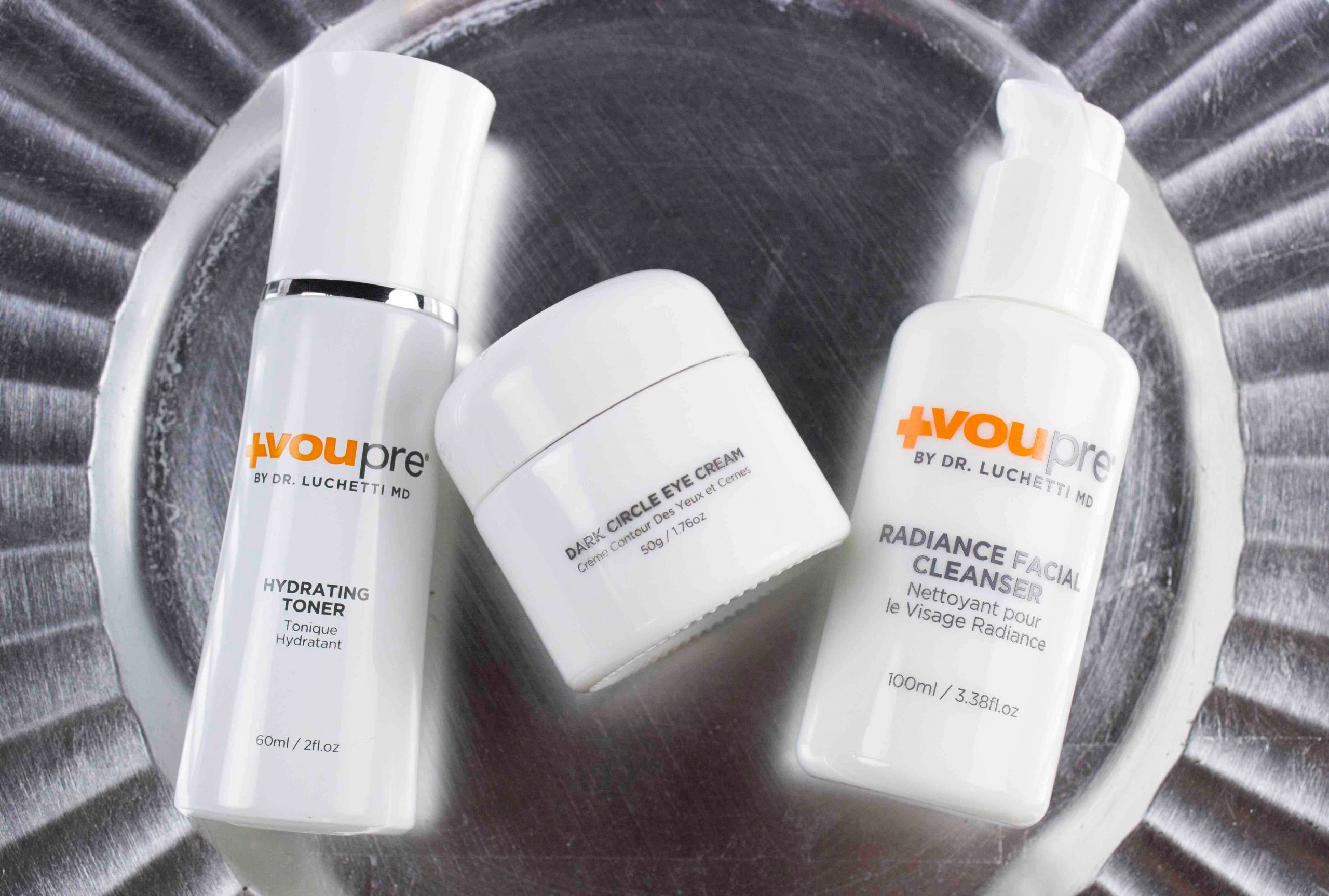 The final trio in our offerings of skincare gift sets 2023 is the VouPre Care Set.
This gift set is for people who already have go-to serums and moisturizers. Chances are that they're already familiar with what their skin knows and loves, which means that the best gift for them is one that will treat their skin to an elevated skincare experience.
That's where the VouPre Care Set comes in…
What's in it?
You'll already be familiar with the three products in the VouPre Care Set because we've already featured each one above. However, by offering them in this combination, we're able to provide three products that can be used twice daily if necessary. The result will be skin that looks revitalized and rejuvenated each and every day.
The first product in this set is our Radiance Facial Cleanser. It sets the stage for the rest of the skincare routine by gently removing any dirt and impurities that would have otherwise prevented other products from fully absorbing into the skin.
Next up is our Hydrating Toner. This is the perfect follow-on from our Radiance Facial Cleanser for people who really want to pamper their skin with a thorough skincare routine.
Finally, we have the Dark Circle Eye Cream. Capable of targeting the appearance of dark circles, puffiness, and wrinkles, this product can either be used daily or saved as a go-to for whenever the skin isn't looking its best.
VouPre Gift Sets 2023
As you can see, when it comes to skincare gift sets 2023, VouPre has something for everyone. Whether you're shopping for someone who doesn't know much about skincare and requires a full but basic routine, or you're purchasing a gift for a skintellectual who would appreciate advanced, cutting-edge formulas, our gift sets cover all bases.
Click here to browse more bestselling skincare products from VouPre.