4 Treatments to Try at the VouPre Spa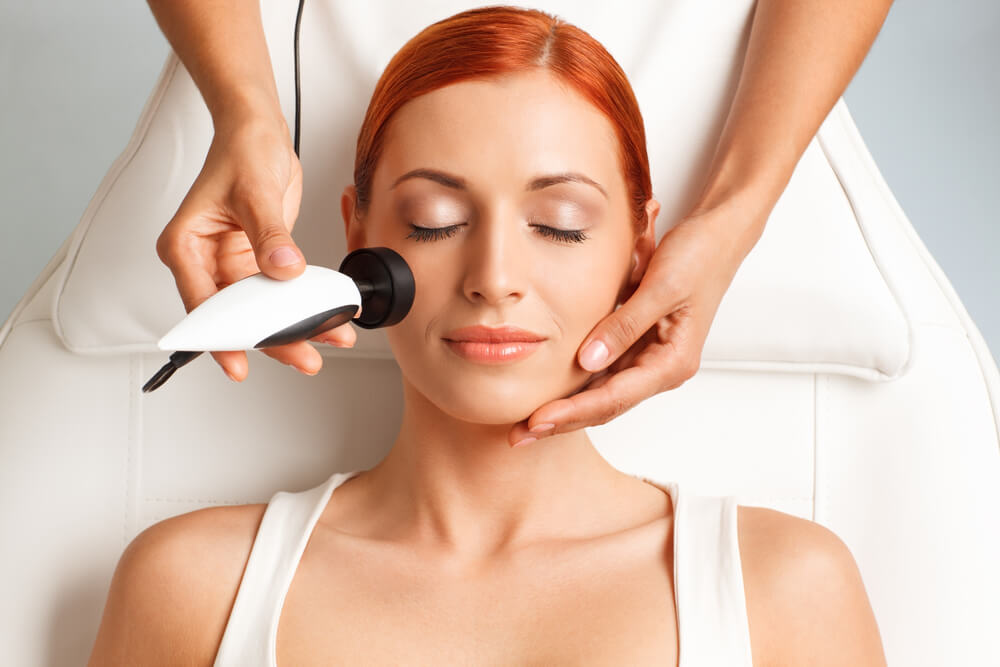 Sometimes, your skin needs some extra TLC to reveal its inner glow. You might have a strict beauty regimen but, now and then, your skin can benefit from an intense pampering session, especially when you need a glow-up before an important event.
And nothing says luxury skincare quite like the VouPre Spa experience! VouPre is home to aesthetic skin treatments backed by the latest technology in the skincare world. 
In the skilled hands of Dr. Mary Ellen Luchetti, you can expect to have a truly standout indulgent experience. During every treatment, you'll discover therapeutic and skin-enhancing effects working in harmony. The quality formulations of Dr. Luchetti are all based on the combined, magnified effects of select skincare ingredients, delivering faster and more effective results.
Let's talk about the four exclusive skincare treatments you can try out at the VouPre Spa!
The VouPre Spa Treatments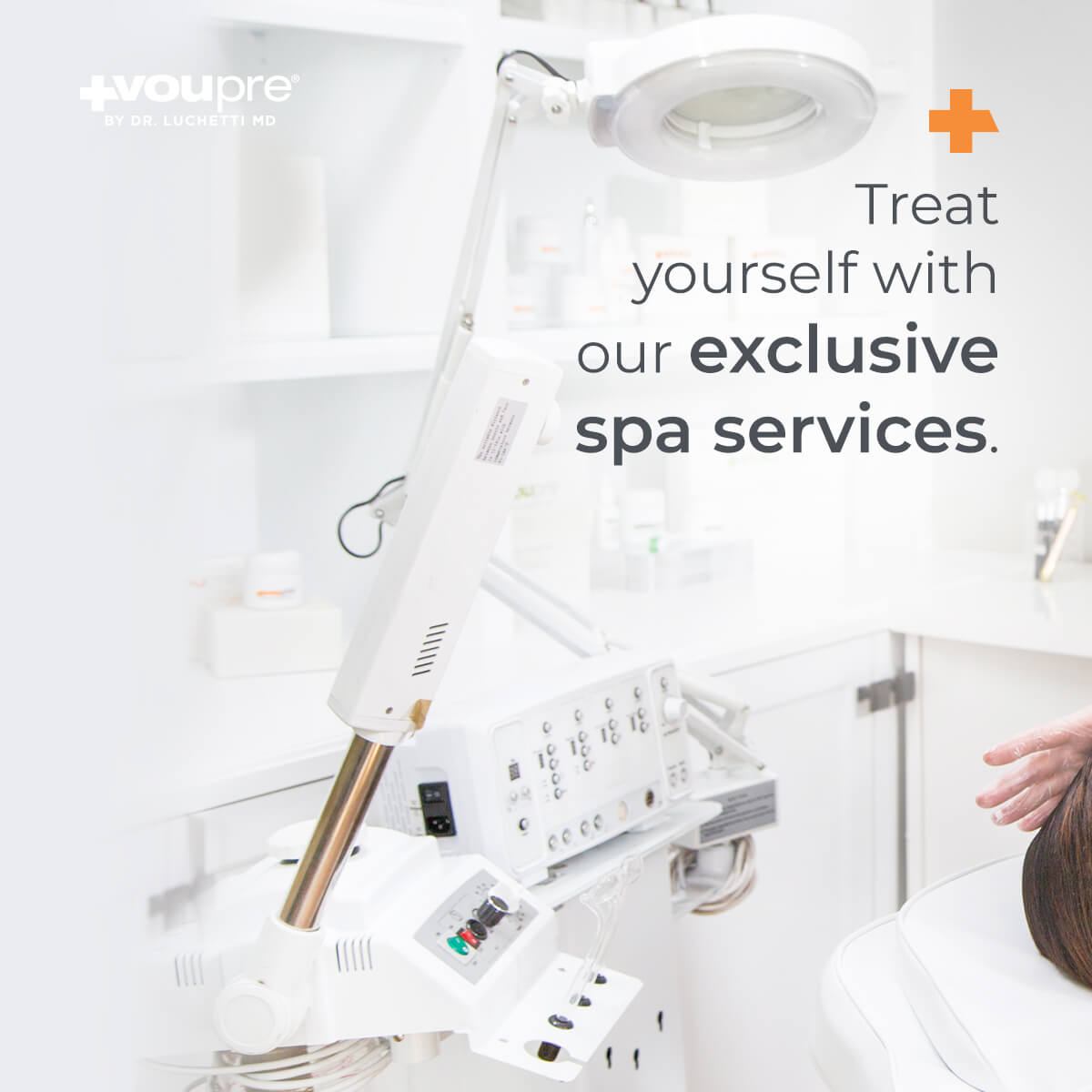 Each of our treatments incorporates VouPre's skincare formulations infused with premium ingredients to deliver magnificent results. These will help to brighten and tighten the look and feel of your skin, bringing it back to life.
We have an exclusive selection of spa services that can help you transform your whole look. You can also expect some relaxing effects to uplift your mind, body, and soul. It doesn't matter if you're looking for a fast glow-up or just wish to boost your regular beauty routine, you'll definitely find a dedicated spa service at our facility to suit your needs.
1. The RF Aqua Experience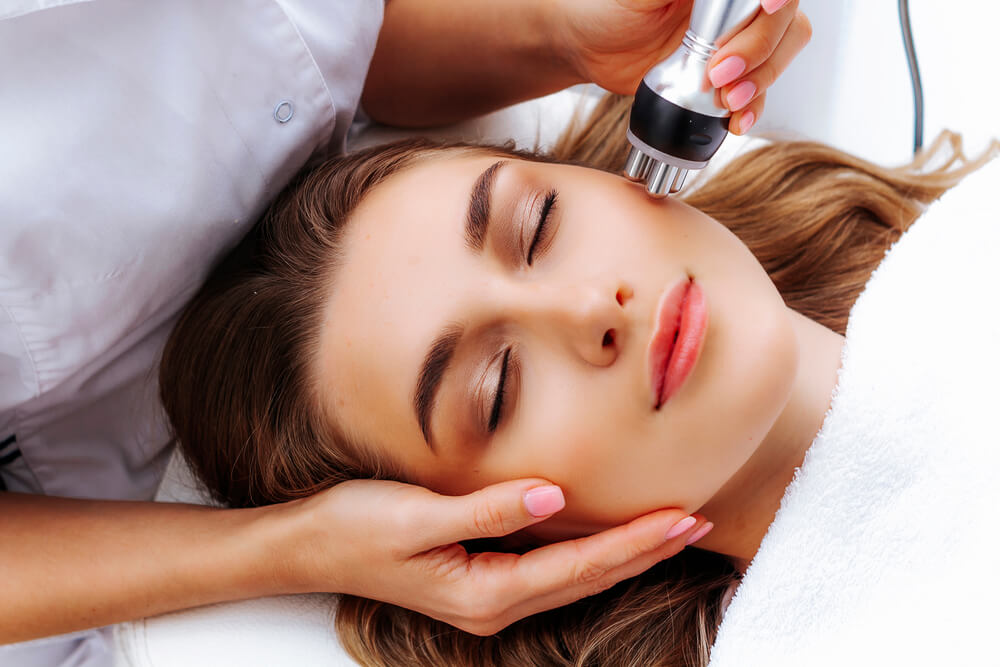 The Radio-Frequency Aqua Experience provides you with 60 minutes of luxurious indulgence.
What is radio frequency in the world of skincare? RF therapy, also termed RF skin tightening, is a non-invasive skin treatment that helps to make your skin appear tighter and lifted.
It includes the use of energy waves to heat the deep layer of your skin (dermis) to around 50 to 75°C. By maintaining this temperature for more than 3 minutes, your body generates heat-shock proteins as a response. This stimulates the production of the most abundant protein in your body, collagen. This protein plays a vital role in providing structure and support to the skin, keeping it looking firm.
Deep Cleanse
The VouPre Spa RF Aqua Experience is a 3-in-1 custom treatment that starts with a deep cleanse. This cleanse is complete with extractions — the process of clearing out clogged pores by manual means. This step will rid your skin of any residual debris, makeup, and pore-clogging build-up, giving you a clarified look.
RF Therapy
After your face is properly cleansed and refreshed, the next step is to perform the radio-frequency treatment. We use advanced technology to create waves that will heat your dermis. You will witness an instant change in the look and feel of your skin. These changes might appear minor at that moment but the true results will show after a few weeks. You'll notice your skin appears tighter and more youthful than before. 
Deep Exfoliation
The last step is a deep exfoliation process using a glycolic/salicylic acid peel. This will rid your skin of dead cells and leave it looking rejuvenated. Our deep exfoliation treatment delivers hydrating results as well, giving you a beautiful, dewy post-exfoliation glow.
After this facial treatment, you'll notice a brighter, more balanced complexion almost instantly. By stimulating the natural processes of your skin's deep layer, our VouPre Spa RF Aqua Experience will give you a softer, firmer, and tighter look in the long run.
2. Thermal Detox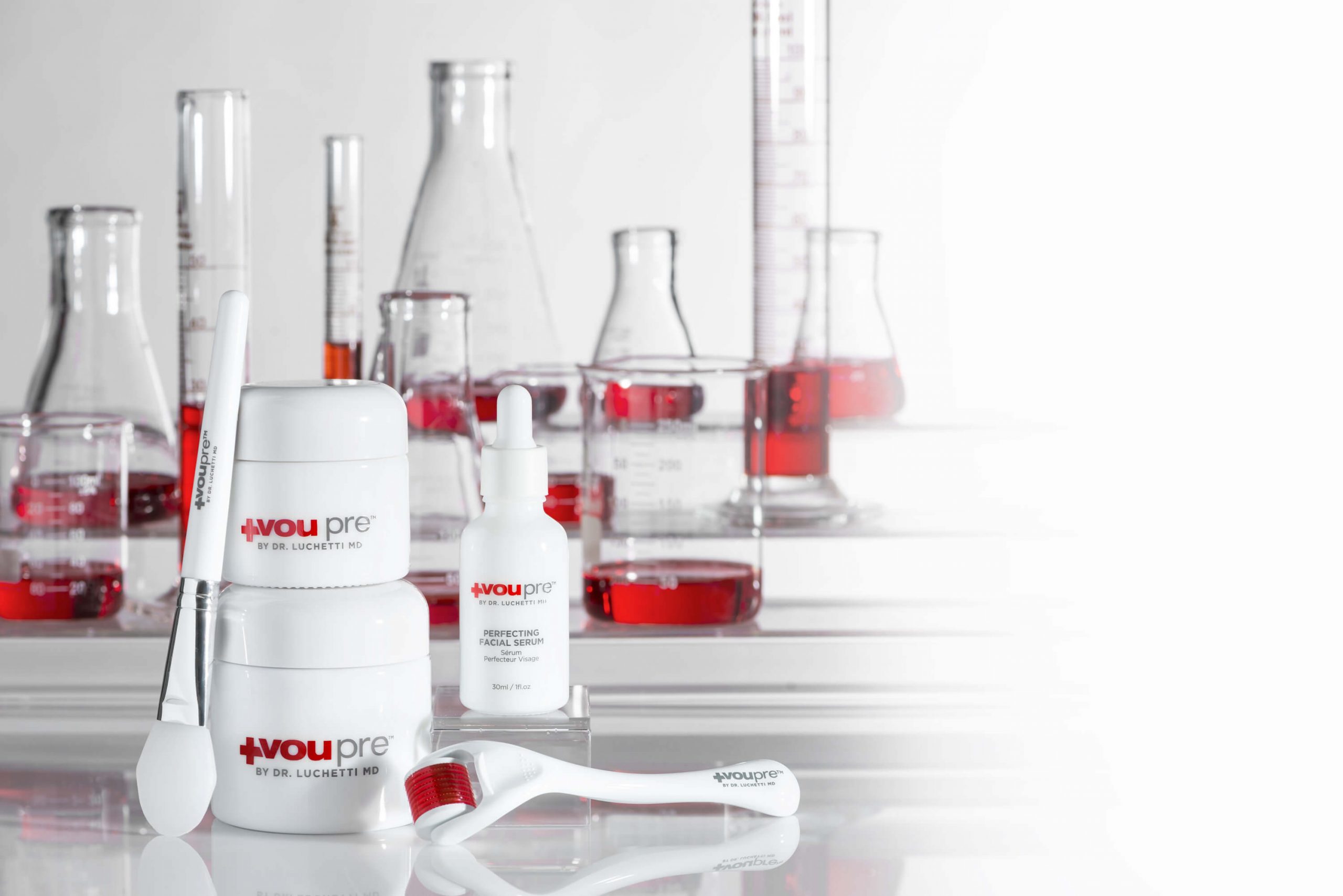 The Thermal Detox is a customizable VouPre Spa treatment that allows you to lie back and relax for 50 minutes of bliss.
To carry out this treatment, we incorporate an innovative formula that infuses a blend of minerals, vitamins, and powerful botanicals — our Detoxifying Thermal Mask. This gentle heating complex incorporates a mix of kaolin and zeolite. These two ingredients draw out impurities, bind sebum, and remove excess oil from your skin. The advanced mask formula also contains vitamins A, C, and E, which work in synergy to minimize the look of damage and premature aging on your skin.
Dragon fruit extract is a powerhouse ingredient in the mix, which helps to remove debris, clear out your pores, and give your skin an energizing boost. Other extracts in the mask, like coffee arabica seed, citrus lemon, and aloe vera, work to make your skin appear revived and completely rejuvenated. These ingredients not only brighten the look of your skin tone but also deliver intense hydrating results to keep your skin feeling smooth and soft to the touch. The mask also infuses grape fruit cell extract, which is rich in phenolic compounds to help diminish the visible signs of oxidative stress on your skin.
The VouPre Spa Thermal Detox gives you the perfect opportunity to indulge yourself and refine your complexion. The therapeutic effects of this treatment will help clear your mind and re-energize your soul. We also offer customizations in this treatment to your liking, such as micro-needling using a 0.25mm dermal roller and extractions.
3. True Revive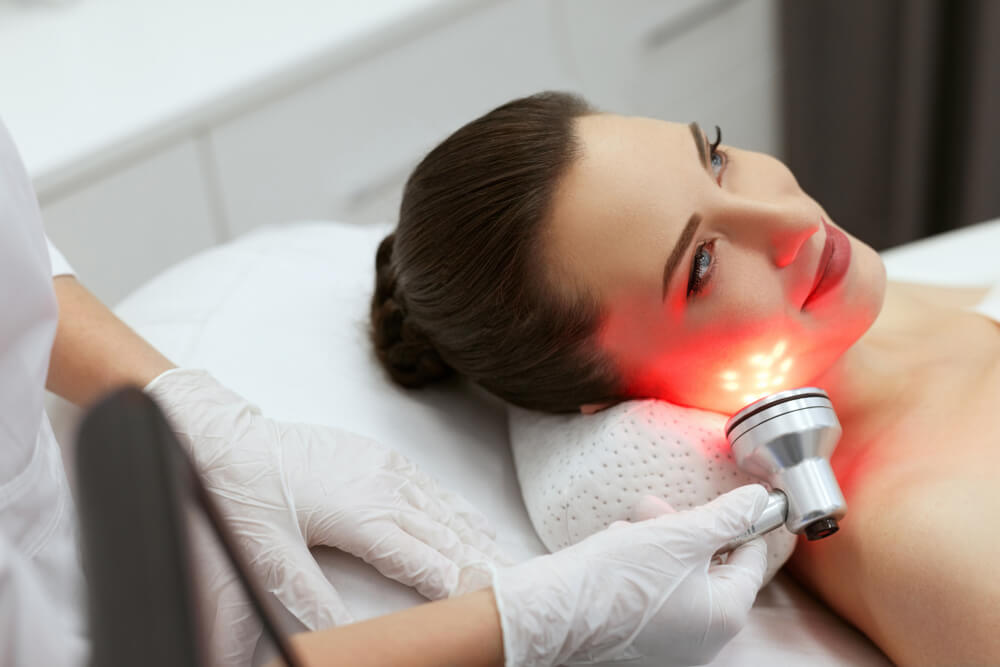 This treatment is focused on reviving the appearance of dull, lifeless skin using the energizing properties of our Cannabis Collection. Cannabis Sativa seed oil (hemp seed oil) is the primary ingredient in all the formulas of this collection. This ingredient is widely praised for its ability to reduce the visible signs of damage, aging, and oxidative stress on your skin.
Deep Cleanse
This 60-minute VouPre Spa treatment starts with a relaxing, deep cleansing of the skin. In this step, we remove all residual dirt and impurities from your skin while buffing away rough patches and dead cells, opening up the deeper blockages within your skin. This leaves your face looking clarified, plump, and much firmer than before.
LED Photo-Therapy
After your face has been properly cleansed, the next step is to continue with an LED Photo-Therapy session.
What is LED Photo-Therapy? Light Emitting Diode (LED) Photo-Therapy involves the use of varying LED wavelengths to improve the texture and tone of your appearance.
It uses either red or blue light, which is absorbed by the outer layer of your skin to deliver stimulating effects. Red light is used for diminishing the visible signs of aging, including wrinkles and fine lines. Blue light, on the other hand, is used for ensuring that the skin feels balanced in terms of sebum production, which will alleviate the appearance of acne breakouts.
LED Photo-Therapy improves the natural skin-loving properties of our Cannabis Collection's star ingredient — Cannabis Sativa seed oil.
Liven up the tone and texture of your appearance and bring back the complexion of your youth with our invigorating True Revive VouPre Spa treatment.
4. VouPre Microdermabrasion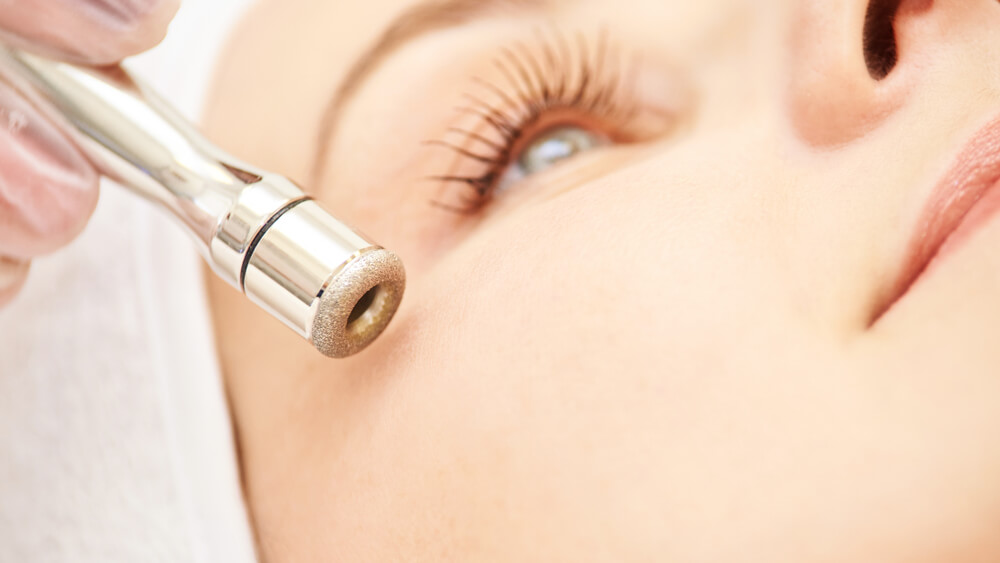 What is microdermabrasion? It's a minimally abrasive exfoliating process that uses a special instrument to gently sand your skin. This removes the thick and uneven outer layer of your skin, giving it a more balanced-looking texture and tone.
This treatment is suitable for all skin types and works best to diminish the look of light scarring, hyperpigmentation, UV damage, fine lines, and wrinkles.
This 50-minute VouPre Spa treatment can be customized to your liking, bringing together advanced skin-enhancing processes like cleansing, exfoliation, extraction, and hydration. Our Microdermabrasion treatment provides your skin with what it craves, allowing it to thrive. It doesn't matter what your concerns are — dry and flaky skin, blemishes, or acne — this bespoke treatment is entirely tailored to what you want for your skin.
Deep Cleanse
The process starts with a thorough cleanse where we incorporate enzymes and amino acids to lift away your skin's impurities. This will make your skin appear instantly brighter and refreshed.
Microdermabrasion
After cleansing, the next step is to rid the outer layer of your skin of dull, lifeless dead cells. We use our powerful yet gentle Diamond Microdermabrasion device to carry out this exfoliation technique. 
Intense Hydration
The last step is to replenish your skin's hydration levels and make it feel soft to the touch. It involves subjecting your skin to an intense dose of hydration to deliver a soothing and soft feel. This also helps keep your skin feeling protected by reinforcing the natural moisture barrier function.
Rediscover your skin's glowing inner beauty with the VouPre Microdermabrasion treatment.
Add-Ons for the VouPre Spa Treatments
We've mentioned previously that all four of the VouPre Spa services can be customized to suit your specific needs. These add-ons are available so we can fully target your specific skin concerns, be it reducing the visibility of wrinkles, fading the look of dark spots, or just pampering your skin with a relaxing massage. Pair these add-ons with any of the standard VouPre Spa treatments to experience the ultimate skincare pleasure.
Facial Stimulating Massage
You can add the VouPre Facial Stimulating Massage to any of our services to help you relax and unwind for 30 minutes. It combines lymphatic drainage — a soothing massage technique to drain the buildup of lymph fluid in your face — and facial contouring in a soothing and relaxing way to give you the ultimate calming experience. 
This revitalizing treatment is a top pick among celebrities as it employs deep tissue massage techniques to break up knots in your facial muscles, helping them to relax. 
LED Photo-Therapy
You can also include our signature LED Photo-Therapy treatment in any of the standard VouPre Spa services. As touched upon above, this process uses red and blue LED lights, depending on your particular skin concern.
This pain-free process will leave you with an enhanced complexion from the inside out without any side effects.
Derma Roller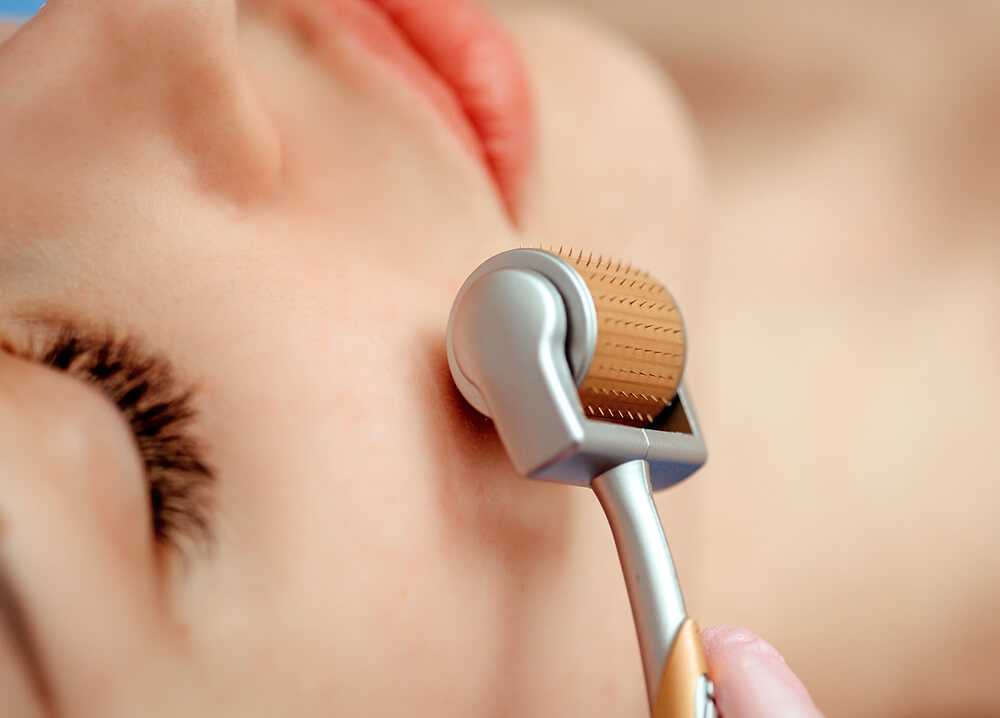 When derma rolling is combined with any of the standard treatments, it boosts ingredient absorption by up to 90% and delivers optimal results. It pairs perfectly with all of our other treatments.
A derma roller is a micro-needling device that incorporates hundreds of tiny needles to create micro-injuries in the dermis. This process can significantly reduce the appearance of fine lines, scars, and other age-related concerns.
Chemical Peel
Another great add-on to help you tackle common visible skin concerns, like the appearance of sag, dark spots, and dullness is a chemical peel.
This exfoliating process uses acids and enzymes to loosen the hold of dead skin on the surface. It helps buff away the outer layer, reducing the look of blemishes and superficial scars.
Pamper Your Skin With the VouPre Spa Experience!
The VouPre Spa services are guaranteed to give you exceptional results. They'll make your skin appear rejuvenated and completely refreshed. Our advanced techniques and skincare formulas will help you rediscover your youthful glow!
We offer spa memberships but you can also bring the VouPre Spa to your home by visiting our online store!