VouPre by Dr. Luchetti: What's it All About?
While some skincare brands are created solely to cash in on the latest trends, others, such as VouPre, are born from decades of dermatological research and practical experience in the field. Thanks to Dr. Mary Ellen Luchetti's expertise and creativity, VouPre has become a brand that skincare professionals all over the world are choosing to align with.
Why? What's so special about this brand? Read on to learn more about exactly what makes VouPre by Dr. Luchetti tick.
Who is Dr. Luchetti?
Some skincare brands may invent personas as a way to gain consumer trust. However, let us assure you that Dr. Luchetti is definitely a real person!
For Dr. Mary Ellen Luchetti, dermatology has always been a passion. After completing her dermatology residency at Jacobs School of Medicine and Biomedical Sciences, Dr. Luchetti set up her own private practice. At the same time, she was also teaching at the dermatology department of the University of New Mexico, while contributing to medical publications and clinical research.
The Creation of VouPre by Dr. Luchetti
After 27 years of working in dermatology, Dr. Luchetti was beginning to feel increasingly frustrated at the lack of trustworthy products available on the market. She only wanted to recommend the very best to her patients, and noticed that there was a huge void when it came to innovative formulas that zeroed in on specific skin conditions and concerns.
Can you guess what happened next?
VouPre was born. Dr. Luchetti brought together all of her knowledge, experience, and innovative ideas to create a skincare brand that people could rely on.
Featuring cutting-edge, science-backed ingredients that have been concocted into results-driven formulas, VouPre by Dr. Luchetti quickly became the talk of the town.
VouPre's Ingredients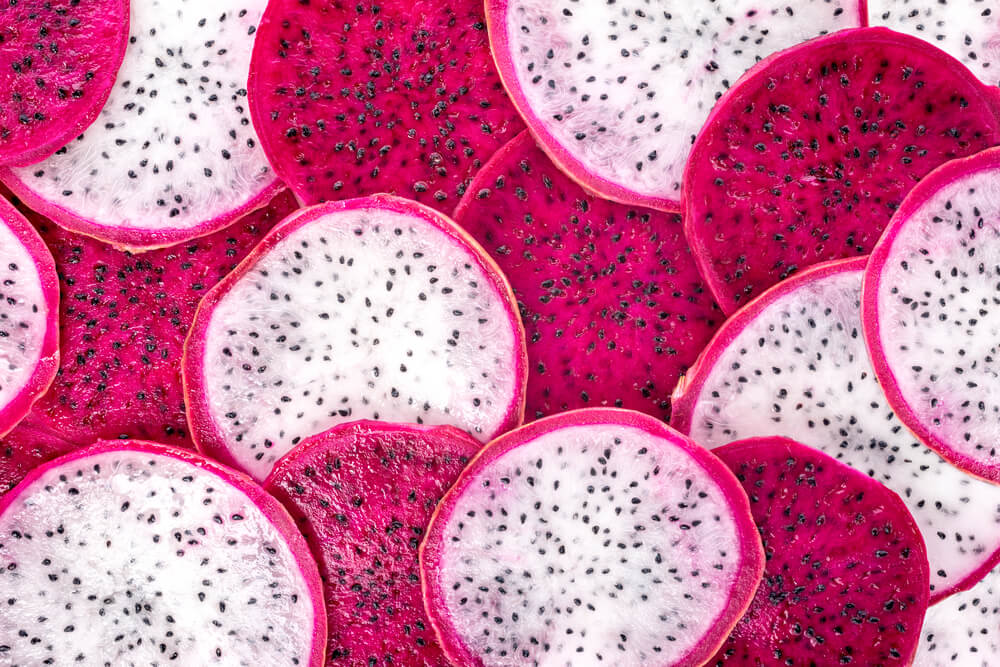 The best skincare formulas are created when science and nature are allowed to intermingle, and that's exactly what VouPre by Dr. Luchetti specializes in. Dr. Luchetti has long since understood the power behind the natural ingredients all around us. However, she also has a solid understanding of potent lab-produced compounds that can safely and consistently transform the appearance.
Plant extracts and oils feature heavily in VouPre products. Coffee seed extract perks up and invigorates a dull complexion, aloe extract soothes and hydrates the feel of the skin, and green tea extract counters the visibility of fine lines, wrinkles, and dark spots. Hemp seed oil, dragon fruit extract, and grape stem cells are just a few of the other botanicals that you can expect to see in VouPre skincare products.
Although powerful on their own, these botanicals become even more so when combined with the likes of peptides, collagen, sodium hyaluronate, and vitamins. All of these ingredients complement each other, which is how VouPre products are really able to deliver on noticeable results.
VouPre's Collections
At the moment, VouPre by Dr. Luchetti has four collections to choose from. Each one contains a selection of skincare products that target the appearance of specific skin concerns. Let's take a closer look at each one:
The Basic Collection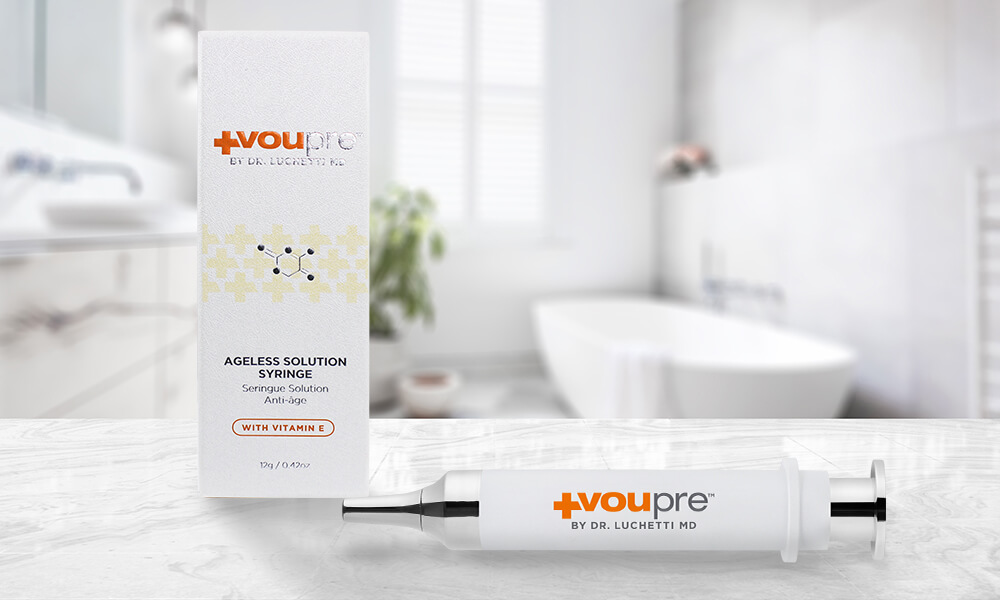 When it comes to reliable, go-to formulas that you can add to your daily skincare routine, the Basic Collection aims to provide everything that you could need.
Kick your routine off with the Radiance Facial Cleanser, a gentle yet highly effective formula for removing dirt and impurities. Follow up with the Hydrating Toner to treat your complexion to a shot of moisture.
If you're a fan of serums, take your pick from the Advanced Gold Eye Serum and the Vita C Serum…or treat yourself to both! The eye serum is fantastic at reducing the appearance of crow's feet, dark circles, and puffiness. On the other hand, the vitamin C serum contains two forms of this much-loved antioxidant to ensure a brighter and more radiant complexion after regular use. Both have a silky, lightweight consistency that all skin types absolutely love!
Again, there are a few different creams to choose from in the Basic Collection. The Age Defense Cream SPF 30 is a popular one for daytime use. After all, it's common knowledge that the sun can seriously destroy your complexion if SPF isn't used. Once evening rolls around, swap over to the Revitalizing Night Cream. Rich and luxe, this exquisite moisturizer will have you waking up to skin that feels soft, supple, and dewy.
There are also a few extra special add-on products in our Basic Collection. The Ageless Solution Syringe and the Anti-Aging Rescue Solution are two examples. Both of these products have been formulated to provide instant results when it comes to reducing the appearance of skin aging. If you've been noticing fine lines and wrinkles appearing on your skin, then VouPre by Dr. Luchetti most definitely has your back!
The Aqua Collection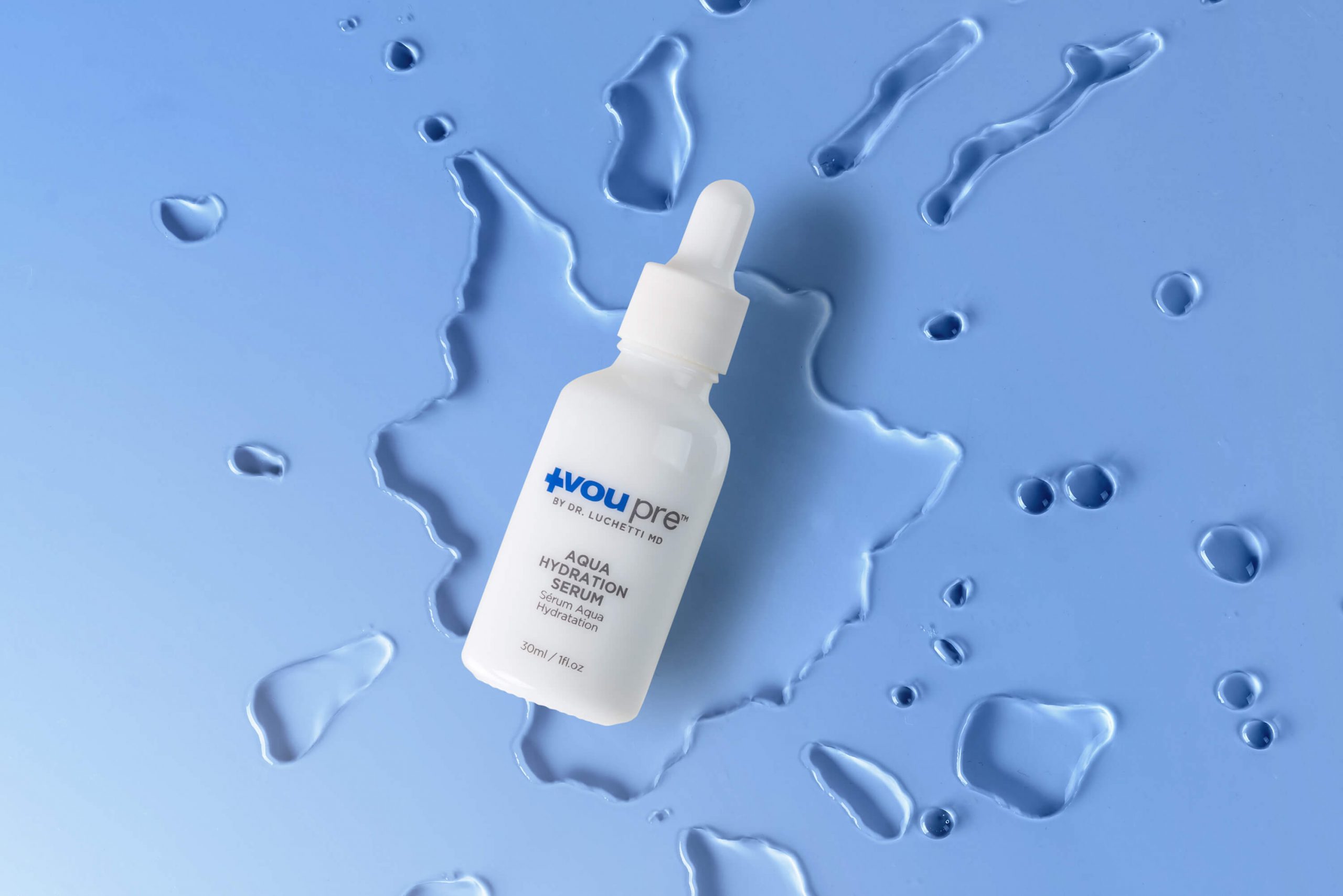 Dry skin always needs some extra TLC, and that's what the VouPre Aqua Collection delivers. This is a four-step set designed specifically for thirsty skin.
The Aqua Hydration Serum and the Aqua Nano Cream can be used daily. Both of these products excel at quenching parched skin, leaving the appearance looking deeply hydrated.
The Aqua Melting Mask should be used once or twice a week. This is a face mask that's ideal for dry skin types, due to its leave-on nature. That's right, rather than washing this mask off, watch as it melts into antioxidant-rich droplets that you simply massage into your skin. The result? An instant glow.
We've also added a derma roller into this set. In fact, if you purchase any of the full VouPre collections, you'll be able to benefit from the included microneedle roller.
If you're new to microneedling, then trust us when we say that you've been missing out! It's a dermatological technique loved by Dr. Luchetti because of how it provides such great results in a very safe way. Those micro needles may look a little intimidating, but each session will not only leave your appearance firmer, smoother, and brighter, it'll also increase the absorption of your skincare products. And don't worry, it's painless!
The Cannabis Collection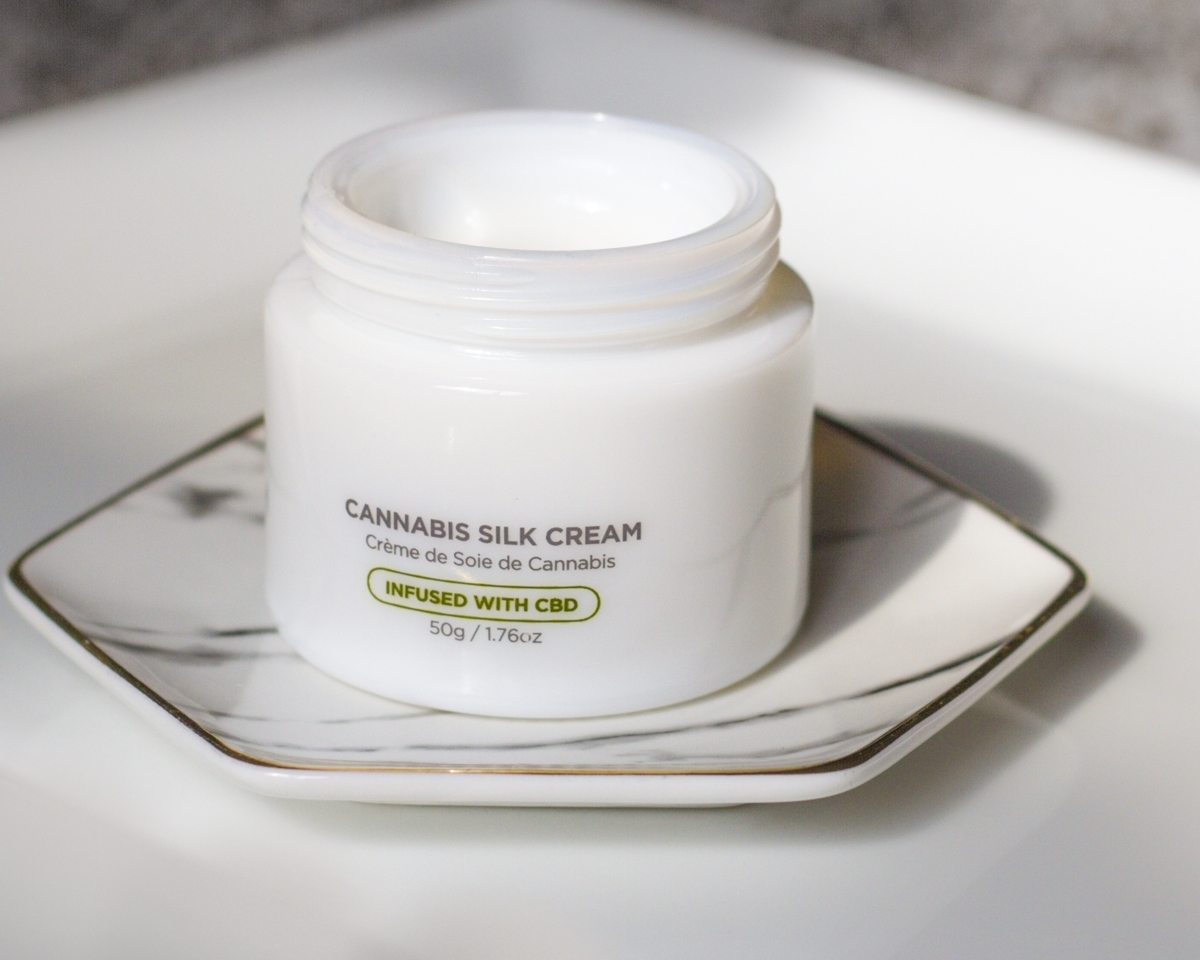 Cannabis is famed for being an incredible medicinal plant. That aside, it can work wonders on the skin too when used topically, which is what the Cannabis Collection is all about.
Just like the Aqua Collection, the Cannabis Collection comes with a microneedle roller plus three skincare products. The first is the Cannabis Caviar Transforming Mask, which is always fun to use! As you massage this mask into your skin, it changes color, going from white to an elegant gold.
The Cannabis Facial Serum is the next step of this system. It's ideal for people who want to rejuvenate, brighten, and tighten the look of their skin. Follow this up with the Cannabis Silk Cream and your skin will look better than ever.
The Thermal Collection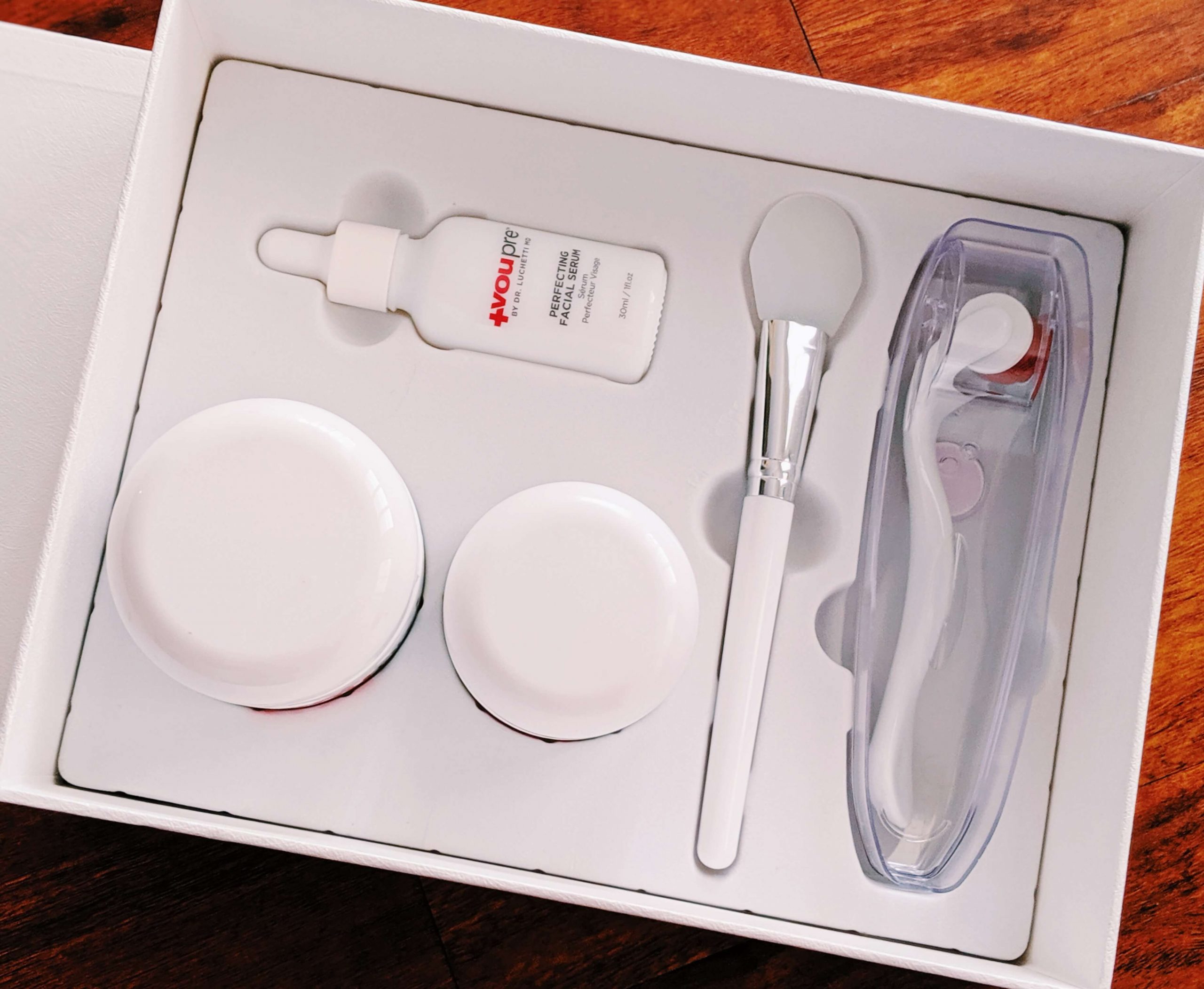 The final skincare collection that you'll find from VouPre by Dr. Luchetti is the Thermal Collection. This collection's name is inspired by the Detoxifying Thermal Mask. It's a clay-based mask that heats up as it's massaged into the skin. Not only does this feel extremely soothing, but it also relaxes the look of your pores, making them feel more receptive to any other ingredients you later apply.
And when it comes to superior ingredients, you'll find plenty in the Perfecting Facial Serum. This is a pretty special serum because not only can it be used as a standalone formula, but you can also apply it over the top of the thermal mask to intensify its effects!
Finish off your daily skincare routine with the Corrective Facial Cream. It'll leave your skin looking soft, smooth, and dewy.
VouPre's Devices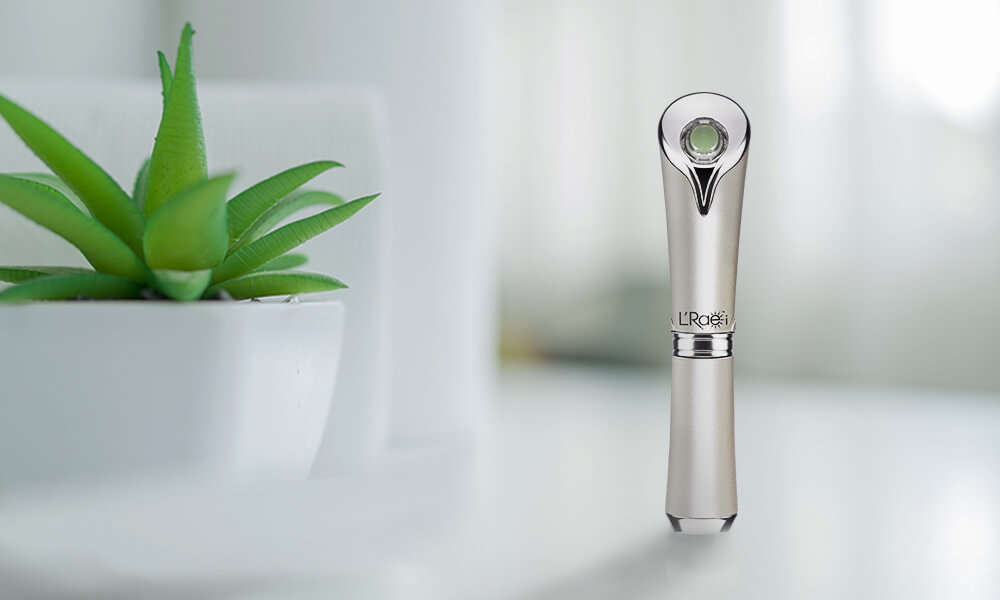 VouPre by Dr. Luchetti is all about embracing the latest and greatest in dermatology. And while powerful skincare products are a part of that, so are skincare devices. Technology has come a long way, and at-home skincare devices are now an effective way to stimulate professional-looking results from the comfort of your own home.
We have a few different devices available for you to choose from. Each one focuses on a different area of the face or body.
For example the L'Rae i Jade Eye Wand brings LED technology to the delicate skin around the eyes. It tackles the appearance of crow's feet and puffiness to leave the eye area looking noticeably younger.
On the other hand, the L'Rae Glow Neck Massager zeroes in on the neck. The skin here is very prone to wrinkling and sagging, but this device helps to establish a much younger-looking neck. You'll notice that your skin looks smoother, tighter, and more toned after using this device regularly, especially when combined with VouPre skincare products.
The VouPre Spa
While VouPre skincare products and devices can be ordered online, no matter where in the world you live, those of you in the USA can also benefit from giving VouPre products a try at one of our spas. You'll find locations dotted all over the country, from New York and Las Vegas to California and Salt Lake City.
Each of our spa treatments features various VouPre products. However, they take things to the next level by combining those formulas with other high-end treatments.
One popular treatment is the RF Aqua Treatment. It brings together a deep cleanse, extractions, radio frequency treatments, and a deep exfoliation session. As you can imagine, the skin feels beautifully detoxified and rejuvenated after just one session!
Our other spa treatments make use of procedures such as LED photo therapy, diamond microdermabrasion, and microneedling. Like we said, VouPre by Dr. Luchetti is a brand that prides itself on offering the very best when it comes to dermatological technology.
VouPre Reviews
Wondering if VouPre by Dr. Luchetti is really as good as it seems?
That's where reviews come in. This is always the best way to learn more about a cosmetics brand before investing in it, and you'll find plenty of VouPre reviews all over the net.
Not only is our website filled with five-star ratings and reviews, but you'll also find people raving about VouPre on social media. From skincare newbies to seasoned beauty bloggers, take a look at some of the reviews out there and it won't be long before you're convinced to give VouPre a try.
VouPre by Dr. Luchetti: Your New Favorite Skincare Brand
So, as you can see, there's plenty that sets VouPre apart from other skincare brands. VouPre by Dr. Luchetti was created based on real-life experience in the dermatology field, and this is priceless when it comes to skincare formulas. Whether you want to dip your toe in by picking your favorite VouPre product to try or you want to go all in by treating yourself to a full collection, it won't be long before our formulas become regulars in your skincare routine.