The Skincare Routine You Need If You're Oily and Dehydrated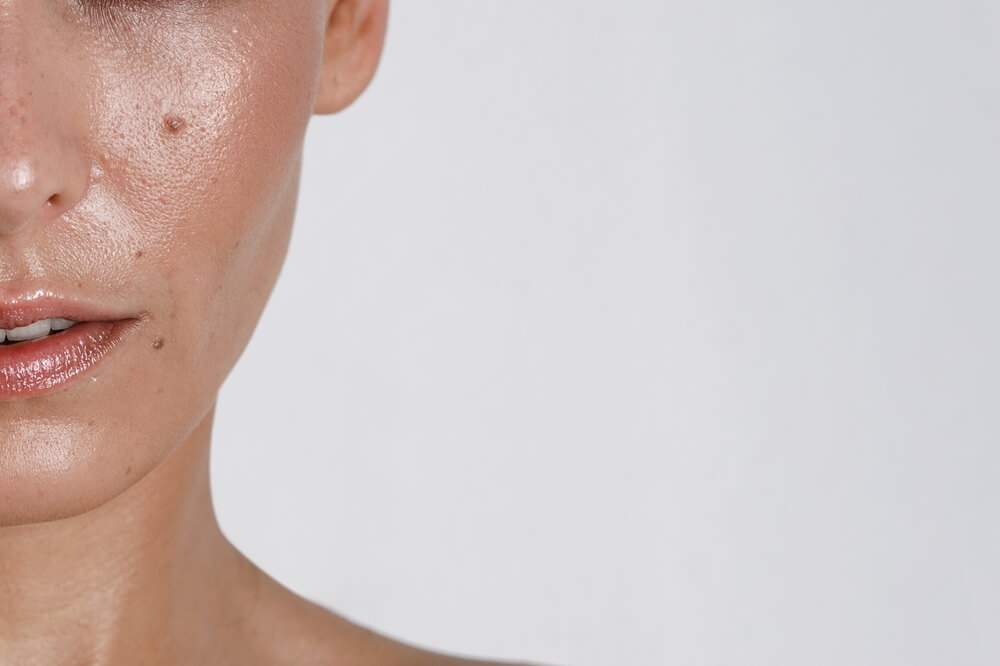 Dehydrated skin is often associated with dry skin. However, dehydration is a skin condition, meaning that it can occur no matter your skin type. While it may be more common among people with dry skin, oily skin frequently ends up dehydrated too, which only worsens the clogged pores and acne breakouts that those with oily skin have to contend with.
So, what should you do if your skin is oily and dehydrated at the same time? Keep reading as VouPre shares some top tips for caring for your skin's unique needs, along with a skincare routine that'll rehydrate, rebalance, and mattify your complexion.
How Can the Skin Be Oily and Dehydrated at the Same Time?
The amount of sebum produced by your skin is responsible for how oily your skin is. Sometimes, whether due to genetics, hormonal fluctuations, weather conditions, or anything else, the skin produces too much sebum. This then gives the skin a greasy and shiny finish while also making clogged pores and breakouts far more likely.
Hydration, along with dehydration, is determined by the amount of moisture, meaning water, in your skin. It doesn't matter how much sebum your skin produces – this won't affect the water content of your skin cells.
With that said, the amount of moisture in your skin does have an effect on how much sebum your skin produces. When skin cells are lacking in moisture, the sebaceous glands try to make up for this by increasing sebum production. Unfortunately, this doesn't help to improve skin hydration levels. Instead, it simply leaves the skin even oilier, and just as dehydrated, as before.
What Causes Oily Skin to Become Dehydrated?
So, why does oily skin, or any skin type for that matter, become dehydrated in the first place?
This common skin condition can be attributed to a variety of different causes, including:
Using harsh skincare products
Sun damage
Spending large chunks of time in air conditioning or artificial heating
Diet/water consumption
Hormonal conditions
Sleep deprivation
Trying to figure out the cause of your dehydrated skin is always a good idea. This way, you'll be able to deal with the problem at its root and tackle the dehydration in the long run.
A Skincare Routine for Dehydrated Oily Skin
Even once you've worked out the cause of your dehydrated skin, it can still take a while to get your complexion back into balance. So, in the meantime, here's a skincare routine that you can follow to give your dehydrated oily skin the love and care that it needs:
Start With a Gentle Cleanser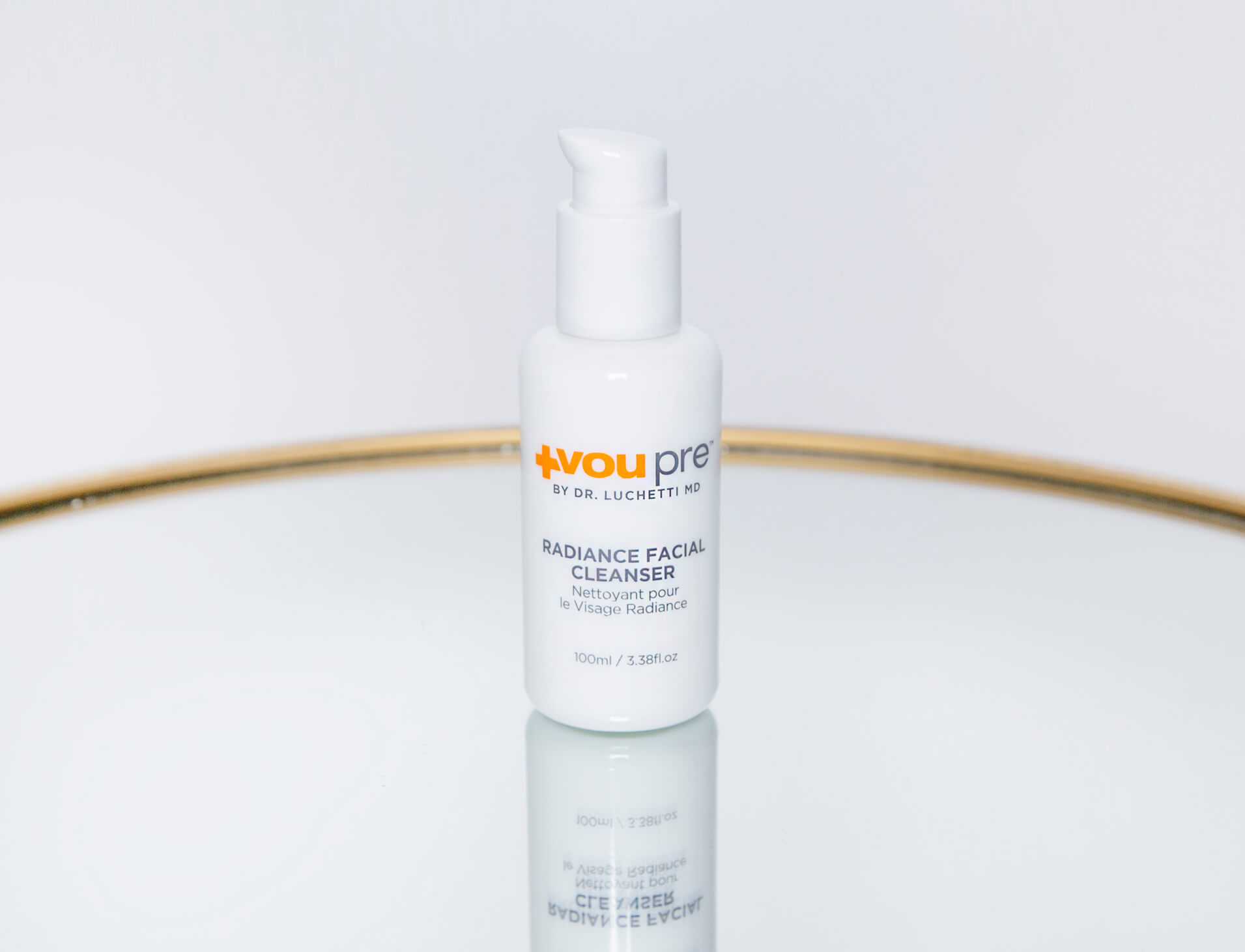 As we mentioned above, dehydrated skin is often caused by the use of harsh skincare products. Formulas containing drying ingredients sap away the skin's moisture content, leaving it parched. Cleansers are usually a big culprit, with many cleanser formulas full of sulfates and alcohols. They're effective preservatives but they definitely don't do the skin any favors.
Instead of using an overly potent cleanser, go for a product that's gentler, such as the VouPre Radiance Facial Cleanser. The cleansing agents in this formula have been derived from coconuts. Not only are these extremely efficient at cleansing the skin, but they're also highly moisturizing. With the addition of vitamin E and wheat proteins, this formula will leave your skin feeling thoroughly refreshed.
How often should you be cleansing your skin?
Ideally, you should be cleansing twice a day, once in the morning and once in the evening. This is another reason why it's so important to use a gentle cleanser. Using harsh ingredients on your oily skin twice a day will quickly leave it feeling even more dehydrated.
Use an Exfoliating Peel Twice a Week
While you can rely on your cleanser to remove any excess sebum and impurities from the surface of your skin, it's not going to be able to help with any sebum that has already made its way into your pores. This happens pretty quickly with oily skin, which is why those with this skin type are so susceptible to clogged pores and acne breakouts.
To prevent the appearance of congestion and pimples, you'll need to add a good exfoliant to your skincare routine. Again, just like when choosing a cleanser, go with a mild formula. There are many potent exfoliants out there designed specifically for oily skin but don't forget that your skin is dehydrated too. Those exfoliants may be spectacular at drying out excess oil but they can also dry out the deeper layers of your skin, leaving your skin cells even thirstier than they were.
From scrubs to acids, exfoliants come in many shapes and forms. Our top choice for dehydrated oily skin would be an exfoliating peel, just like the VouPre Deep Renewal Facial Peel. Apply it onto dry skin, gently massage it in, and you'll notice that it starts to form tiny clumps as it gathers up the excess sebum and dirt from your skin. Once it does so, rinse it off and it will take all of that unwanted oil with it!
Although many people with oily skin exfoliate a few times a week, you need to consider your dehydration too. This is something that can worsen due to over-exfoliation. So, stick to exfoliating twice a week, or even once a week if you've chosen to use a stronger exfoliant. 
Swipe on a Toner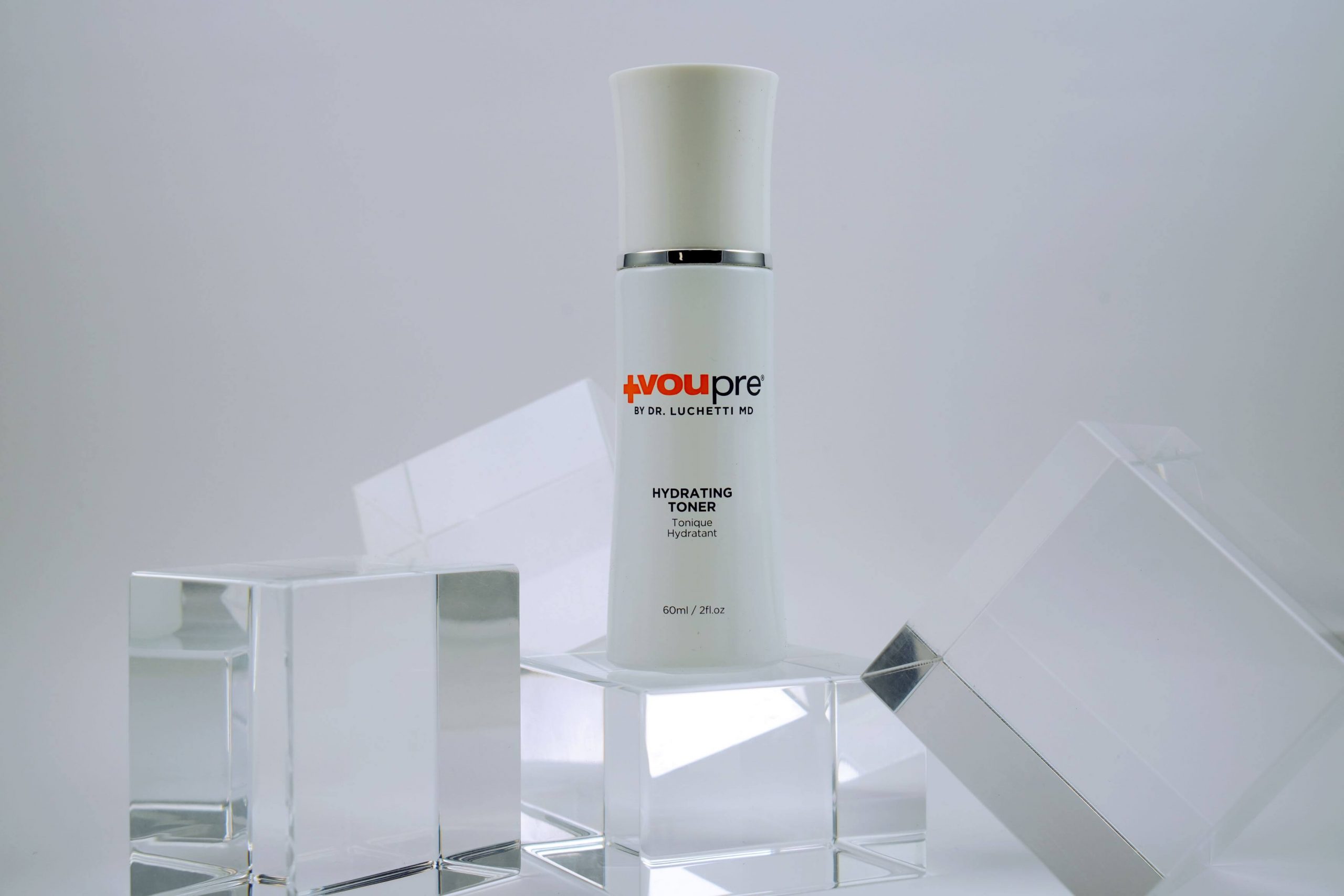 Whether you've just cleansed your skin or you've exfoliated as well, the next step in your skincare routine should be to apply a toner.
Why? Because toners are great for keeping the skin's pH feeling balanced. This is something that cleansing and exfoliating can disrupt. In the long run, this can make both your dehydration as well as your oiliness worse, making it vital to keep things in check.
As an added bonus, toners are also helpful for giving the skin an extra boost of hydration, mainly since they're applied to the skin immediately after cleansing. After all, this is when the skin is at its most receptive. 
Find a formula that's brimming with hydrating compounds, such as the VouPre Hydrating Toner. With aloe vera leaf juice, cucumber fruit extract, and chamomile extract, this toner will leave your skin looking dewy yet non-greasy.
Apply a Hydrating Serum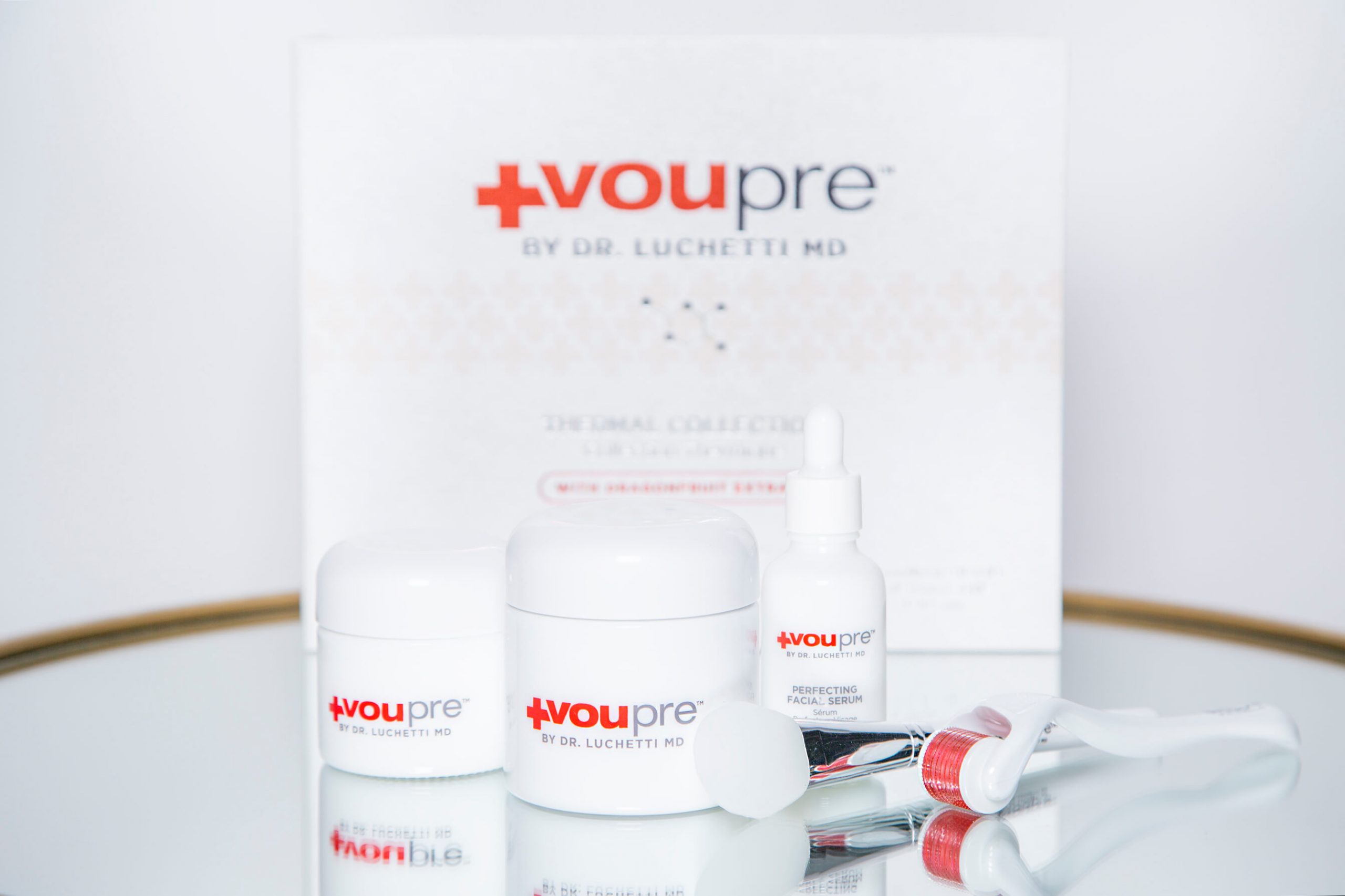 Keeping your skin hydrated will help with both the oiliness as well as the dehydration. So, the next step in your skincare routine should be to apply a hydrating serum. 
It goes without saying that you need a formula that's lightweight and non-comedogenic. This means that it won't clog your pores and leave you even more susceptible to breakouts.
One serum that meets the mark is the VouPre Perfecting Facial Serum from our Thermal Collection. Unlike many of the other hydrating serums out there, this one doesn't contain any heavy plant oils. Instead, it's brimming with humectants, such as sodium hyaluronate and glycerin. These ingredients are exceptionally lightweight yet have the ability to bind moisture to the skin, immediately plumping up the complexion and leaving it deeply hydrated.
Even better, this serum is also packed with antioxidants. From grape stem cells to apple fruit extract to hawthorn berry extract, all of these plant extracts contain potent polyphenols and other compounds that will help to reduce the appearance of aging and skin damage.
Moisturize With a Lightweight Cream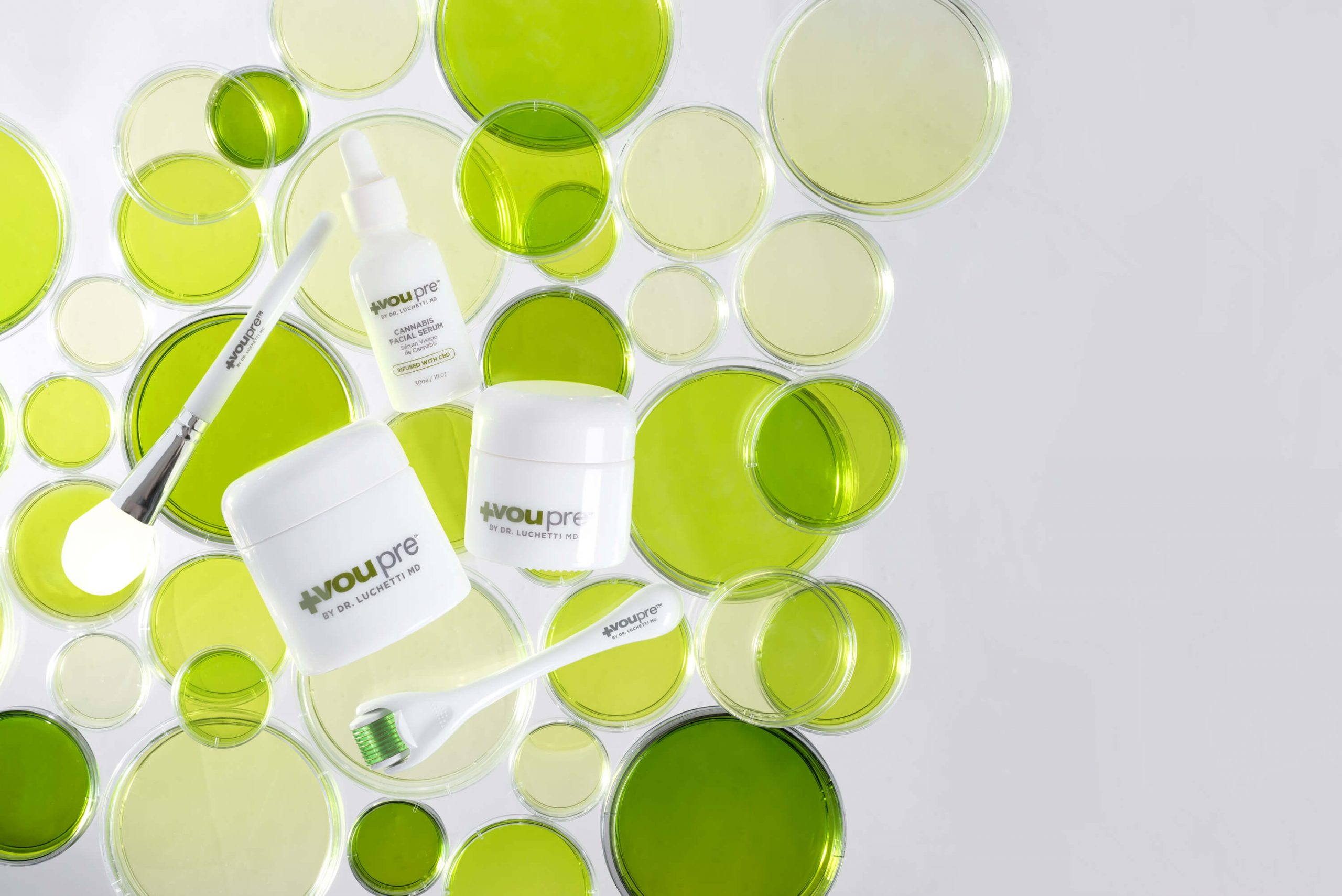 Now for the step that can often be very confusing for people with dehydrated oily skin; moisturizing. While your dehydrated skin cells may be crying out for thick and rich creams, your oily skin won't be able to cope with this.
So, just like when choosing a serum, you need a moisturizer that contains lightweight hydrating compounds, just like the VouPre Cannabis Silk Cream. Found in our Cannabis Collection, this moisturizer contains a number of noteworthy ingredients. Sodium hyaluronate, glycerin, and algae extract draw moisture to the skin while hemp seed oil traps it in. Hemp seed oil has also been proven to be able to significantly soothe the feeling of inflammation in the skin. This goes a long way in preventing the appearance of acne breakouts.
Need another reason to pick this moisturizer? It's also infused with licorice root extract. Research shows that this ingredient is capable of lightening the look of hyperpigmentation, which can often occur after an acne breakout. Vitamin A has a similar effect, which is why this antioxidant has been added into this cream too.
Protect With SPF During the Day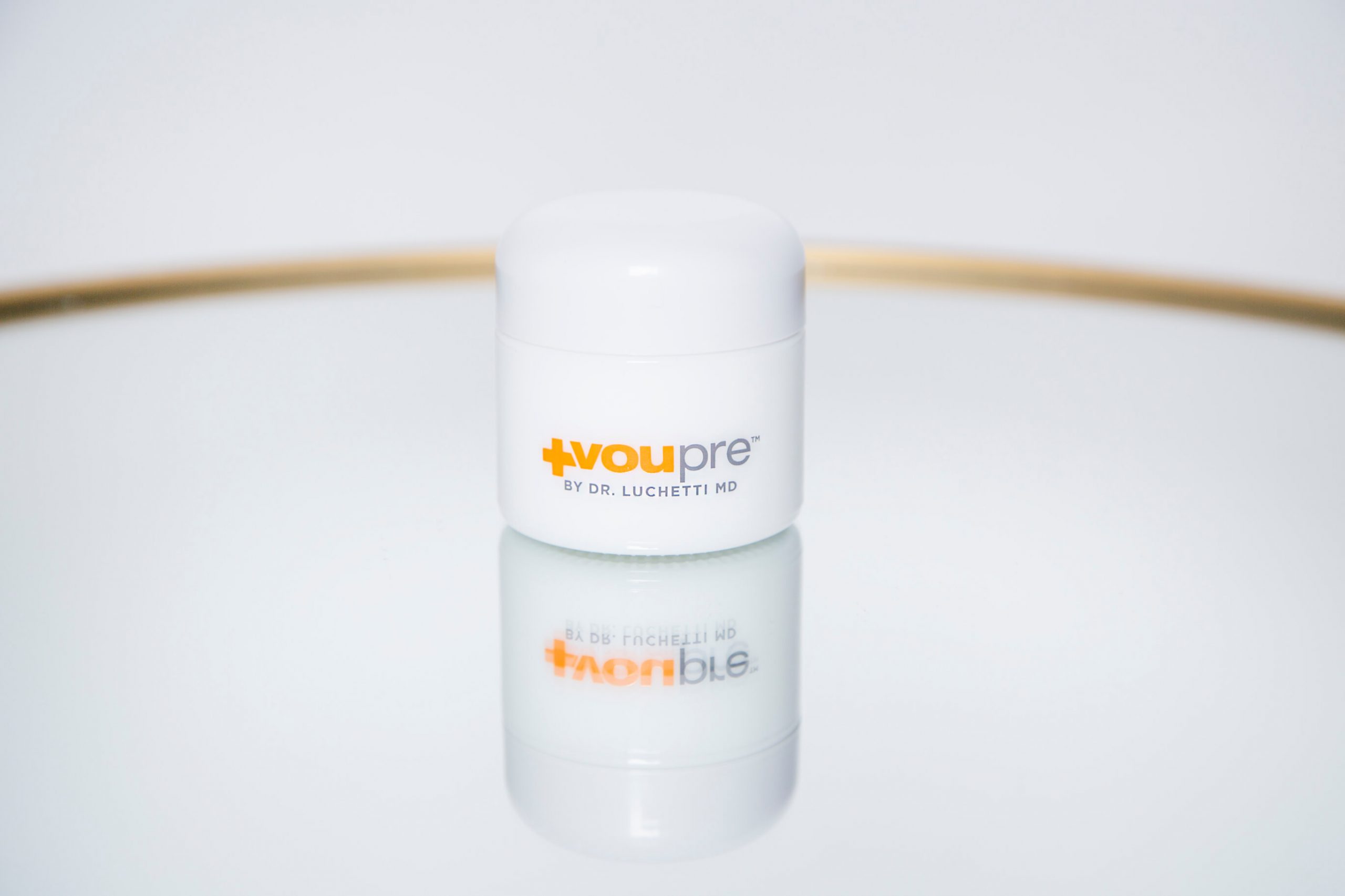 While you can go ahead and skip this step in your evening routine, your morning skincare routine should always end with SPF. Prolonged sun exposure will not only leave your skin feeling even more dehydrated, but it can worsen the oiliness too. In fact, research shows that UV exposure can accelerate the appearance of acne, making this something that you definitely want to avoid.
If you would like to save yourself an extra step in your skincare routine, find a moisturizer that also doubles up as a sunscreen. The VouPre Age Defense Cream SPF 30 is a great example. This cream provides broad-spectrum sun protection while also offering up several hydrating ingredients. It contains a number of antioxidant-rich ingredients too, including green tea extract. This botanical actually helps to prevent the appearance of UV damage in the skin, making it a fantastic ingredient to have in a sunscreen.
Of course, in addition to keeping your skin protected with SPF, practice other sun protection methods too. For example, try to stay in the shade during the hottest hours of the day. These are usually between 11 am and 3 pm, although it varies depending on where you live. Keeping your face shielded with sunglasses and a wide-brimmed hat can also help to block UV rays from hitting your face and exacerbating your skin concerns.
Summary
There are so many skincare products out there designed specifically for oily skin, and it's easy to be tempted by these. However, don't forget that these can often be overly harsh on dehydrated skin cells, which will only make your oiliness even worse in the long run.
Instead of looking for a quick fix, follow the skincare routine above to slowly and steadily hydrate your skin. As you do so, you'll also notice that your skin starts to feel less oily and better balanced, giving you the healthy-looking glow that you deserve!
Click here to check out more skincare bestsellers from VouPre.